The Riverside Park Conservancy has announced the completion and opening of a new section of Riverside Park South, which first opened to the public at 7am on October 22.

This marks the completion of the fifth phase of Riverside Park South.
Breaking News: The next section of Riverside Park South – 4.6 acres from 65th to 68th Streets – is officially open as of this morning. pic.twitter.com/ufvA9lZSN5

— Riverside Park Conservancy (@RiversideParkNY) October 22, 2020
The newly constructed 4.6 acre area stretches from 65th to 68th Streets and includes new paths, stairs, and plazas; a playground and swings; lawns, sand volleyball courts, and a dog run.
Photos courtesy of Riverside Park Conservancy:
New playground equipment is ready for use:
[adrotate banner="124″]
New paths have been built for pedestrians and bikers:
New trees have been planted: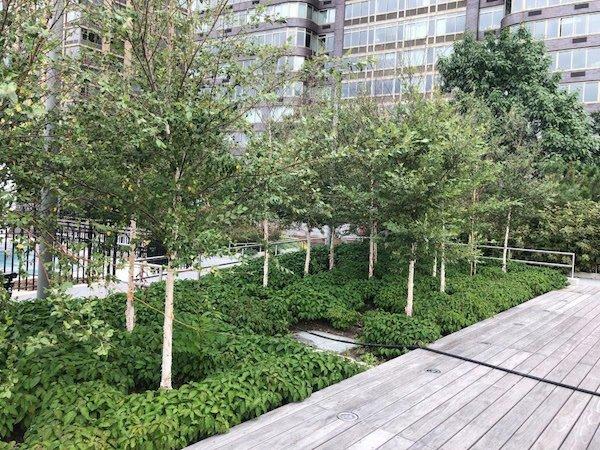 New tables have been built:
And a new access point to the waterfront has been opened:
The NYC Parks Department also began working on improvements between 69th and 72nd Streets on October 1. These efforts include restoring the pedestrian and bicycle paths, reconfiguring the dog run, installing new seating at Pier I, and building a Parkour gym to replace the area behind Pier I Café.

Advertisement
The sixth and final phase of Riverside Park South's reconstruction is expected to begin this fall and take approximately two years. The focus of this phase will be the area between 59th to 65th Streets. Once complete, this area will include a large, multi-use athletic field, basketball courts, and new entry points at 64th and 67th Streets. It will also include improvements to the entrance at 59th Street. Below is a schematic drawing of Phase 6, courtesy of the Riverside Park Conservancy.