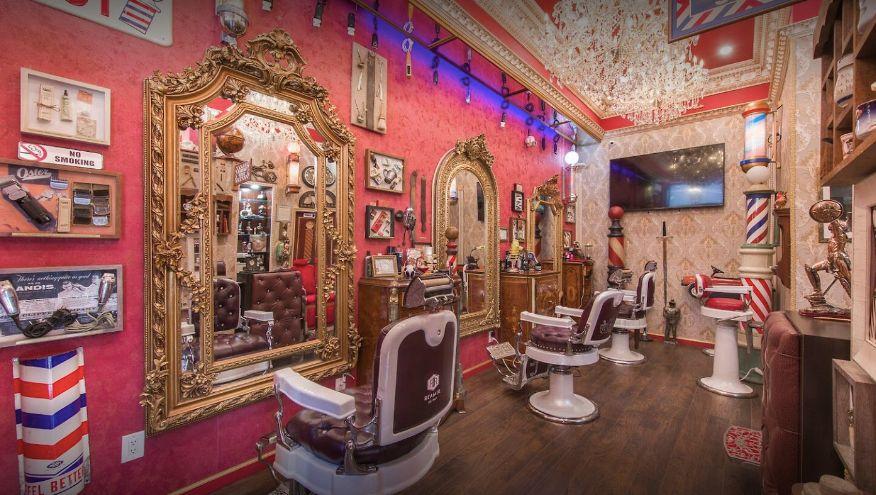 Final cut? The NYC Barber Shop Museum, located at 290 Columbus (between 73rd and 74th streets), has shut its doors. (Thanks to Janet for the tip.)

Advertisement



Launched in 2018 by Arthur Rubinoff, CEO of the popular Reamir barber shop chain, the museum offered an array of services, including full cuts, shaves and private tours of barbering memorabilia from decades past. Standouts included a custom Louis Vuitton barber chair from acclaimed artist Sarah Coleman and rare vintage barber poles. Meanwhile, glossy snaps of celebrity visitors decorated the walls of the 470-square-foot space, including a prominently placed throwback shot of former A-list couple Brad Pitt and Jennifer Aniston.
We can confirm that the increased rents which have been plaguing the city got the best of the business. When reached by phone this morning, Rubinoff stated, "The landlords have been going out of their minds for ten years — even before [COVID] started. I had no choice but to close, but I will reopen. It's not a total shutdown. I negotiated, and they [agreed to] waive the whole amount I owed if I closed up shop by the end of the month." There are fundraising opportunities available at www.nycbarbershopmuseum.com for those interested.
The establishment recently attracted a new crop of customers courtesy of the adjoining Faded Pop Up, which gifted cannabis-infused treats with the purchase of an NFT. The somewhat unlikely pairing was an attempt to add "stability" to the business.
Advertisement



Despite prospective spaces available in Chicago and Los Angeles, Rubinoff isn't giving up hope on finding a new home for the museum on the Upper West Side. "I'm a New Yorker of 33 years. I came to this country from the former Soviet Union, and this city gave me everything. It's the city of dreams," he noted. As the quest continues, visitors can still scope out four retro chairs and other keepsakes at Reamir's smaller outpost at 303 Columbus — directly across the street.