The West Side Campaign Against Hunger's (WSCAH) annual Turkey Challenge is well under way and already surpassing expectations.

Which just means our Upper West Side community is coming through, once again, to help friends and neighbors enjoy a delicious and healthy holiday meal.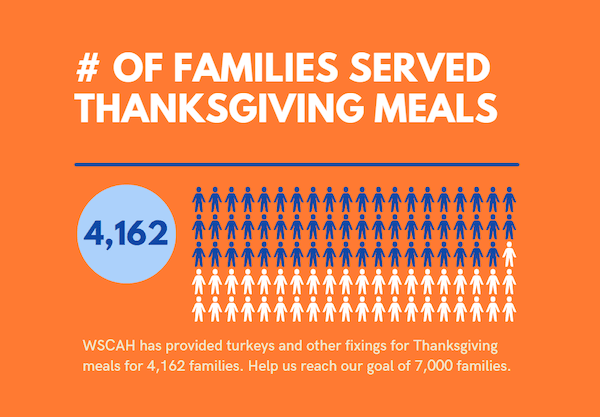 WSCAH's goal is to help provide, at minimum, 7,000 families with turkeys and food for Thanksgiving meals, which adds 2,000 families to last year's accomplishment.
WSCAH has been headquartered on the Upper West Side at 263 West 86th Street for 42 years. Recently, it has been expanding into new neighborhoods across all five boroughs, making healthy food more accessible to all New Yorkers citywide and plans to expand even more in the coming years.
Join WSCAH this holiday season to help all our friends and neighbors have a great holiday meal.
$27 buys one family a healthy Thanksgiving meal.
"I believe that there's something transformative about sharing meals with people," says Chef Greg Silverman, WSCAH's CEO. "When I was in the Peace Corps, I lived with a family of 120 that I ate with every day. We sat outside our mud huts eating every night together. It was the same, simple, fresh, food every night, and it was an amazing feast. It was simply millet with  peanut sauce (and a side of chili peppers), but the feast with all these people, just being together–that was amazing. Everyone deserves this type of community, and we can make it happen."
Support WSCAH's Turkey Challenge here: www.wscah.org/turkeychallenge