Now, we are mostly inside, fully aware that NYC is the epicenter of the COVID-19 crisis. With time on my hands, I reflected on objects and souvenirs brought home from trips outside the country, during what seemed trouble-free days.

Like everyone, I've been updating myself frequently on the news. But I recently departed from my focus on New York to watch a very moving Youtube video about how people in various parts of the world are making protective masks for non healthcare workers, to help ensure that the clinically essential N95 masks go to healthcare providers and other frontline workers.
Watching that first video and then others prompted me to check out the impact of coronavirus in the locations where I'd picked up mementos – tourist spots where until so recently, the idea of a pandemic was nowhere in anyone's thoughts.

Advertisement
Matching souvenirs to news clips reporting disease transmission and the ongoing global fight against COVID-19, it's striking that there is nowhere left untouched.
Photo 1): Worry Dolls from a gallery in Buenos Aires, Argentina.
The artist was inspired by the small cloth objects that are a traditional folk custom in Guatemala and other parts of Latin America. The idea is to transfer anxiety onto these objects.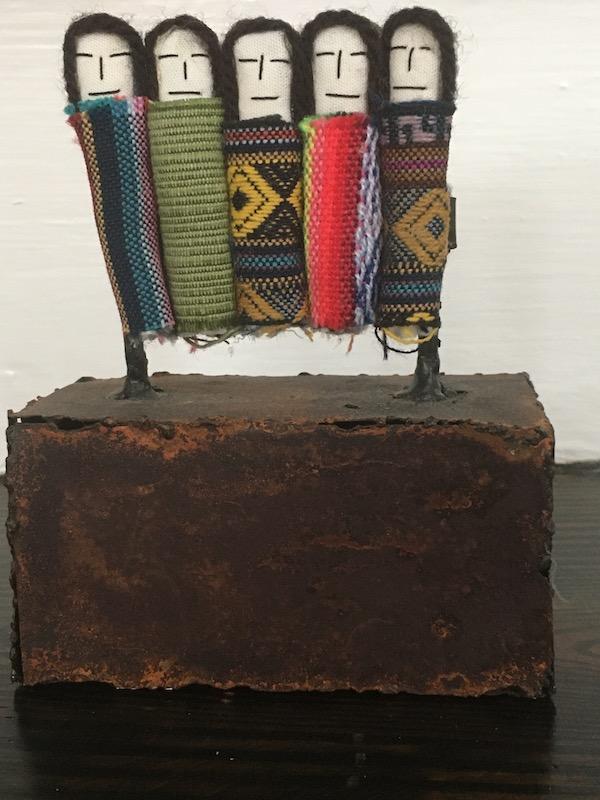 (Al Jazeera, March 26th) Referring to President Alberto Fernandez, "Upon taking office, Fernandez immediately unleashed a deluge of policies designed to help the country's struggling citizens. He increased the minimum wage, pensions and social plans for families with children, froze energy prices, boosted subsidized medicine for the elderly, cut interest rates and gave small businesses waivers to pay their taxes. But the relief people started feeling from those reforms is being rapidly eclipsed by coronavirus containment measures that are exacerbating the country's economic crisis, heaping more pain upon its financially embattled citizens."
Photo 2): This vase from Taormina, Italy.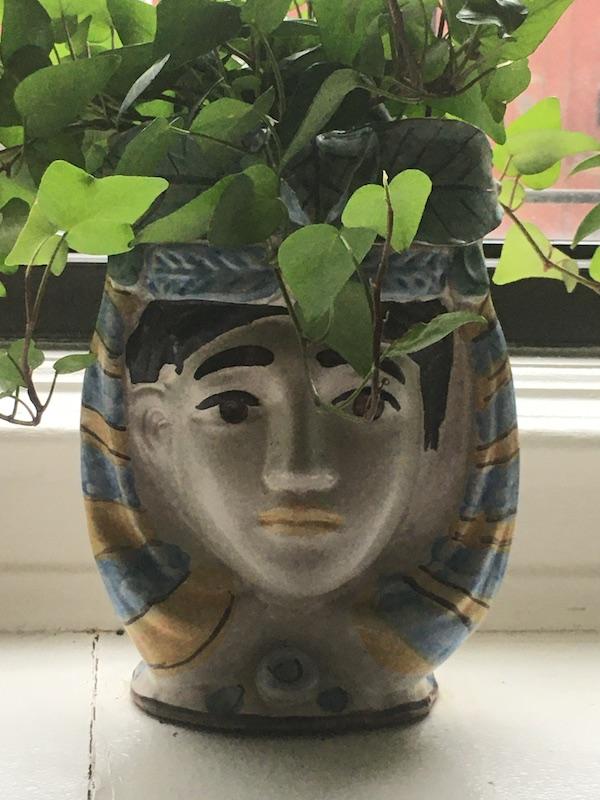 The Guardian reported on March 19th: "Hospitals in Italy's central and southern regions are bracing themselves as the number of confirmed coronavirus cases grows daily. The rise, which has been particularly steep in Lazio, Campania and Puglia, is believed to be largely the result of the thousands of people who fled south after Lombardy, where the outbreak in Italy began, was quarantined on 8 March. The entire country was put under lockdown on 9 March and rules were tightened on 11 March. The number of deaths across Italy rose to 3,405 on Thursday, overtaking China as the country with most fatalities in the pandemic."

Advertisement
Photo 3): Cloth from the Night Market, UNESCO Heritage city of Luang Prabang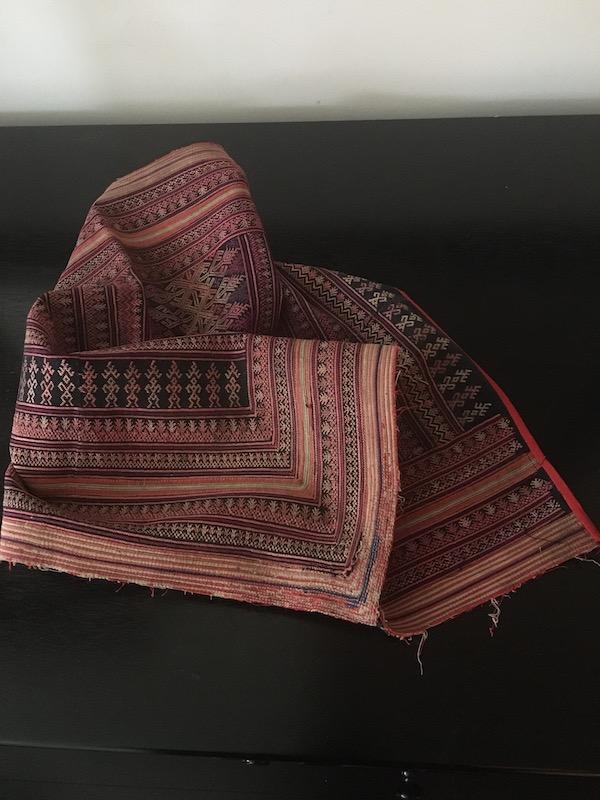 (March 24th – CNN) "Laos confirmed its first two cases of the novel coronavirus on Tuesday, according to the state-run Lao News Agency, Laos Deputy Minister of Health Phouthone Meuangpak said at a news conference that the two cases were a tour guide who worked with visitors from Europe earlier this month and an employee at the Crowne Plaza Hotel in Vientiane, the Southeast Asian nation's capital…. Laos and Myanmar…. were the only countries in Southeast Asia that had not reported a case of coronavirus before today."
Photo 4): Buddha head from Phnom Penh, Cambodia.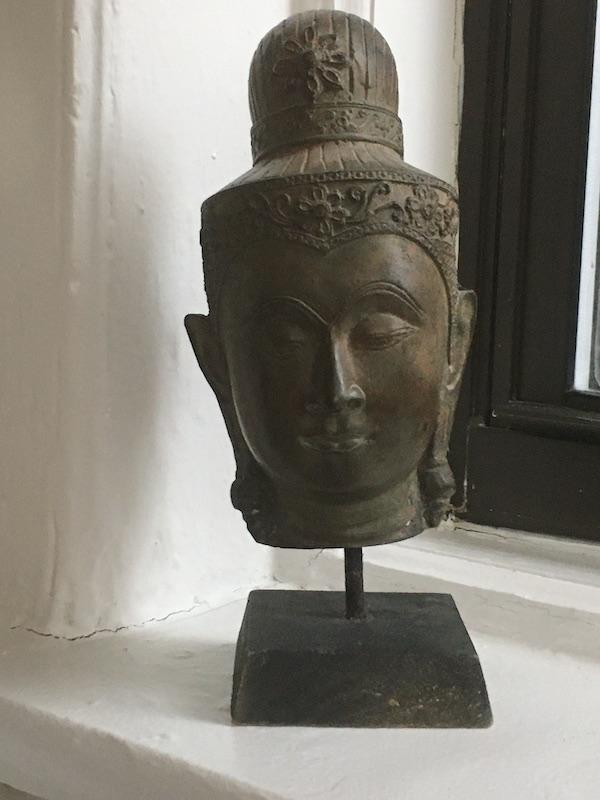 (March 15th – PHNOM PENH (Reuters) – Cambodia reported four new cases of coronavirus including in a four-month-old French boy and two people who had traveled to Malaysia for a religious ceremony, the Ministry of Health said late Sunday."
Photo 5): Small brass figure from the shop at Neeleshwar Hermitage in Northern Kerala on the Arabian Sea.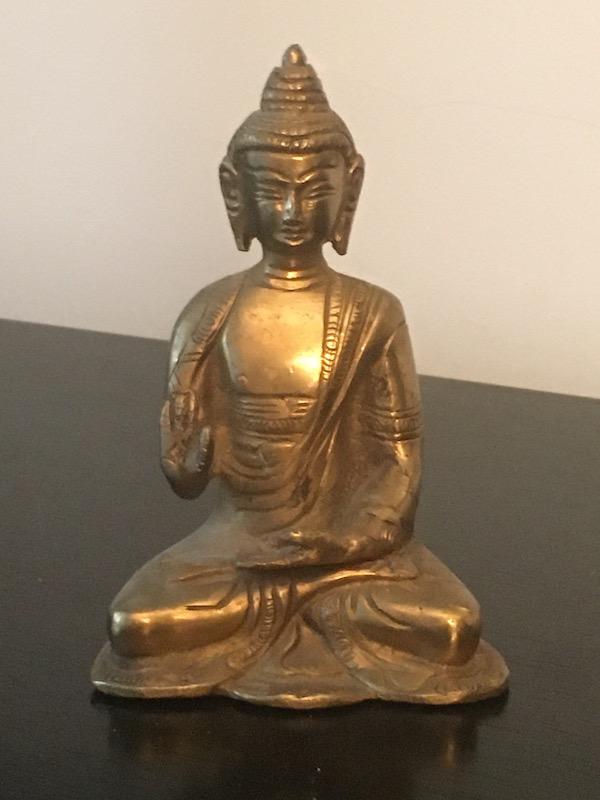 (News 18, India, March 28th) "Kerala today recorded its first death due to the novel coronavirus as a 69-year-old man who returned from Dubai and was under treatment at the Kalamassery Medical College following symptoms of pneumonia passed away. The man's wife and the cab driver who took them from the airport to their house are also infected and undergoing treatment at the same hospital.
India saw a surge in coronavirus cases as the number jumped to 873 today, including 19 deaths, with Maharashtra and Gujarat registering more infections. The rise came even as the country is in the midst of a 21-day lockdown announced by Prime Minister Narendra Modi to curb the spread of the infection."
Advertisement
Photo 6): Graffiti clenched fist painted some time ago outside my UWS window, now seems like a call to fight.
Reflecting on what's happening now, on the Upper West Side, and NYC images in the media and comments from our New York leaders, capture the moment: Friday, March 27 (From Gov. Andrew Cuomo's remarks to the National Guard: "This is a rescue mission that you're on – the mission is to save lives. That's what you're doing. The rescue mission is to save lives and as hard as we work, we're not going to be able to save everyone. And what's even more cruel is this enemy doesn't attack the strongest of us. It attacks the weakest of us. It attacks our most vulnerable which makes it even worse in many ways. Because these are the people that every instinct tells us we're supposed to protect."