Here's the lead. Olympic Flame Diner on the southwest corner of West 60th Street and Amsterdam Avenue has closed, presumably in the last week or so.

Advertisement



Here's the melodrama.
You know that scene in You've Got Mail where Kathleen Kelly closes the store, the one her mother passed down to her, one last time? The sad music plays as she laments the immeasurable loss of this now vanquished connection to her mom and her childhood. She takes one final look, envisions her girlish self twirling with her mother as they loved to do, and locks up the shop up for good.
That's kind of the way the news of the Flame's closure felt. Melodramatic, I know, but this diner has been a staple for my family and I for about 30 years. Thirty years of memories and laughter, late-night orders, challah French toast, the most amazing honey mustard dressing (pre-pandemic), and that weird green shake pictured in the back of the menu that my friend Jessica nicknamed "the marijuana shake." Chicken gyro platters, turkey clubs with fries, blueberry pancakes and crispy bacon. The impossibly small glasses to help wash down the hot jalapeño poppers.
The Flame was three decades of dependability and comfort. It was the place where I remember eating with my dad, who we lost almost 16 years ago, when he and my mom would visit my brother and I at Fordham. It was the first place my aunt and cousins would go as well. The can't miss spot where my little cousin Lauren got her arm stuck in the slots of a chair and it had to be greased out with butter to release it. And where her older brother Mark, who was about eight years old and weighed less than a stack of pancakes, flabbergasted the waitress by ordering the lumberjack plate, a basically one of everything breakfast that even Joey Chestnut might have trouble getting down.
It was the safe place I went in the days after September 11, when the need for stability was at a premium. The restaurant my mom was always down to go to, eager in fact, still raving about "that cream of turkey soup" which the rest of us are pretty sure she had only one time 20 years ago.
Advertisement



New York diners are a dime a dozen (or at least they were) and they're never really bad, are they? But it takes something extra to be a great, authentic NYC Greek diner … that one place you can count on, that one spot.
Olympic Flame Diner was that spot for many of us. But something changed during the pandemic. The food, admittedly, was not as good, and it did not seem to improve as time wore on.
Is that why it shut down? We don't know. ILTUWS was alerted to the closing thanks to a tip from a reader. We did some research and found little information available.
---
For news across the park visit EastSideFeed.com
---
In April 2020, Fordham Observer reported that 60% of Olympic Flame Diner's staff members were laid off and operating hours were significantly reduced.
But the diner's two-year liquor license was just renewed in March 2022, the first time this license was issued to a new owner in three decades.
The original owner was Vasilios "Bill" Katsanos, a Greek farmer who immigrated to the United States in the 1970s. He began his work life in America at a city diner and eventually saved enough money to invest in his own. He bought the Flame Coffee Shop on 9th Avenue and West 58th Street (today's The Flame Diner) with a friend and his brothers in the '70s and still operates that location today.
The Olympic Flame opened its doors in 1991 or 1992 and was an instant hit as new construction sprung up all over the neighborhood. Restauranteur Jimmy Stathopoulos was a minority owner for two decades before he sold his share in 2012. Katsanos remained at the helm until he sold the business in 2019.
So here is the eulogy. A few (now-former) customers posted tributes on sheets of paper taped to the windows. The inside, once bustling and delicious, gone. Empty. Nothing left but the fixtures that are part of the property itself. Even the ceiling tiles are gone.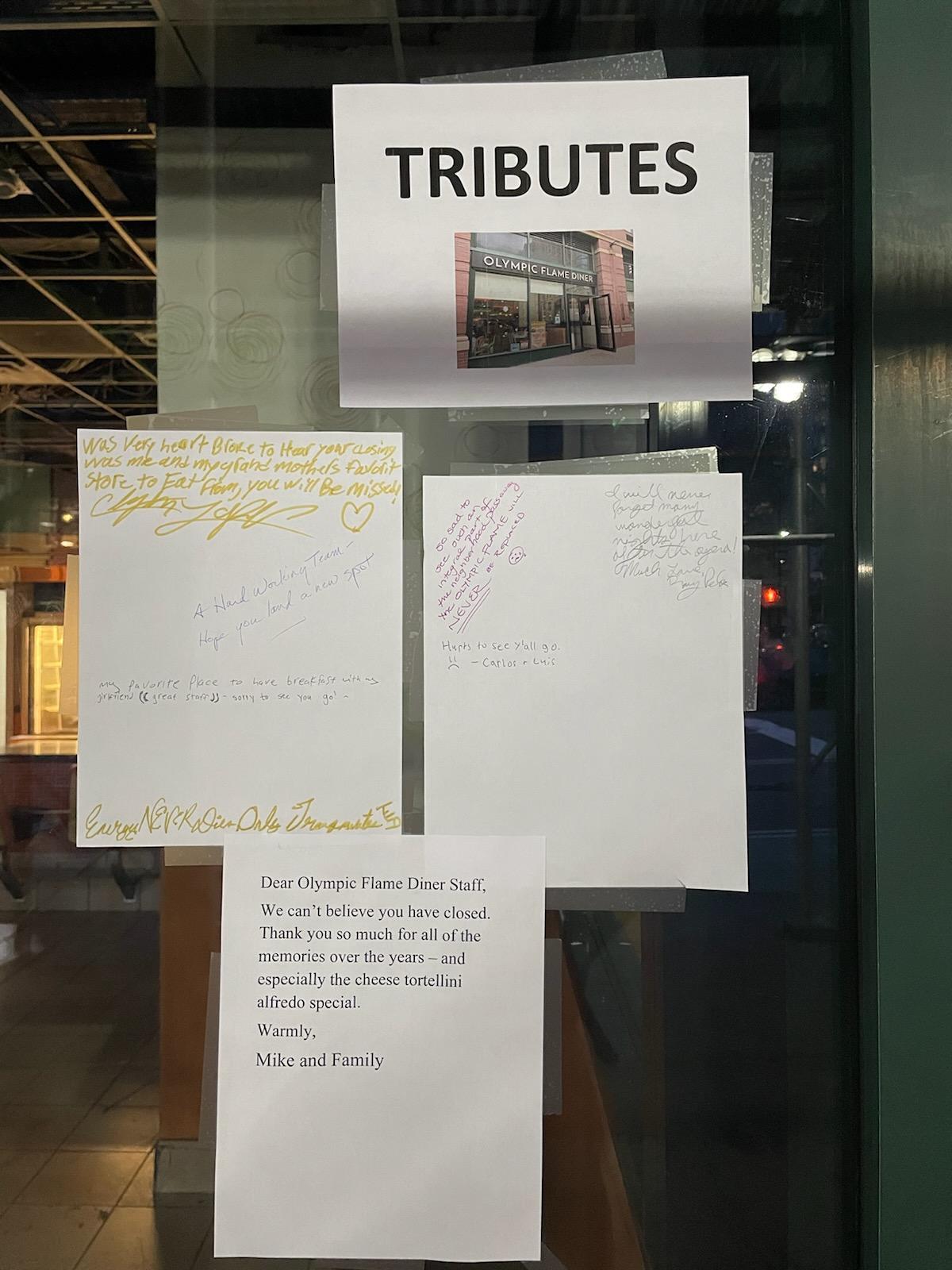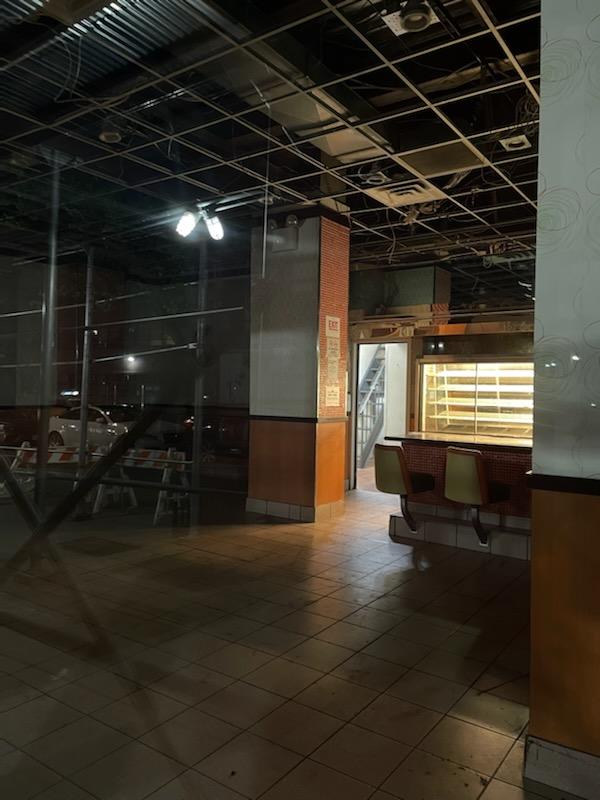 Farewell to 30 years for my family and to the likely many more for some of you. No regrets, only good memories, and food I will now always miss. Well, one regret. I wish I was able to surprise my mom with that bowl of cream of turkey soup that she remembered so dearly.