Take a moment to remember your favorite college professor. Was he or she engaging? Was the subject matter far more enjoyable just because of who was teaching? Thanks to One Day University, you now have the opportunity to learn from the most remarkable professors in the country, as rated by their students on campuses across the country. I encourage each of you to take some time to attend, or if you are too busy to physically attend, than you can watch lectures live online or by recorded video – more on that below.

One Day University, started right here on the Upper West Side 12 years ago, has now expanded globally, to 61 U.S. cities, plus Canada and Mexico.  Founder Steven Schragis' mission is to bring together people who love to learn.  Lectures range in topics from history, poltics and pschology  to music, art and movies, but no matter the topic,  audiences will be engaged and entertained by world-class professors.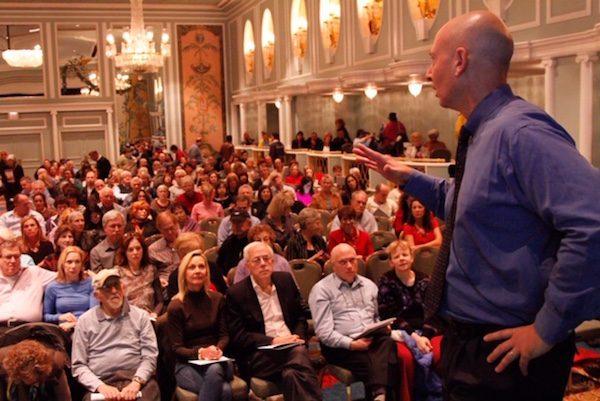 Take for example the upcoming event on Thursday June 27th, The Life and Myth of George Washington and The Civil War in 15 Objects, taught by Louis Masur of Rutgers University, and Harold Holzer of Hunter College, respectively. "These two are truly among the very best lecturers I have seen in my life," Steven said. "And I've seen close to a thousand." They've been so successful, that the upcoming program is an expanded version of what they have lectured on in the past. These lectures will absolutely satisfy big time history buffs.
If this isn't quit right for you, perhaps this would be the perfect Father's day gift, or general gift for family or friends who would enjoy an entertaining educational experience. Now One Day University has a new option so that you absolutely don't miss out. They've launched a digital online program so you can watch the events live from your laptop or phone – or a video on demand whenever you have time. Topics such as, What Would the Founding Fathers Think of America Today? Or, The Positive Psychology: The Science of Happiness, plus almost 200 more are available right now online. Details on how to purchase  can be found on their website www.onedayu.com.
SAVE 20% WHEN YOU REGISTER WITH CODE "UWS"
Myth of George Washington
June 27th, 10am-12pm at The Watson Hotel, 440 West 57th
Price (before discount): $95
Click Here For More Info Or To Register
Civil War in 15 Objects
June 27th, 2-4pm at The Watson Hotel, 440 West 57th
Price (before discount): $95
Click Here For More Info Or To Register
Click Here to Register for BOTH CLASSES ($129 before discount)
To register for the live stream & video of the George Washington class ($12),
CLICK HERE
.
To register for the live stream & video of the Civil War class ($12), CLICK HERE.
The following two tabs change content below.
Sara has lived in many neighborhoods around NYC including Little Italy, Union Square, the Village, and Flatiron, but she and her husband Zach now call the Upper West Side home. Sara is a mom to Halle Bella (toddler) and Prince (a very fluffy Australian labradoodle). The three of them can often be seen around the Upper West Side trying out kids classes, going to the parks and museums, and taking pictures for Prince's instagram page which you can follow here:
@prince_in_the_city
Contact Sara!
Latest posts by Sara Lewin Lebwohl (see all)
Advertisement