It might be an undisclosed requirement when living in NYC that you like to people-watch. It's not a must, as most people could care less about such activity. But for those of us, like myself, that can find simple enjoyment in sitting on a park bench and watching the day move, this article is for you.

As a writer, I like to find much of my subject material out in the open. I walk around a lot, usually aimlessly, and let my gut instincts navigate the way. Some days I find myself in Central Park listening to tourists figure out directions, while other days I sit in a coffee shop corner taking in the sounds of a classic city rush.

Advertisement
I've compiled a list of good places to people-watch for those of you that like to do the same things I do, either for creative encouragement or simple entertainment.
Pier I Cafe
We've written about Riverside Park before involving its historical imprint, but we haven't quite highlighted its value as a prime location for relaxing and people-watching. With the beauty of Manhattan on one side and the Hudson River and New Jersey on the other, this location is a perfect stretch of about four miles where you can sit on a variety of benches, lush grass, or your choice of piers.
For a specific location, check out Pier I Café for some refuel while you sit back at one of their many tables, feel the breeze coming off the river, and watch as people run by, walk their dogs, and have conversations around you. It's a beautiful part of the city where nature and architecture meet. Pier I Cafe is open from May to mid-October.
Verdi Square
Verdi Square is the area outside of the subway station at 72nd and Broadway. Now, I don't suggest sitting inside the station to people-watch, because that's simply unnecessary. Too hot, too crowded. But if you sit either at the outdoor tables across from Apple Bank or the tables by Le Pain Quotidien, you're in for a treat. The constant flow of commuter traffic from both locations makes for a wonderful array of passersby. Whether it's tourists trying to find their way downtown, holding large paper maps flapping in the wind, or people rushing to catch the 2 train uptown, there is a lot to see, always.
Read about some of the recent improvements made to Verdi Square.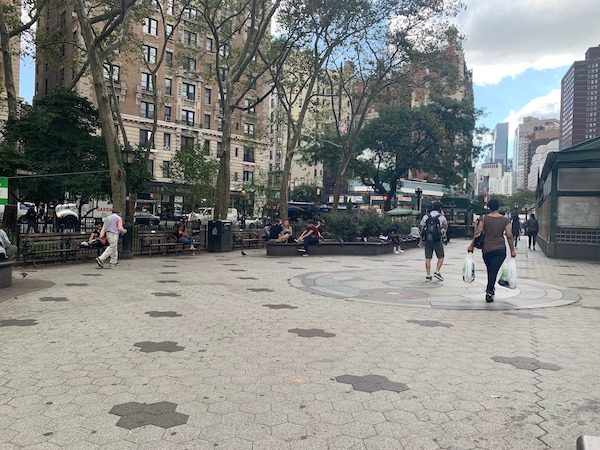 Advertisement
Barclays Capital Grove
The vast steps leading up to Lincoln Center's performing arts center are great for sitting if they're open. But if they're not, you can head up the stairs and yield right to the Barclays Capital Grove. It's a little section of trees aligned beautifully with tables scattered throughout. Ideal for meeting with friends, sitting and reading, or reclining back and people-watching.
Another spot near Lincoln Center is the outdoor seating area in the small right-triangular patch of seating formed by West 66th Street, Columbus Ave, and Broadway. It is adjacent to the 66th Street Lincoln Center Subway Station, the 1 line, and it catches a wonderful breeze coming from the east by the park. One of my faves!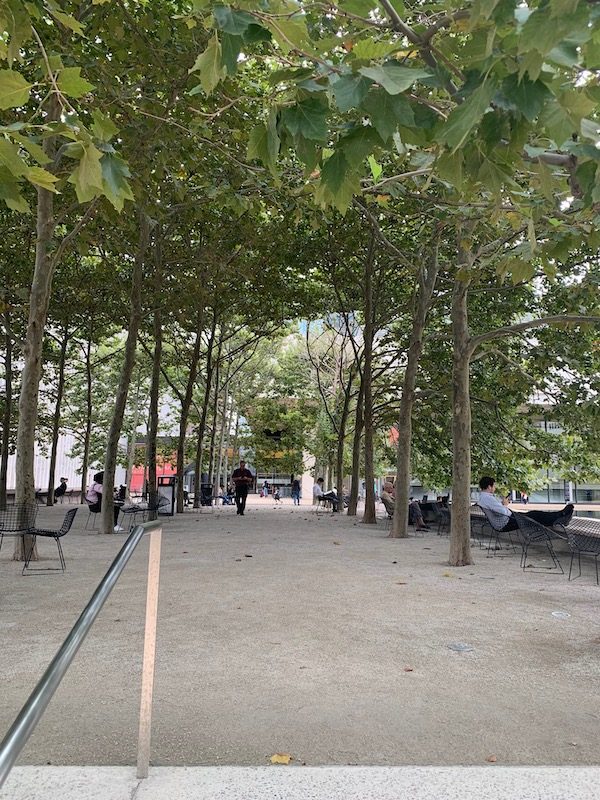 The Great Lawn
Central Park is filled to the brim with people-watching opportunities, but I definitely prefer lounging on the lawn. The Great Lawn is certainly an easy spot to congregate with friends, and it allows for easy gawking at people playing sports. It's a popular spot, so if you want a more precise suggestion, try the Strawberry Fields landscape. It's another well-known location, but it pays homage to the late John Lennon as it's located in Central Park between 71st and 74th streets, just blocks away from The Dakota on 72nd and Central Park West where Lennon once lived.
If you're looking for a different, active way to people-watch in Central Park, try checking out pedestrians via bicycle. I've spent many summer weekends leisurely riding my bike throughout the park, watching as people run, walk, and even skate along by. City relaxation at its finest.

Cafe Luxembourg
200 West 70th Street (between Amsterdam and West End Avenues)
One of the most valuable lessons I've learned, especially when I moved to NYC, is that it's worth finding activities you enjoy doing alone. Sitting at a bar and having a drink alone might feel uncomfortable for some people, which is understandable. But I've found that bringing a book with me provides for an easy segue into people-watching, all while enjoying one of the many UWS bars and restaurants. And if you're smart, you'll go during happy hour and catch some A-1 deals.
One of the best restaurants on the Upper West Side, which is also known to attract celebrities is Cafe Luxembourg. Sightings have included Tom Hanks, Liam Neeson, Al Pacino, Steve Martin, Patrick Stewart and Kathleen Turner.
And even if you don't catch any A-listers, this classic French restaurant is usually packed to the brim, so you'll certainly see some interesting characters.
And their French onion soup is off the charts.
Let us know if you try any of these suggestions or if you discover any gems of your own! Tag us on Instagram @ilovetheupperwestside with hashtag #bestpeoplewatchingspots. Happy observing!