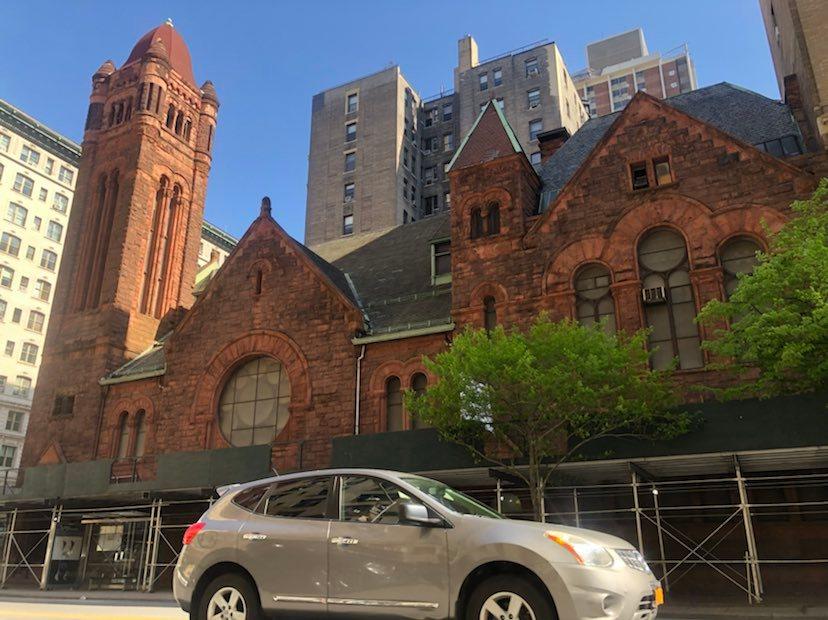 On Thursday, Community Board 7's Preservation Committee voted 8-1, with one abstaining, to maintain the landmark status of West-Park Presbyterian Church's 132-year-old structure that's fallen into disrepair. The church's governing body recently submitted a hardship application, which, if approved, would give them the green light to sell their space to Alchemy Properties, a developer that plans to demolish the church to develop a 210-foot residential building equipped with a 146-seat black box theater and 10,000 square feet of ground level space for a community center. A second vote was taken, with non-committee board members voting 8-2 to keep landmark status, with two abstaining.

Advertisement



Round 2 for this issue is set to take place on June 7 at 6:30 p.m., when committee and non-committee board member recommendations will go before a full Community Board 7 vote. Once completed, the city's Landmarks Preservation Commission will take all recommendations into account and make a final decision.
On Zoom, 195 community members were ready to go when the Preservation Committee's special meeting got underway. Roger Leaf, chair of the West-Park Presbyterian Church's Administrative Commission, introduced the church's hardship application and plan for redevelopment. Leaf stated his "congregation has put every penny it has into the building, and has had to go into debt so far in 2022," stating they can no longer subsidize operations or maintain the building. "We spent over a year looking at every imaginable plan to save the building, but the overwhelming condition issues made every other option not feasible."
Valerie Campbell, partner at law firm Kramer Levin Naftalis & Frankel LLP, spoke next on behalf of the church, pointing out how it sits right outside of the historic district on the northeast corner of 86th and Amsterdam, across the street from the Belnord (which is also landmarked). "One of the first things the church invested in when it was designated in 2010 was the possibility of transferring its unused development rights," stated Campbell. "But there are really no feasible sites in the vicinity of the church, since it is surrounded by developed residential buildings." Campbell went on to reiterate what Leaf pointed out earlier, that the sidewalk bridge around the church has been up for more than 20 years, before saying it's "perhaps the longest-standing sidewalk bridge in the city."
Kenneth Horn, president and founder of Alchemy Properties — the development firm aiming to knock down West-Park Presbyterian Church — said they brought in a team of consultants to see if the building could be saved, but all reports indicated the building was "in atrocious condition." Horn cited FacadeMD (Architects & Engineers), which reported the building was "literally melting," and Code Consultants Inc. pointed out "enormous code violations," which makes saving the church unviable.
A deep dive on the "existing conditions" of the church was delivered by Dan Kaplan, senior partner of FXCollaborative, which was retained by Alchemy Properties for the review. Kaplan detailed key components needed for repair, which include the ornamental sandstone finial located at the top of the chapel's façade; it's severely cracked and spalled at the end of a roof ridge beam. Extensive stone spalling, cracks, mortar deterioration and deteriorated windows were also cited, along with unsafe façade conditions.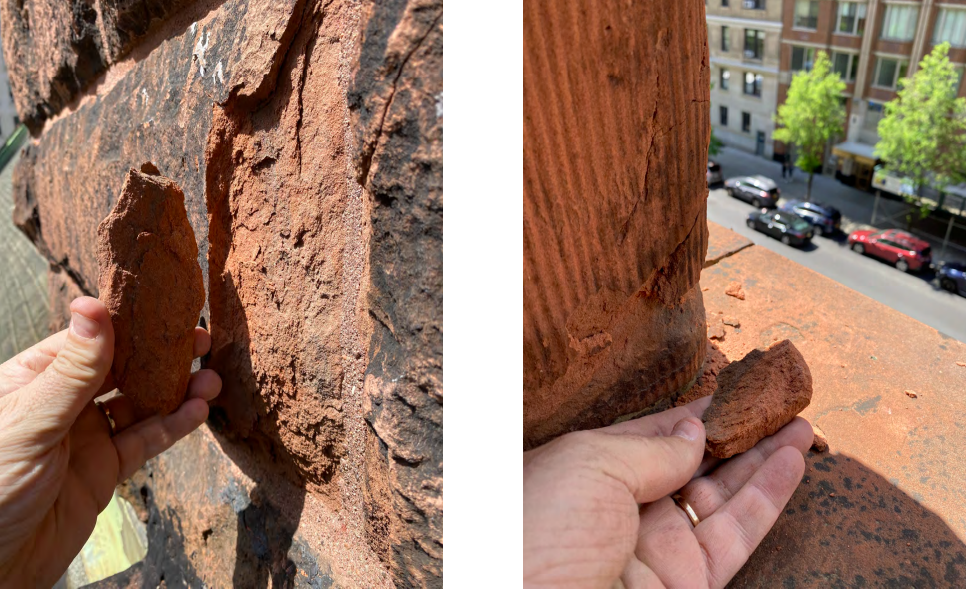 Several pictures of the deteriorating red and brown sandstone were shown, including a detached wall on West 86th Street that lets rainwater and sediment into the building. The structure also has no automatic sprinkler system, and the automatic fire alarm system is antiquated, lacking audible and visible notifications, noted Kaplan. The total figure he came up with for restoration, rehabilitation and repair costs — including contingency fees — came out to $49,824.153.
Advertisement



Industry expert Bob Jaeger spoke independently on the matter. In 1989, Jaeger co-founded Partners for Sacred Spaces, a non-profit organization designed to "change the way congregations view their role so that their sacred place remains a rich and vital part of the social fabric of a community," according to the organization's website. Jaeger stated, "One of the interesting bits of data that I can share with you is that if a congregation tells its story well, and does a community-minded capital campaign, as much as two-thirds of the money they raise will come from outside their membership." Jaeger noted West-Park Presbyterian church as a good example of this because the church is currently being used by non-member community programs and arts companies like the Center at Park West.
Everyone in the community that wanted to speak on the matter was given a two-minute window to do so. While the overwhelming majority were opposed to de-landmarking, several others pointed to long-term problems that still have no clear answer.
Austin Celestin, a resident of the UWS studying urban design and journalism at NYU, said he's never seen the church without a scaffold. "Before I was born, they were very blunt about the challenges they had faced and the consequences of landmarking the church," said Salston.  He pointed to Council Member Gale Brewer and said, "Gale Brewer made a promise we would chip in and help provide resources to help the church maintain itself." Salston felt promises were not kept, "and yet, we're acting like all the options are still on the table when not one entity has been able to get close to the numbers."
Marsha Flowers, a member of the West-Park Presbyterian Church for over 30 years — and a board member at the Center at West Park — discussed what the congregation has done to try and stay afloat. "We have sold the housing for our minister. We eliminated the minister position and had been lay-led." Flowers went on to say, "Now, we have an opportunity to release the value of the property, to give us a chance for new life and growth, not only for West-Park, but also for the Presbyterian Mission in New York City, which includes more than just West-Park."
Advertisement



In the end, the case to de-landmark the building wasn't strong enough to win the necessary votes from the Preservation Committee. There was a consensus among the committee that all possible options had not been looked into deeply enough to pull landmark status yet, leaving the door for re-examination open.
It was agreed that more time was needed to assess the actual estimated cost to repair the church, while also prospecting if the congregational space would be better off being sold "as is" to an entity like a non-profit which might have better success fundraising — as the city cannot designate funds to a church.
"That's what the Presbyterian should do, because once a non-profit owns it, I can allocate city money. I cannot allocate city money to a church, that's wrong," said Brewer, who noted the Center at West Park had offered $2 million to buy the church, which has perfect pitch. "Maybe that's not enough, but it wasn't even considered," remarked Brewer, going on to say she's spoken to people in the area and foundations would "easily allocate funding … to a non-profit that had a cultural bend for the future of that church."
Sean Khorsandi of Landmark West noted in his testimony that, in its Designation Report, the Landmarks Preservation Committee found, in part, that "the West-Park Presbyterian Church was one of the Upper West Side's most important buildings" when it was first given landmark status 12 years ago.
"Rewarding an owner who engages in demolition by neglect will set a precedent that will be used by other owners and developers across the city to destroy the city's historic fabric," said Khorsandi.