Eliot Ramirez is a life-long Upper West Sider and private chef, who, at just 25, has perfected his craft in the kitchen. Upper West Siders have experienced this perfection first-hand, both from his private dinners and in-home lessons.

Eliot currently lives on 89th Street, and if you go to the 87th Street Dog Run, you've probably seen him there with his dogs Lola and Eloise.
Eliot graduated from culinary school in 2015. His first job after school was teaching at an after school cooking class for kids; after that, he worked at several Upper West Side restaurants including Burke & Wills and Kirsh Bakery and Kitchen (which he actually helped open). In addition, Eliot is a menu consultant for Bean's & Lager, a popular restaurant in Astoria.
Working at different types of restaurants helped Chef Eliot define his signature cuisine, which he calls "approachable yet elevated" – offering plates that can appeal to everyone.
Eating in with Eliot was officially launched in 2018.
Chef Eliot's farm-to-table meals can accommodate private groups of up to 20 people. Selected ingredients are based on seasonal freshness and are often picked right from our local farmers markets. Tell him what you like and he'll pick it up!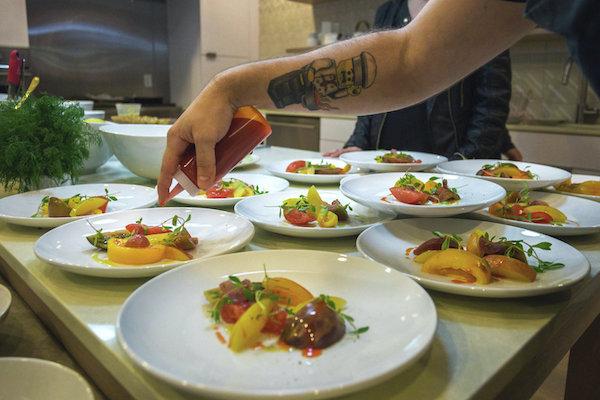 Chef Eliot's multiple course dinners have garnered him flawless (and I mean perfect) reviews.
"Chef Eliot's 7-course meal is well-curated and one of the most memorable dinners I've had in NYC! He picks all his ingredients fresh from the farmer's market morning of and you can definitely taste it! The entire experience is truly more farm-to-table than your typical farm-to-table restaurants." (Yelp reviewer)
Eliot's popularity comes from both the deliciousness of his food and the experience of his dinners. He likes to share the stories and logic behind all of the food he prepares, including details like the nutrients and what's available in season, how the food is prepared, and his inspiration behind some of his dishes.
Eliot's cooking classes also start at the farmers market, where he'll show you how to pick out the right seasonal ingredients. The lesson then continues in the comfort of your home kitchen, where you'll prepare the perfect meal together. While these classes are typically for adults, Eliot occasionally provides lessons to children who show a real passion for cooking.
"After being very pleased with our first cooking lesson, my wife and I hired Eliot again for another lesson.  The same enjoyable and informative time was had and we couldn't be more pleased with the dishes and techniques he taught us during our two lessons.  In the new year we'll likely continue the lessons and may have him do a dinner party at our home.  Highly recommended!" (Yelp reviewer)
If you'd like to have Eliot come cook for you and your guests or you want to learn more, check out eatinginwitheliot.com and find @chefeliotttttt on Instagram!