When people think of sculptures and statues in NYC, the Statue of Liberty and the lions in front of the main New York Public Library are likely the first ones that come to mind.

However, neighborhoods including the Upper West Side have quite a number of unique monuments.
A few from the UWS were included in my article about Riverside Drive, but in this piece, I'd like to challenge our readers with this quiz on the identity of some of the other statues and sculptures on the Upper West Side.
My ten question brainteaser includes photos of statues and sculptures as well as images with a few details of each given structure.
Advertisement



Some of these works of art have been in our midst for a long time and are hopefully here to stay.
Others have been here on a temporary basis, but observant Upper West Siders are likely to have seen them.
Your task is to answer some questions about a given monument and the incentive might be that upon completion, you might've learned a thing or two about these awesome works of art.
Plus you will have bragging rights for successfully acing (or at least completing) another iLovetheUpperWestside quiz!  If you missed the first one, it focused on the Upper West Side during the 1980s.
Here we go:
1. In 2017, there was a sculpture of a hippo gazing at Lincoln Center from the vantage point of Dante Park. She is specifically looking at the building where the ballet is performed.
The visiting Hippo Ballerina is no longer standing in that area of the UWS. But when I saw her in 2017, I imagined her to be wistful about opportunities of performing at Lincoln Center.
How about you, dear readers? Did you get a chance to see her and if so, what character or characters did you think the sculptor, Bjørn Okholm Skaarup, had in mind when he created her?
Hint: he had two in mind when he did this sculpture. One is from a famous painting; the other is a famous character in the world of animation.
Advertisement
2. The sculpture seen in the following image is also a hippo!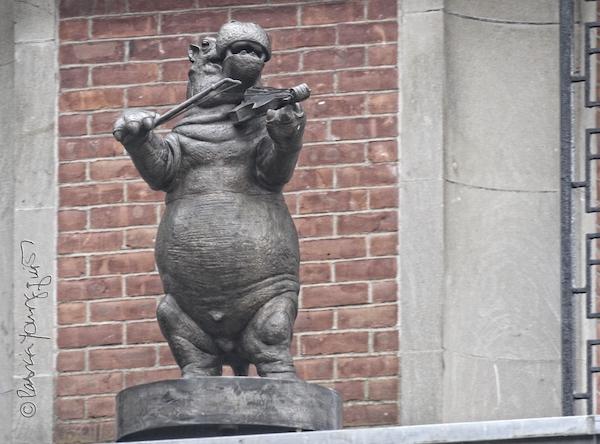 As you can see, this one is playing a violin! Where is this piece of art located?
Hint: this animal replica helps us keep time when we are near the zoo in Central Park.
3. Moving right along, the third question also concerns renditions of hippo-themed sculptures.
What is the name of the playground where this one is located?
Hint: this children's playground is parallel to the third stretch of Central Park West's Historic District. You may recall I wrote about the first and second stretch of CPW's Historic District this past fall.
Advertisement



4. At this point, I think it's good to note the next sculpture may prove Cyndi Lauper's point that "girls just wanna have fun."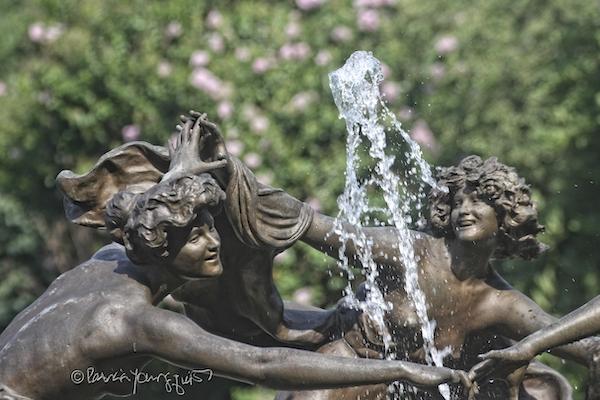 Where is the location of the monument depicting these joyful young women?
Hint: the place to find this masterpiece is in a northern area of Central Park.
5. My fifth question concerns the location of a Northern cardinal who is attempting to drink water from a "saucer" that is part of this sculpture in Central Park.
Where is this sculpture and who does it honor?
Hint: it's in the same vicinity as the sculpture in the previous question and is dedicated to an author known for her children's books.
6. Onward we go (but still in Central Park)! The sixth question is, who is the man depicted in the statue seen in the following image – and where is it located within the park?
Hint: he was well respected in government and his monument is near a crosstown thoroughfare within Central Park. Moreover, sparrows build their nests within the statues arms.
7. This next question has to do with the sculpture of this dog in Central Park:
What is the dog's name and what is he known for?
Hint: his name rhymes with the name a group of people known as Malto, who are a Dravidian-speaking ethnic group. Most Dravidians are found in South India. Moreover, the dog depicted in the sculpture was instrumental in saving lives.
Advertisement



8. Question eight takes us out of Central Park as we head back west and slightly north of where the Hippo Ballerina once stood.
In 2018, sculptures wearing these shoes were placed in the neighborhood.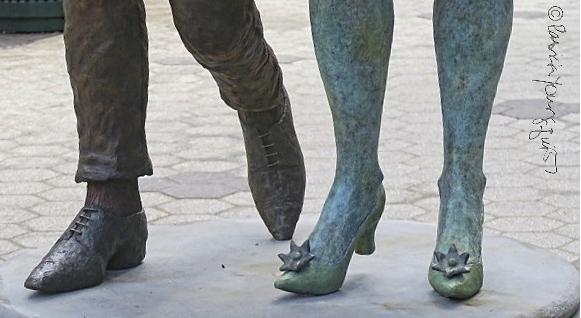 Because it's been a few years since these sculptures were at this location, it might be difficult to remember the shoes they wore — unless you are someone who is a shoe-person! Hence, here is a full body shot of these sculptures; who are the subject of the next artwork in question.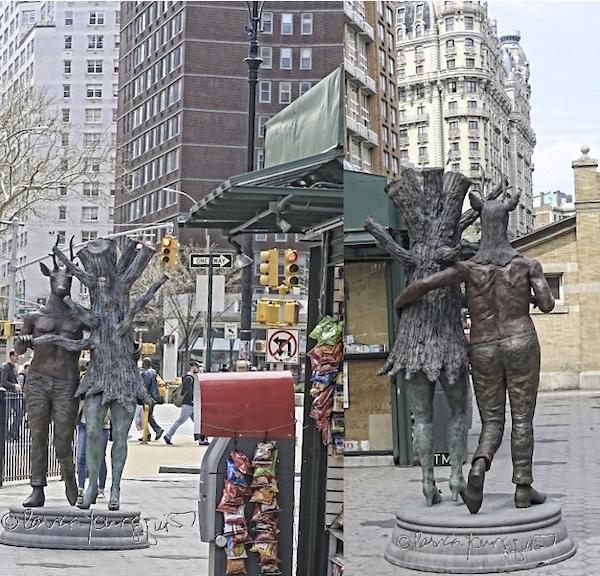 The question for you is, where were they located?
Hint: it's near a subway stop.
9. At this point, for our ninth question, we head further west:
As you can see, this next image features a sculpture of a bird.
Where was this located and what was the name of the installation that it was a part of?
Hint: this sculpture was included along with seven others during a once annual event sponsored by The Art Student's League.
Advertisement
10. This fact brings us to the final question which is in three short parts.
Part 1: Prior to Berger creating a bird-themed sculpture, for the aforementioned Model to Monument 2016 venue, artist Akihiro Ito also created a fauna-themed one.
Hers was included during another time period of an M to M exhibition.
Ito's work of art was made out of wood and titled Forever.
What time period was this work included in the exhibition?
Hint: remember, the annual event only took place between 2011 and 2016.
Part 2: Furthermore, and also prior to Berger creating her single bird sculpture, Selva Sanjines, another artist, built a pair of fauna-themed ones.
Her work of art was also included within what used to be a yearly exhibition in Riverside Park South. The art work I'm now referencing is featured in the next photo, showing you how it appeared in that installation.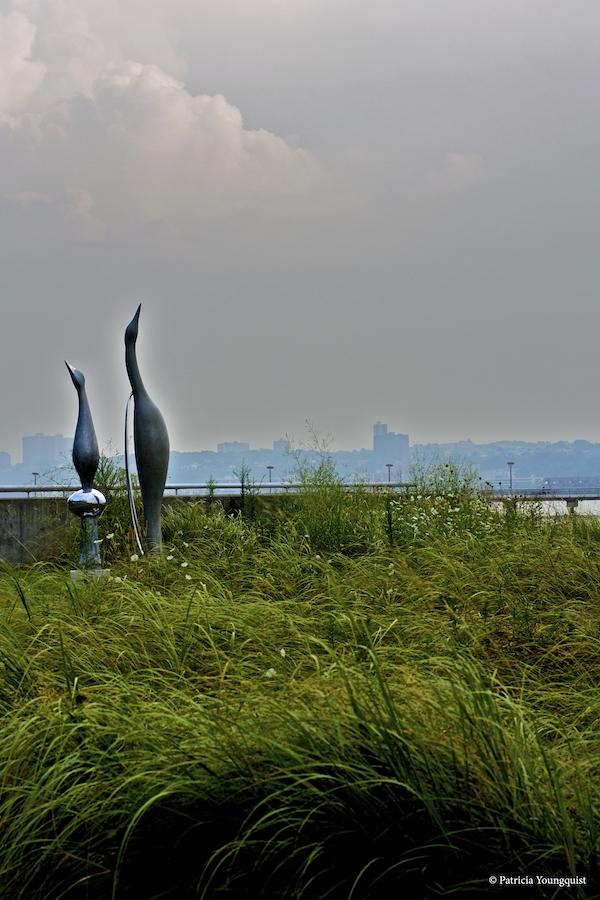 What time period was this artist's work featured in the event?
Hint: during the time period Sanjines's birds were featured; the exhibit had a subtitle, From Past to Future: M2M. Also remember, the entire span of the annual event was only from 2011-2016.
Part 3: Since I started my questionnaire with a ballerina (the hippo sculpture), I'll end it with another ballet dancer.
This structure, titled A Frolicking Stray, was created by John N. Erianne and was also in a M to M exhibition!
Which time period was that?
Same hint: remember the entire years of the annual event were only from 2011-2016.