Your favorite rapping mathlete from the cult classic movie Mean Girls lives right here on the Upper West Side. While Rajiv Surendra has forever won our hearts as Kevin G, the local celebrity has also written a memoir titled The Elephants in My Backyard, and is now working as a calligrapher and chalk artist. I sat down with him at Irving Farm coffee shop, where he spoke to me about his love for the UWS.

You've traveled around the world. Why did you choose the UWS as your home?
My friend once told me that in New York City an apartment finds you, you don't find it, and I really came to agree with that because you look and you look and you look, and then you just find the right one. When you move in, it actually does feel like home.
What about the UWS pulls on your heartstrings?
This might sound very bohemian and artsy, but it is the light. I looked at over 30 apartments, and most of them were very dark. One of my favorite things about my apartment is the afternoon light. There is this beautiful afternoon light that's like…honey. It's yellow and warm. I'll sometimes lie on my couch at two o'clock in the afternoon and when the light comes in, it puts me to sleep for twenty minutes. It's one of the most relaxing things and I look forward to it.
What has been your favorite experience in the neighborhood?
It has been meeting and getting to know Prince, your dog. It started as a far-fetched dream. I had to be friends with him. When this dream started, I was working on another far-fetched dream of setting up lunch with Beyoncé. Someone asked me, which would you rather have happen, lunch with Beyoncé or befriending Prince. I thought about it and decided that lunch would be a one-time thing, but being friends with a happy dog would last a lifetime. I said I would choose Prince and I can't believe it actually happened, it has made me so happy.
Speaking of celebrities, who is your celebrity crush?
Alexander Skarsgard.
Do you get recognized walking around the UWS?
I'll often hear people quoting Mean Girls. I laugh to myself, because I'll be walking right by and think, "if they only knew I was right here!" When people come up to me, it's always flattering. It has been an honor to know that I was in something that people still love 15 years later. I am very grateful for people coming up to me and stopping me. It's not a bother at all.

Advertisement
What is your favorite spot on the UWS?
Irving Farm is one of my favorite places. I wrote my book, The Elephants in My Backyard, in the shop, and now I work there!
You have written a book and done a movie! If you had to choose between a bookstore or a movie theater, where would you rather go?
I am a book person but for an evening out I'm often at the movies. My favorite movie theater was Lincoln Plaza, may it rest in peace. I think the whole UWS will agree that closing the theater was a travesty.
When you are not working, where do you like to hang out?
I love going to Riverside Park and Central Park to picnic. I love biking along the Hudson and coffee shops. The new Blue Bottle is great. There is a farmers market near Lincoln Center that has wonderful local strawberries right now.
Speaking of food, do you prefer cooking or baking?
I cook a lot at home, and bake occasionally (I just made a strawberry rhubarb pie with my purchase from the farmer's market). My friends come over and we have dinner parties at my house where I'll make a big meal, and someone will sit and play on the piano.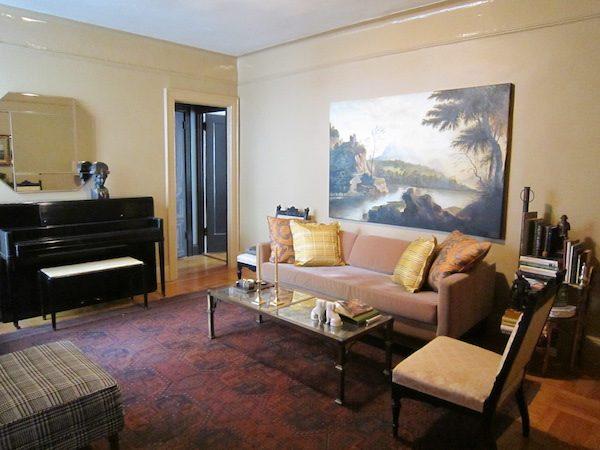 "This painting took me 8 months. It's a copy of a painting from the 1830s."
Wow, tell me more about your apartment.
It's a small space, and the kitchen is tiny but I have managed to roast a whole goose on Christmas for 12 people on a little stove. I've really learned to use the space to its maximum potential.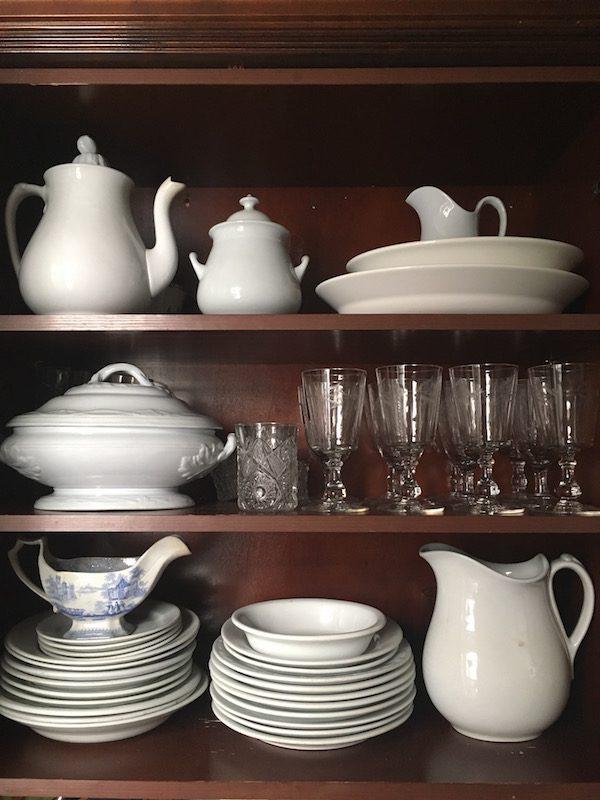 "People have no idea they are eating off plates that are over 100 years old."
How about the rest of your apartment?
I have made my living for the last few years doing calligraphy and chalk art. I felt that a fun way to brighten up the entranceway of my apartment, which is very dark, would be to cover the walls in chalk work.
"It looks formal, but the medium makes it very fun. You can rub your hand along that wall, wipe it off, and that's okay. It's kind of a metaphor for how I feel about why it's there. It will disappear."
What song lyrics make you think of the UWS?
The song is kind of cheesy. It's from My Fair Lady called On The Street Where You Live. When I'm walking home at 2am, after it has just rained, I look up at the townhouses and it brings me to this place where I feel like Freddy from the movie. As you said, there is really a romance about this neighborhood. I think the architecture does it. People don't look up often enough. There is so much beauty right at the skyline. Most of the richness of these prewar buildings is up at the very top, beautifully ornate brickwork and copper cornices that are lost on the masses who are walking around staring at their phones.
Very romantic. Are you single?
Yes. Yes, I am.
How could someone get your attention?
Not be on their phone! I'm doing it the old fashioned way, I'm not any dating apps. Someone would have to be visually engaged with the world. They would be looking up and make eye contact with me. And smile. Simple, right? But you'd be shocked at how rare that is.

Advertisement
What are you working on now?
Since I was a child, I've maintained a practice of hand writing letters. Almost every week I write a letter or two. My favorite mailbox in the whole city is this tiny prewar bronze box attached to a building on West End, right at 74th street. The swinging flange says "Mail Early." One thing I love the most about the Upper West Side is that the post offices maintain these beautiful mailboxes that are like little treasure boxes.
Will you host a workshop on the UWS for letter writing?
Yes, I will keep you posted!
You can follow Rajiv on Instagram at @rajivsurendra and @lettersinink
His website is: www.lettersinink.com/blog
And his book can be purchased here.
Join the UWS newsletter for more celebrity stories!