Looking back on growing up on the Upper West Side, every stage of life seemed to have its own signature memory of a long gone restaurant, now, remembered clear as day.

As a ten-year-old, I took ballet classes at Julliard that was in pre-Lincoln Center days located on 120th Street, just off Broadway. My father would pick me up and we'd walk down to 116th Street to Chock full O' Nuts to have cream cheese sandwiches on date-nut bread.
Advertisement
Around that period, as a special treat, we would go as a family to Tip Toe Inn on West 86th
Street with its white tablecloths and formally dressed waiters. What I remember most is my father savoring his appetizer of a plate of cherry stone clams.
Then, as a student at the High School of Music and Art (now Fiorello H. LaGuardia High School of Music & Art and Performing Arts) in the 1960s, a group of friends and I would meet every month or two for delicious butterscotch sundaes topped with toasted almonds at Schrafft's at 83rd Street and Broadway. It had a dated classiness that felt very exotic in those days, when we mostly wore all black and beads and Greek handwoven bags hanging from our shoulders.
We were served by waitresses in black uniforms with crisp white aprons, dark stockings and sensible shoes. Years later, I had a supervisor at work who told me that her mother had been a waitress at Schrafft's. A single parent, she worked long shifts at another of the Schrafft's chain restaurants, earning enough to put her three daughters through college. She still had the recipe her mother had obtained for Schrafft's (ladies who lunch) strawberry chiffon pie.
Advertisement



When my husband and I were dating, a regular weekend breakfast treat was at the Eclair Bakery. It was a true a piece of Vienna or Budapest transported to a safe haven on the UWS for many WW II refugee intellectuals, and later a popular meeting place with their children and grandchildren. We never had the famous opera cake or other luscious pastries; always croissants and thick apricot jam. The Eclair sign was rescued from a dumpster when the cafe closed and now hangs, along with an original placemat, on the wall at Landmark West on West 67th Street.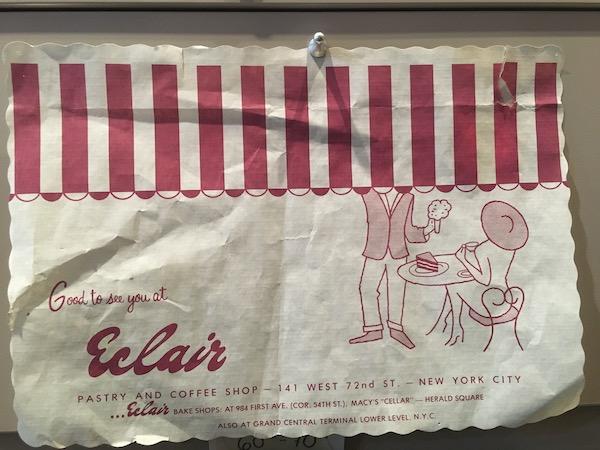 Recently, my children and grandchildren spoke nostalgically about a place they referred to as the Buddha restaurant, actually called Amber. We used to go regularly, when it was located at 221 Columbus Ave (it's now located at 103 West 70th Street). The special highlight of this large, mysterious, dimly lit setting was a huge, golden statue set in a pool with live koi.  I do remember a spectacular whole stuffed red snapper. But, I don't think they have any memory of the food, only of the atmosphere. Ah, that was very special.