In May, members of Community Board 7's Preservation Committee reviewed the American Museum of Natural History's proposal to remove the Equestrian Statue of Theodore Roosevelt from its Central Park West entrance. Committee members ended up voting unanimously in favor of it.

This week, the proposal received final green light, as the statue's relocation was approved by the New York City Public Design Commission.

The AMNH first
proposed its plan
to remove the statue in June 2020, following growing protests for racial justice (as well as an incident in which red paint was thrown at the statue).
The Equestrian Statue in front of the Museum has long been controversial for the racial hierarchy it depicts. The Museum has asked that it be moved. More: https://t.co/3hgIWe0fqu pic.twitter.com/m99Bl1EEFT

— American Museum of Natural History (@AMNH) June 21, 2020
"The Statue has long been controversial because of the hierarchical composition that places one figure on horseback and the others walking alongside, and many of us find its depictions of the Native American and African figures and their placement in the monument racist," a statement from the AMNH read at the time.
Reactions to the initiative have been mixed since the proposal made headlines. Many have voiced support for preserving history and not removing the statue, including those who attended a protest against the statue's removal about one week after the museum made its announcement.
Protesters demanding Teddy Roosevelt statue not to be removed in #NYC at the American Museum of Natural history. Stay tuned for updates pic.twitter.com/tB30wWsPFE

— Jorge Ventura Media (@VenturaReport) June 28, 2020
Others have expressed alignment with the AMNH's position, and are happy it will be gone.

During May's committee meeting, plans to replace the statue were presented by architect Rolondo Kraeher, who explained that it wouldn't be another statue replacing it. Rather, additional stairs would be added and text would be engraved in the ground. Kraeher said that the design was meant to create a message of openness and availability.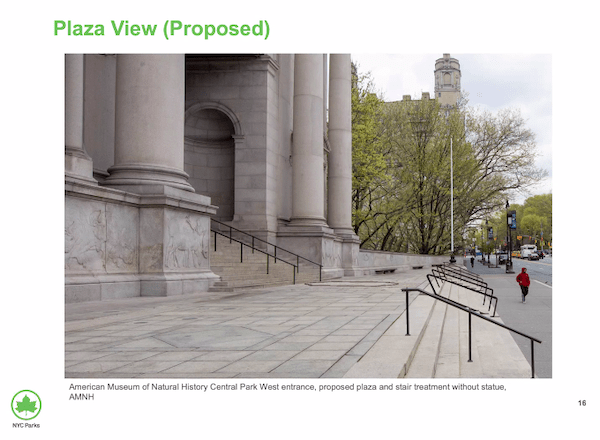 It is currently unknown where the Equestrian Statue of Theodore Roosevelt will be placed.