The construction of a new skate park at 108th Street in Riverside Park has begun. The Riverside Park Conservancy made this announcement on June 7th on their Facebook page.

Their goal is to make the current skate park safer, and to include elements which will attract all skill levels. The project will cost $2.6 million in total.
The design of the skate park will include an 11′ feet bowl, which they state is its most dramatic feature.
The current footprint of the skate park will also be increased, and new benches and fencing will be added.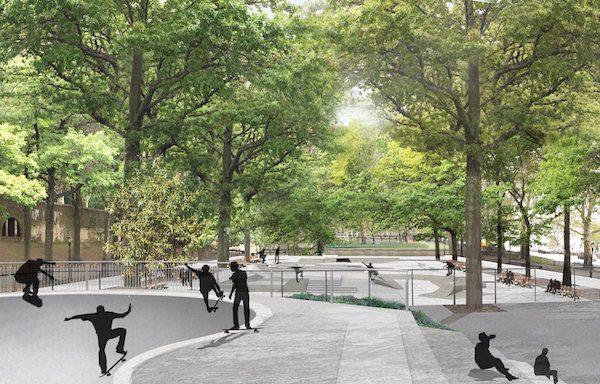 The official launch ceremony was held on Saturday, June 8th, and construction has commenced. The ceremony was attended by Borough President Gale Brewer, and Council Members Mark Levine and Helen Rosenthal, who are funding the $2.6 million project.
Groundbreaking ceremony for the skate park in beautiful @RiversideParkNY! I'm happy and proud to help fund and support this project. pic.twitter.com/O6nFNoet1D

— Helen Rosenthal (@HelenRosenthal) June 8, 2019
The most storied skate park in Manhattan was built by hand in @RiversideParkNY by skaters 25 years ago. Today we broke ground on a long-needed renovation, so a new generation of NYers can safely enjoy this quintessential NYC sport. (With 11-ft ramps!) pic.twitter.com/X1NZUP22J6

— Mark D. Levine (@MarkLevineNYC) June 8, 2019
Plans to update and improve the 108th Street skate park have been discussed for years now. The original skate park was built by the late NYC skateboarder Andy Kessler 25 years ago.
Join the UWS newsletter for more local updates:
The following two tabs change content below.
Mike is a native Upper West Sider. He's lived in the Lincoln Center area, Morningside Heights, and pretty much everywhere in between. You can frequently find him eating through the many great
restaurants on the Upper West Side
or awkwardly taking photos with his iPhone.  
Contact Mike!
Latest posts by Mike Mishkin (see all)
Advertisement