Soon after the goats got back to NYC to begin their summer internships, each released a campaign platform in the hopes of winning the ranked choice "Vote The G.O.A.T." election. But one of them – newcomer Ms. Bo Peep (who we were warned about) – is playing dirty.

(campaign ad created by Julia Mendoza Friedman)
The negative attack ad by Ms. Bo Peep against front runners Skittles and Chalupa broke an unwritten rule among goats that "thou shalt not speak ill of another goat," and will likely shake up public perception of the candidates.
"We are deeply troubled to see this campaign take such an unfortunate turn," said Dan Garodnick, President & CEO of Riverside Park Conservancy. "We encourage a healthy competition among the goats, but we do not condone this level of negative campaigning."
[adrotate banner="161″]
The five goats arrived on July 14 to eat away at invasive plants in Riverside Park. Over 700 votes have been cast so far, and the winner will be crowned on September 9.
A little more about each goat: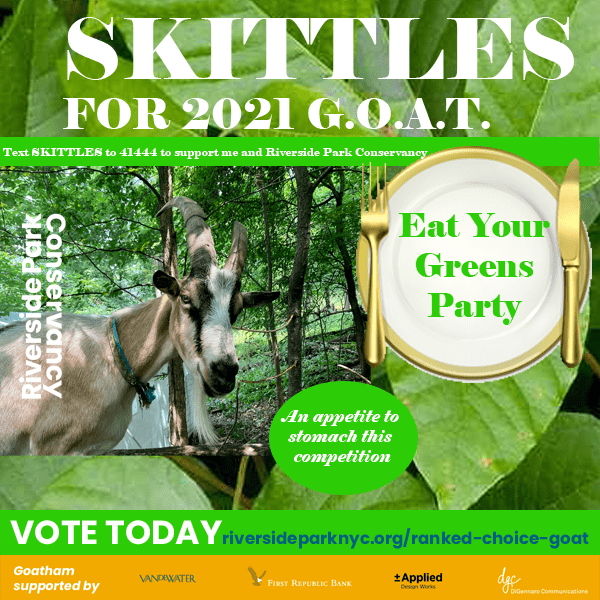 Favorite bagel: everything, toasted, with scallion cream cheese
Takes her coffee: light and sweet
Favorite TV show: Seinfeld
Dream vacation spot: anywhere warm, where she can sip a margarita on the beach
Favorite bodega item: bacon, egg, and cheese on a roll
If he could live anywhere besides NYC: San Francisco
Pet peeve: getting food caught in his teeth
Dream date: walking over the Brooklyn Bridge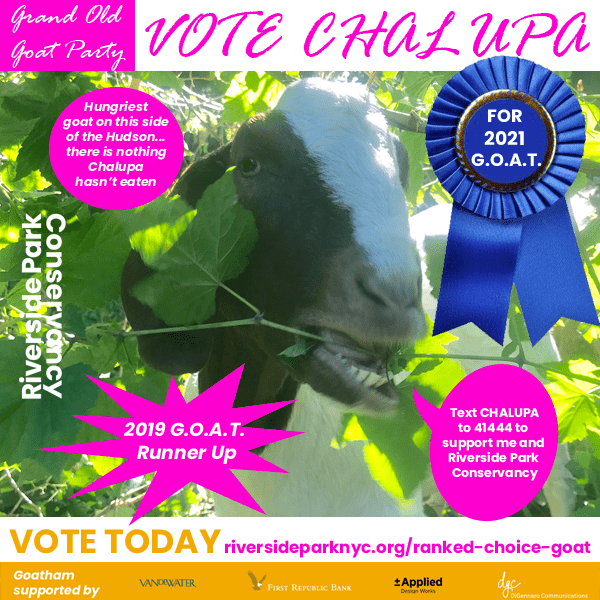 Past career: technical support
Favorite dessert: cotton candy
Favorite TV show: Girls
Pet peeve: people who don't recycle
Advertisement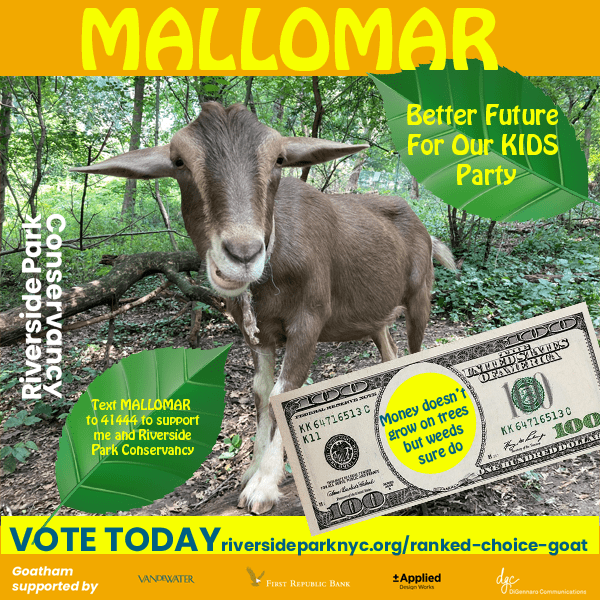 Pet peeve: shy people
Past career: Librarian
Celebrity crush: Natalie Portman
Favorite dessert: cinnamon babka
Pet peeve: people who look at their phone while walking
Dream date: strolling through the MET
Favorite Broadway show: Phantom of the Opera
Secret talent: can play "New York, New York" on the kazoo and the banjo
To learn more about each platform and cast a vote (until September 8), please visit Riverside Park Conservancy's website.