The Riverside Park Conservancy announced that work has begun on the sixth and final phase of construction within Riverside Park South (between 59th and 65th Streets).

Phase 6 will add more than ten acres of brand new parkland, bringing Riverside Park South to a total of 32 acres.
Once complete, there will be a multipurpose synthetic sports field in addition to basketball courts. The pedestrian promenade will be complete, and new, ADA-compliant entrances will be constructed at 62nd and 64th and Streets.
The Conservancy estimates that the last phase will take about two years. Here's a rendering they've provided of the final envisioned product: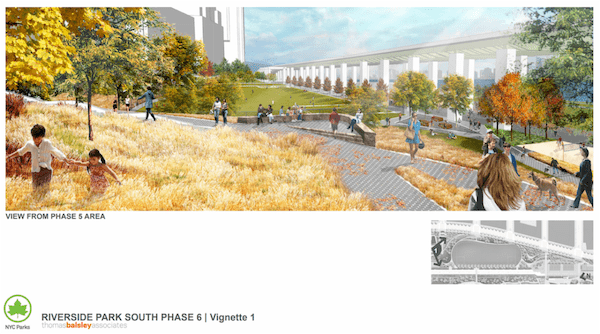 According to the Parks Department, total funding for this project is a bit over $7 million.
The Riverside Park Conservancy was recently awarded $7.75 million to repair staircases at 105th and 78th Streets, and to make upgrades at two playgrounds.
A total reconstruction of the 79th Street Boat Basin is also taking place, a project which the City and FEMA have collectively invested almost $90 million in.