Rocket Club – a first-of-its-kind visionary after school club – is on a mission to teach UWS kids (ages 9 – 14 years old) all about robotics, coding, and entrepreneurship.

Rocket Club is making its NYC debut and gave I Love the Upper West Side an advanced access tour of its Silicon Valley style garage workspace – located at The Yard at 157 Columbus Avenue (67th Street ) – to share with our readers who want to claim first dibs on a tour.
The wildly successful first location launched in Hoboken in February, and memberships are completely filled into 2020 with a waiting list for future enrollment.
The club was initially conceptualized by Alex Hodara, a "Forbes: 30 Under 30" and "Bloomberg BusinessWeek 25 Under 25" recipient. This isn't your everyday after school club!
Enlisting the help of robotics experts, virtual and augmented reality experts, nine other "Forbes: 30 under 30" winners, and a NASA engineer, Rocket Club creates a proprietary curriculum: a mix of advanced robotics, coding, and entrepreneurship.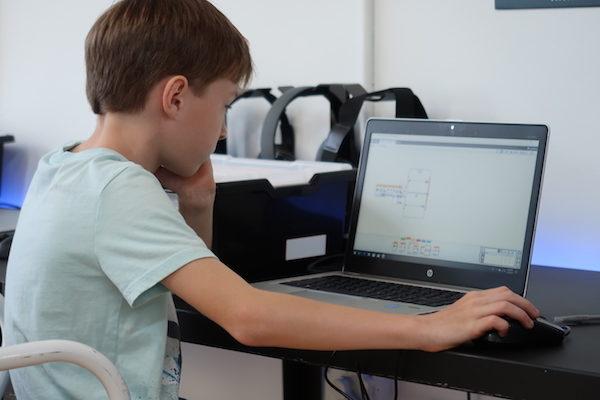 Within the first couple of months, the kids began to develop real businesses using their newfound knowledge of robotics.
They developed and launched the world's FIRST Robotic Lemonade Stand at VentureCon 2019 and all proceeds went to charity. The Robotic Lemonade Stand Company caught the attention of three Shark Tank investors and the Executive Producer of the Ellen Degeneres Show.
And at the end of the semester … Rocket Club's members produced 15 actual businesses for its first-ever Business Competition (judged by three additional Forbes 30 Under 30 recipients).
Many of the kids are also in talks or have already signed deals that they'll profit from! Rocket Club takes zero stake in any of the kids' companies.
HERE IS A LIST OF COMPANIES FOUNDED BY ROCKET CLUB MEMBERS
Here's what you can expect from a membership at Rocket Club
Robotics:
Each Rocket Club member uses a LEGO Mindstorms EV3 Education Kit to build robotic race cars, cranes, claws, and Mars Rovers.
Throughout the first semester, Rocket Club members will learn how to bring wheels, gears, axles, joints, and pulleys to life.
They'll learn the basic concepts of mechanisms, electronics and physics.
Coding:
Members will learn how to program and control robots to complete tasks.
They'll be introduced to virtual reality, augmented reality and game development with a Parsons Art and Design Professor.
They'll program with LEGO Mindstorms EV3 software.
Entrepreneurship:
At the end of the semester, members can participate in a Shark Tank-styled competition, where finalists pitch their robotics business plan to three Forbes 30 Under 30 Founders.
Rocket Club members will learn hands-on basics of financial modeling, branding, marketing, and operations.
Members will gain exclusive access to a network of accomplished advisors and mentors.
Rocket Club is granting I Love the Upper Westside readers first access to registration. They are accepting only 21 spots for their inaugural semester with limited time introductory pricing. Ready to grab a spot?!
Here are the details:
Semester runs September 1st, 2019 – January 31st, 2020
Classes are once per week for 2 hours (3:30pm – 530pm Mondays, Wednesdays, or Fridays)
Introductory Price of $550/month
All club members receive a personalized club bomber jacket
Tour and application are required prior to registration
BOOK A TOUR NOW!