When did learning stop being fun? How can we grow socially responsible humans who care about others and about giving back to our world? What do kids need to be successful in our world today and in the future?

These vexing questions set co-founders Sung-Ae Yang and Jeffrey Imrich on a mission to rethink the learning opportunities available to parents and educators. Their new company, Rock by Rock, strives to answer these questions.
Together, Sung-Ae and Jeff have 35 years of experience in education – and their goal is to make learning fun while building real world skills and the life habits kids need to thrive in our ever-changing world.
Their first product, a monthly, at-home subscription box called "The Changemaker", is geared for ages 8-11, and will truly change the lives of those who experience it. "The Pebble Box" for younger kids will be available soon.
The most common feedback from children? "I loved this box. It's so much fun. When can I get the next one?"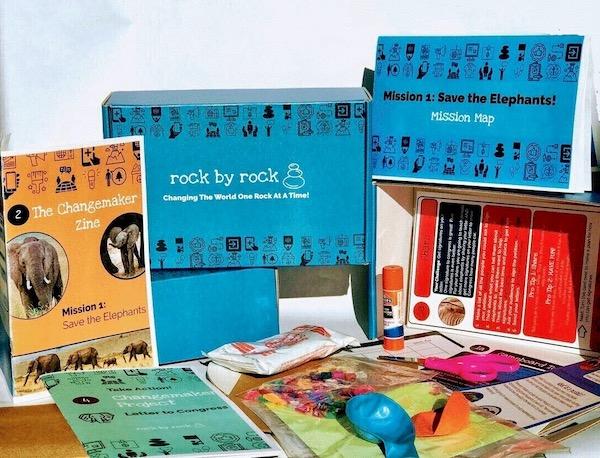 Having been teachers and school leaders, Jeff and Sung-Ae sought to fill a void they heard frequently.
"We got a lot of questions from families along the lines of what else can we do at home to extend learning? How can we do things that are not watching Netflix or video games but are fun and engaging?" Jeff explained.
Learning comes from the joy of discovery and tackling real word challenges in engaging ways. The co-founders sought to create experiences that engage kids in rigorous learning, where the fun comes from the authentic rigor.
Through the Changemaker experience, kids will build leadership and entrepreneurial skills to foster their success in the 21st century.
One of the unique aspects of the program is the development of seven life habits: learner, creativity, empathy, curiosity, courage, impact awareness and kinship. All of the boxes are anchored to those habits. It is vitally important that children learn best practices and develop these skills at a young age. For example, the co-founders have a plan to focus on topics including the environment to help highlight the importance of social responsibility.
"I really liked how it educated kids on current issues and what they can do about it," said a parent who subscribes to the program.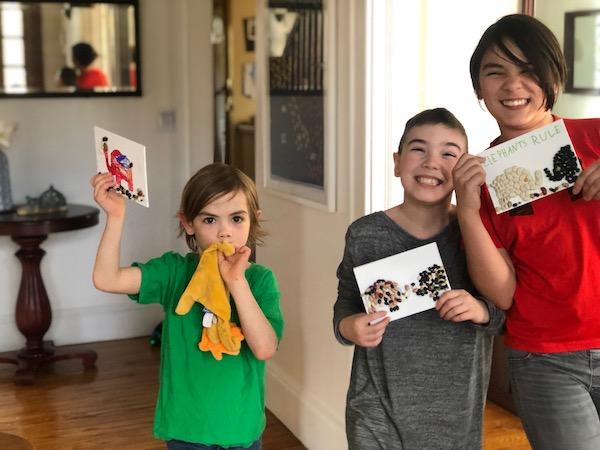 So how does the subscription work?
When you sign on, you start with the first box and build from there. This is not like other services where everyone gets the same box each month no matter when you join. The Changemaker Series follows an intentionally crafted scope and sequence, so all families start with the same first box. Rock by Rock aspires to be more than a product though. They aim to build a community of socially responsible families and educators who both want to better our world and take learning experiences to the next level. The box is designed with three use cases in mind: self-directed learning for an individual child, a family or playdate experience for a Saturday afternoon, or a small group activity in the classroom.
In addition to the box, the community newsletter is one of the free resources Rock by Rock has that offers genuinely helpful materials. The newsletters include practical tips for leveraging and fostering curiosity at home and in the classroom. You can also follow them on Facebook and Instagram. On Wednesday, March 18th, they'll start posting "The Family Five," a question a day that families can discuss at home and then share their answers back with the community. The company has also earned some high profile praise, including from Elizabeth L. Bennett, Ph.D., the Vice President for Species Conservation at the Wildlife Conservation Society, who stated "I think it's great, a wonderful mixture of information and activities leading through to some extremely concrete and genuinely helpful action."
Once the box arrives, the first thing kids usually do is spread out all the exciting materials. There is a mission map, which is a guide to the experience, that is set up like a game. There is also an instructional video, which gives an orientation to the box.
"To get started, kids follow the gameboard and at each step of the game there's either a card or a book. Each box follows a similar format; we call it the Changemaker's Journey. This is because we're hoping that through repeated experience of doing the journey they are developing a set of skills that will help them tackle future problems."
Kids will see themselves as leaders – and gain confidence in their problem solving abilities by navigating through the boxes. They will have the opportunity to reflect on how they experienced the journey and learn from what they did well and what they could do better. The hope is that by repeating the process with different boxes, it will position kids to be great problem solvers.
As part of Rock by Rock's socially responsible mission, they're offering the following discounts to support families during the CoronaVirus:
The single box for $21, normally $35 (with discount code HELPATHOME!)
The family box with materials for three children for $35, normally $50 (with discount code FAMILYTIME!).
Ready to order a Changemaker box? Find it on rockbyrock.com!
You can also meet the Jeff and Sung-Ae in person on the Upper West Side at the Grand Bazaar on the first two Sundays in April (assuming it reopens).  The first 15 families each weekend will get a free box. The first 100 families will get a free craft.
Finally, if you are a member of a PTA Board, the Rock by Rock team offers free workshops for parents and kids aligned with their seven life habits. They would also be happy to come give a presentation about their program to your community.
Feel free to contact the company for more information at support@rockbyrock.com.