If asked who has lived on the Upper West Side, almost anyone will answer "artists, writers, musicians and other creatives." Right, of course. Specific remarkable examples are three heroes of musical theater: Richard Rodgers, Lorenz Hart and Oscar Hammerstein II. All grew up in Morningside Heights.

Composer Richard Rodgers' work and his link to the neighborhood are described on a brass plaque at the main door of PS 166, the castle-like building designed by architect C.B.J. Snyder, known today as The Richard Rodgers School of the Arts and Technology. The structure is described at the entry as "one of the few extant 19th-Century institutional buildings on the Upper West Side."

Advertisement
Appropriately, the Richard Rodgers plaque is inscribed at the beginning of the text with an homage to teachers (musical score and lyrics) from "The King and I," music by Richard Rodgers with lyrics by Oscar Hammerstein. "It's a very ancient saying, but a true and honest thought, that if you become a teacher, by your pupils you'll be taught." We learn from the plaque that Rodgers went to PS 166 from 1911-1916. The installation of the plaque marked the renaming of the school in 2003 in his honor.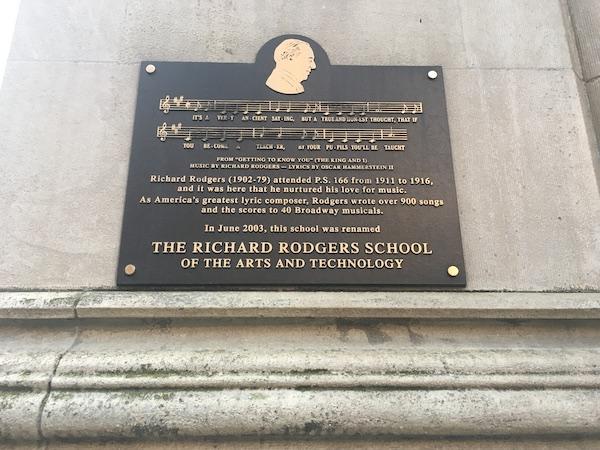 Although they met well after his PS 166 days, Rodgers' famous collaborators, Hart and Hammerstein, both grew up a block from each other in Morningside Heights. Like Rodgers, these two went to school on the UWS, Hart to Columbia Grammar and Hammerstein to The Universalist Center at 160 West 76th Street.
Rodgers was the son of a doctor whose early family life was filled with tension because of a domineering grandmother. His mother, described as lacking in warmth for her family, was extremely enthusiastic about the theater, and the family frequently went to shows. Rodgers showed a very early gift for music. He was playing the piano at age 4.
Hart was seven years older. His family, in contrast to Rodgers, was exuberant and caring. Hart spent his childhood and much of his adolescence in a large family brownstone. He referred to his father as a crook, according to biographer Frederick Nolan, who also noted that Frieda, Hart's mother, "didn't seem to mind (the gang's) stripping her front parlor of furniture and turning the room into a sort of debating hall where politics, literature, poetry, and girls were hotly discussed until dawn."
Hammerstein was born in 1895 into an entertainment business family. He first attended PS 9  on 81st Street and West End Avenue, and began piano lessons when he was nine years old. His father ran a vaudeville theater, his grandfather was a well-known opera impresario, and his uncle produced Broadway musicals.
According to a PBS account, Hammerstein's life in the theater began while he was a student at Columbia University. He was an active participant as a performer and writer in the Columbia University Players and made his debut in a show called, "On Your Way." After having started law school, in 1919 he went to work as assistant stage manager for his uncle. In 1922, he experienced his first success as a musical writer and was on his way to fame in the theater.

Advertisement
Rodgers was 16 and a high school senior when he met Hart, then enrolled at Columbia Law School. Rodgers attended Columbia for two years before leaving to focus on music. Soon after meeting, the two friends collaborated on music and had their first hit song a few years later, in 1920. They went on to write songs that became famous including, "Blue Moon" (1934), "My Funny Valentine" (1937), "Isn't It Romantic?" (1932) and "Bewitched, Bothered and Bewildered" (1940). Together, Rodgers and Hart wrote the music and lyrics for
26 Broadway musicals
.
In a NY Times review of a book on Hart, the lyricist is described as a colorful cigar chomping, fast talking character. His enormous talent was undermined by mental health issues. Stories in the NY Times and elsewhere evoke Hart's turbulent inner life as a closeted gay man, humiliation over being rejected for military service during WWI for being short (under 5'), unrequited love for Rodgers, and alcoholism.
Eventually, Hart's erratic behavior led to a professional split between Rodgers and Hart. At that point, Rodgers and Hammerstein began a collaboration that went on for decades. Working together, Rodgers composing the music and Hammerstein writing the words, produced the fabulously successful Oklahoma, Carousel, The King and I, South Pacific and Sound of Music. They were honored with Pulitzers, Grammy, Tony and Academy Awards.
The songs of these three extraordinary musicians are an integral part of American culture, hard to miss for anyone who's ever listened to Pandora or Spotify. The plaque on PS 166 is a reminder to anyone who passes by of the talented people who have grown to adulthood in this neighborhood. We all hope that the COVID period will soon be over and look forward to the reopening of this school and all our schools.