It's summer in NYC, which means lots of fun activities throughout the boroughs. But if you're looking to carve out some special time with your special someone, there's no better place to spend a romantic weekend than right here on the Upper West Side. These picturesque spots will make you feel like you're in a fairy tale!

The 91st Street Garden in Riverside Park
The 91st Street Garden is one of the most idyllic spots on the Upper West Side. This gorgeous section of Riverside Park is tended to by volunteer gardeners who ensure it stays gorgeous year round. Among the many varieties of flowers, you may find irises, tulips, and other brightly colored buds. Stop by during the spring to see the garden in full bloom, and you may even catch a monarch or butterfly!
Advertisement



Pier I
Pier I at 70th Street is one of the standouts of the UWS. Once an abandoned rail yard, the park has been repurposed as a recreational pier. Located in Riverside Park South, the pier boasts gorgeous views of the river (and New Jersey). Visitors can fish off of the pier, watch movies in the evening under the night sky, or simply watch the sun set.
There are also a whole bunch of events happening at Pier I for Summer on the Hudson. Check out the full line-up here (you'll have to scroll down a bit).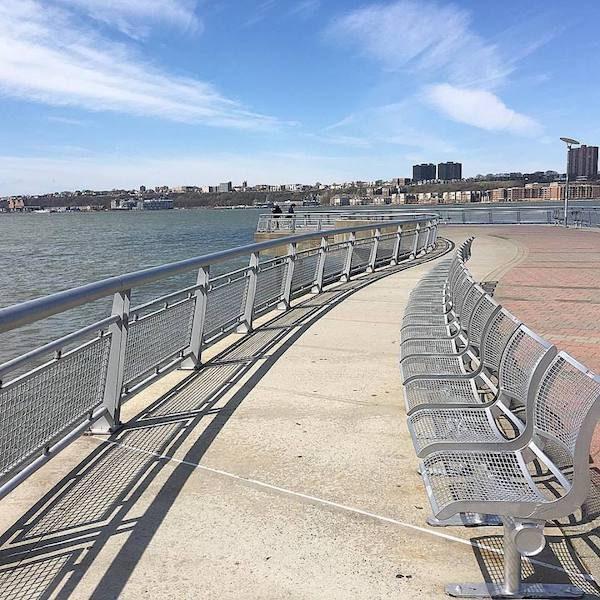 The Loeb Boathouse
Located at the northeastern tip of the lake in Central park, The Loeb Boathouse is photogenic and fun. It's prime lakeside setting serves as a restaurant for dining and enjoying the natural views. Or for the more adventurous, renting a boat and paddling about the lake. Beautiful rowboats set the scene and are enjoyed by many visitors on a nice day.
Pro tip: weather permitting, you can book a Venetian gondola tour on the lake for extra romance.
The Great Lawn
The Great Lawn, also located in Central Parkm is a green pasture of 55 acres. Visitors often bring blankets and pack a picnic to enjoy while sprawling in the shade. The Great Lawn offers wide panoramic views of NYC which will take your breath away.
The Empire Hotel Rooftop
The rooftop bar at the Empire Hotel is one of the best spots to enjoy a drink and take in the city skyline. Marvel at the passerby who will look tiny from up above, and enjoy it as your private outdoor space.
If you're more affectionate when in an air-conditioned room, check out this list of romantic restaurants on the UWS.
Join the UWS newsletter for more tips like these: