Starting Thursday, July 18th, the Arthouse Hotel will be hosting their first "rosé on the roof" party … perfect for those of you who really want to celebrate life.

The outdoor drinking extravaganzas will take place from 5-9pm every Thursday through the end of summer.
The menu will include roses of all kinds: sparkling, light-bodied, and full-bodied.
And wine-infused snow-cones!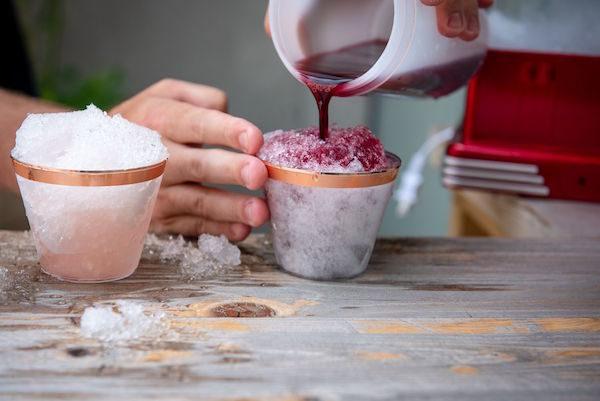 Those are gummy bears, yes. Hopefully the little guys won't melt tomorrow.

Advertisement
Here's the full beverage list:
Bubbles
Paul Cheneau Cava Brut Rose
Lychee Rosé Bellini
Rosé
Commanderie de la Bargemone
Wölffer Estate Rosé
Le Roi des Pierres Rosé
Dessert
Custom Wine-infused Snow Cones
Sauvignon Blanc, Rosé, & Cabernet Sauvignon
No reservations are necessary to attend the "rosé on the roof" party; just enter the hotel lobby and head to the 16th floor. The Arthouse Hotel New York City is located at 2178 Broadway (just east of 77th Street). Here's the official page about this ongoing event.
If it's too hot to drink outside tomorrow, the Arthouse Wine Bar is located in the hotel's lobby.
And for daytime snacking, Patis Bakery recently opened (also in the lobby).
The Arthouse Hotel
It used to be called NYLO New York City, but the Upper West Side hotel recently rebranded itself to emphasize the various events and creative pop-ups they host.
They also have a seasonal flower market worth checking out, as well as ongoing events like live comedy, music and art. Check out their Facebook page for more of their upcoming events.
Join our newsletter for more amazing events!