In advance of Thanksgiving, the two- and three-year-old students in Classroom 2 at the Saul and Carole Zabar Nursery School decorated bags for clients of God's Love We Deliver. The colorfully-decorated bags, which contain nutritious meals individualized for each client's personal dietary needs, will bring Thanksgiving cheer to those who are too sick to shop or cook for themselves. The special project was tied into the young students' current curriculum, with other activities and lessons based on the act of kindness.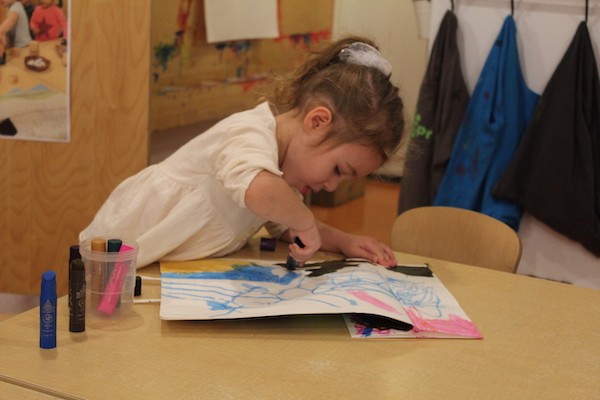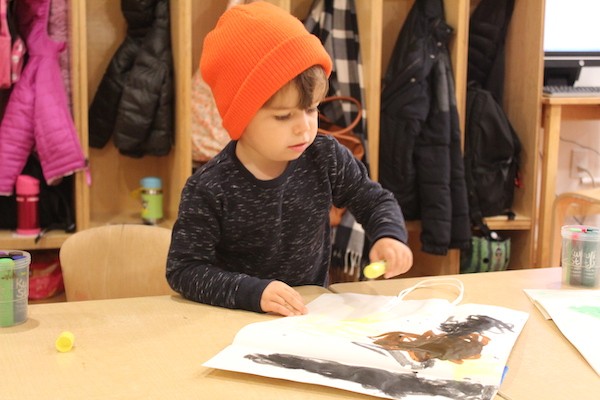 From the teachers of Classroom 2:
In Judaism, there is a value of Hiddur Mitzvah, the beautification of a mitzvah – or good deed. It reminds us that people have the power to make something special through the way we approach it. Recently, our class had a chance to practice this Jewish value as we partnered with God's Love We Deliver to help decorate bags they will use to deliver Thanksgiving meals. Though this organization delivers daily meals to their clients, they set their Thanksgiving delivery apart with brightly colored bags. The teachers and children discussed how we can make that one day 'special' and 'different' for the people who would be receiving the meals, thus providing an extra layer to the work GLWD brings to the community.
About the Saul and Carole Zabar Nursery School:
The Saul and Carole Zabar Nursery School is a progressive preschool that embraces families from all backgrounds and cultivates a connection to Jewish values and tradition. Teachers work collaboratively to create environments and experiences that spark wonder and creativity, build confidence and skills, allow children to explore materials, and encourage questioning minds. Families are partners in the work that we do, joining with children and teachers to celebrate Jewish life and learning. We are caretakers of each other, our school community, our city, and our planet. Learn more at nurseryschool.jccmanhattan.org
[adrotate banner="58″]
About the Marlene Meyerson JCC Manhattan:
Together with its community, the Marlene Meyerson JCC Manhattan creates opportunities for people to connect, grow, and learn within an ever-changing Jewish landscape. Located on 76th Street and Amsterdam Avenue, the JCC is a vibrant non-profit community center on the Upper West Side. The cornerstone of progressive programming in Manhattan, the JCC serves over 55,000 people annually through 1,200 programs each season that educate, inspire, and transform participants' minds, bodies, and spirits. Since its inception, the JCC has been committed to serving the community by offering programs, classes, and events that extend beyond neighborhood boundaries, reaching people at all stages of their lives. Learn more at jccmanhattan.org
About God's Love We Deliver:
God's Love We Deliver cooks and home-delivers nutritious, medically-tailored meals for people too sick to shop or cook for themselves. Founded in 1985 as a response to the AIDS pandemic, we now serve people living with more than 200 different diagnoses. To support the health and well-being of our clients, we provide ongoing nutrition assessment, education, and counseling, and advocate for food and nutrition support. God's Love is a non-sectarian organization serving individuals living with illness, and their children and caregivers. With a community of more than 15,000 volunteers, we deliver 1.9 million meals annually. All services are free to clients and full of love. For more information, visit glwd.org
Photos courtesy of the Saul and Carole Zabar Nursery School at the Marlene Meyerson JCC Manhattan.