Savor Beauty + Spa has become my solution to finding the best face and body products. The added bonus is that they have a spa as part of the UWS shop! I stopped by today because they just launched their newest product, a Cherry Collagen Peel. I love going into the store because it is a little oasis on Columbus Ave (448 Columbus between 81st and 82nd Streets). The vibe in the store is very soothing, and will make you want to stay for a facial or massage.

If you stop in to check out their products, you should know that everything in the store is plant-based, natural, and locally made by women. Inspired by Korean beauty rituals, the essence of Savor Beauty is to make you glow from the inside out. You can feel good using these cruelty-free, ethically made products, and you will also look good doing so. Founder Angela Jia Kim really understands what women in the city are looking for, and has delivered beautiful, accessible products that really work.
I wanted to incorporate the Korean beauty rituals that I grew up with. But as a busy mom and wife living the gorgeous chaos of New York City, I needed flawless skin in a New York minute. And it must be organic and it must work.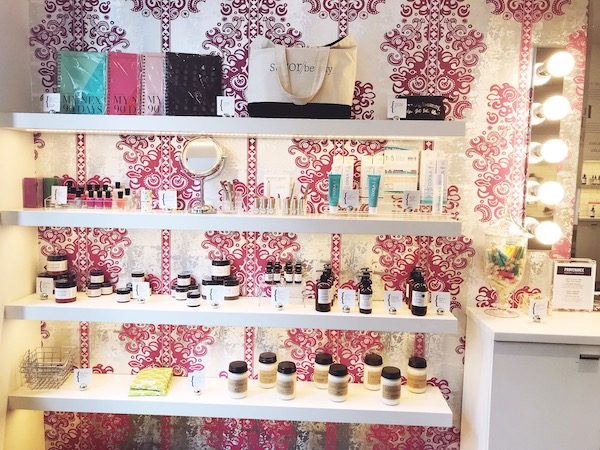 Looking for something beyond your own skincare? Savor offers beautiful gifts for moms-to-be, as well as a line for babies. If you have an upcoming event, you can prepare by getting your skin ready with masks, peels, and moisturizers, but then on the day of, you can book an appointment to get your makeup done. You don't need to rely on other services that use dirty and toxic products on your skin.
When I stopped in to the UWS shop, I was greeted by Nicole Giotopoulos. She was excited to tell me about the brand new Cherry Collagen Peel.
The collagen is going to plump up your skin, and leave it feeling really refined. It is an exfoliator, so it's going to leave you smooth, soft and glowing afterwards. It has antioxidants peptides, exfoliating papaya and pineapple. The peel is really soothing and great on the skin.
The good news is that you can have a facial service done right in the store if you can't wait to get home to try it out. They also offer other spa services. Nicole let me know that there are membership packages available, which include discounts for regular customers.
Goop and the Editors of Elle Magazine said that Savor Spa has the "best facials in NYC." You can trust Savor to never put parabens or sulfates in any of their products. They also never use synthetic fragrances or dyes. During each facial you can customize what services you are looking for, including tailored peels, bespoke collagen or honey masks, LED light therapy, or microdermabrasion. You will always receive an in-depth skin analysis and skincare recommendations to make sure you get the most of our each visit.
The new store manager, James Searles, is looking forward to meeting people from the UWS community. He encourages people to come by the store to sample some of the new products, including the Cherry Collagen Peel.
Until the end of September, book a Cherry Collagen Facial for just $159 and experience their Cherry Collagen Peel!