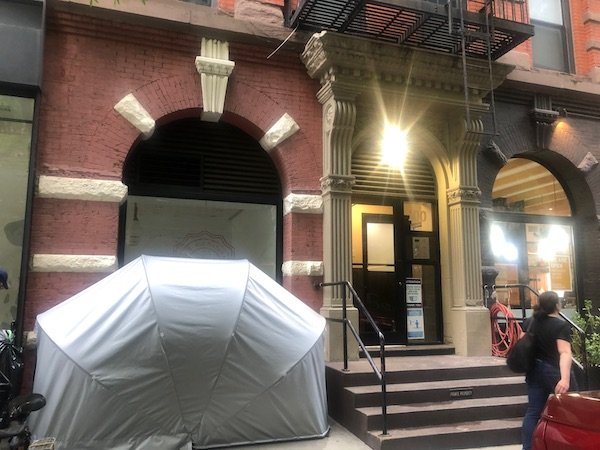 About two and a half months ago, a grey tent popped up in front of 100 West 67th Street between Columbus Avenue and Broadway. Bolted into the ground outside a vacant storefront (previously Saje Natural Wellness), the tent didn't resemble those which have housed homeless inhabitants on the UWS and throughout NYC. We monitored the tent over time and noticed no signs of anyone living in it.

We've spoken with local residents about the mystery tent, some of whom have called 311 with their concerns. Suspicion has grown as the tent has remained in place, showing little signs of activity. Multiple nearby residents have regarded the tent as an eyesore, while others have seen it as an obstruction of a public sidewalk.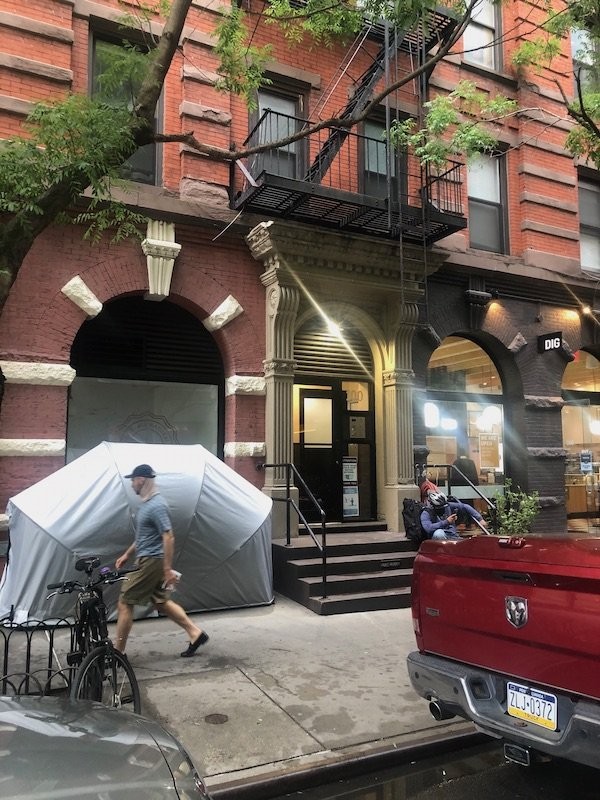 On Sunday, June 13, we reached out to Chris Giordano, President of the West 64th – West 67th Street Block Association, for possible answers. "I went to the site. There's a phone number on the tent so I called it," Giordano said. "Someone representing themselves as the property manager of the building texted back and ultimately indicated it's used as a way of blocking the people who were peeing there. I tweeted the situation to 311 and some reps and city agencies. I'll let you know if I find out more."
The block association sent out an initial tweet about the tent on Sunday evening.
Also on Sunday evening, a source who has asked to remain anonymous reached out to share a picture of a motorcycle inside the tent. "It's the building superintendent's Harley Davidson under there," our source told us. "I'm surprised the landlord allows it. I'm also surprised no one has stolen it. There's going to be a retailer moving into that commercial space on the corner and I imagine he's going to be asked to move his bike."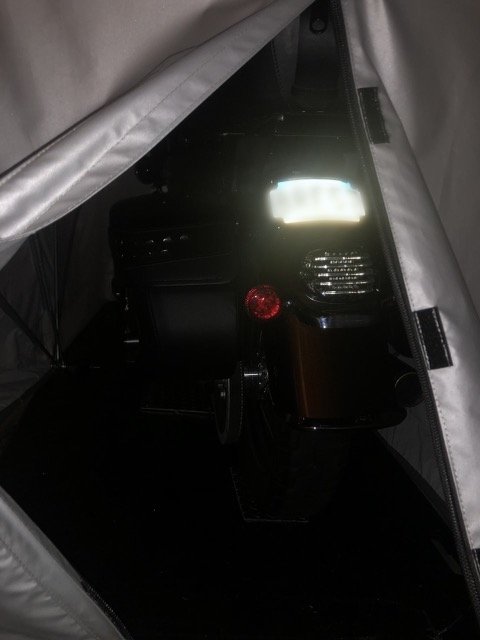 Mystery solved. A sidewalk obstruction falls under the Department of Transportation's jurisdiction for removal.

The block association also got word of the tent's purpose, tweeting out an image of it slightly after 5pm on Monday.
It's a Harley being stored on the sidewalk at 100 W. 67th. We're told this violates zoning regulations @nyc311 https://t.co/IdG1WvVCn5 pic.twitter.com/LfvGggJY92

— W 64th thru 67th Streets Block Association (@6467_block) June 14, 2021
… And here's a photo from Monday at approximately 5:40pm: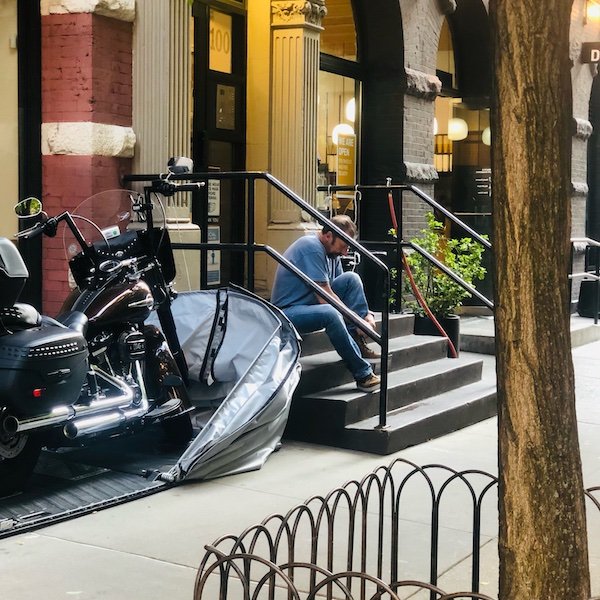 We reached out to the building superintendent but he told us he was eating dinner and wouldn't be around to speak on the matter.