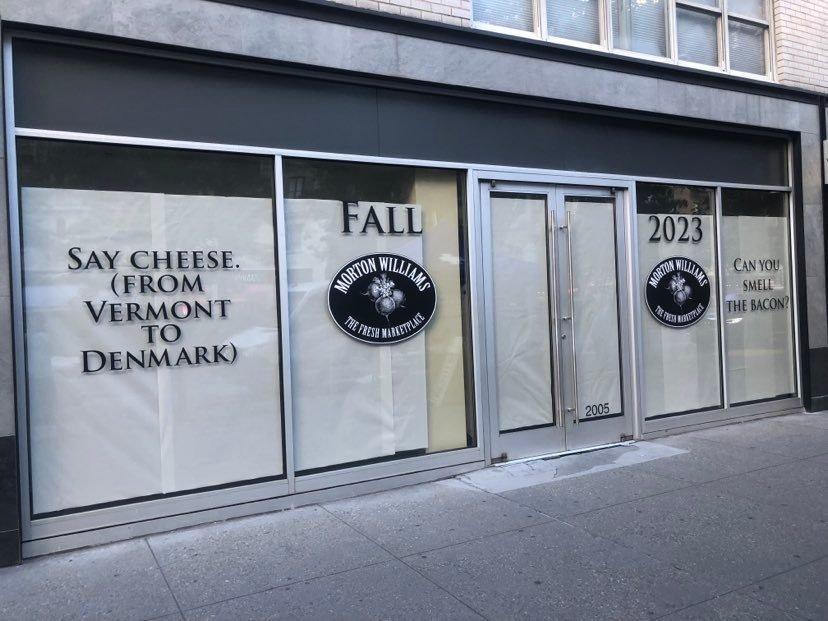 Morton Williams, the family-run supermarket that got its start in the Bronx in 1952, is opening on the ground floor of Dorchester Towers at 155 West 68th Street. Taking up the entire ground level along Broadway between West 68th and 69th streets, it's a sight to be seen right now as the company has commenced installing cheeky sings in the window, like "Pilates? I thought you said pie and lattes!" and "It's almost time to hit the sauce." Another says "Fall 2023."

Advertisement



We caught up with the owner, Avi Kaner, to get a scope of what's in store. "We expect the market to become the premier shopping destination on the Upper West Side of Manhattan," said Kaner in an ILTUWS interview. "The store will offer a wide array of fresh produce and foods. New lines of specialty, organic and natural private-label products will be introduced for the first time."
READ MORE: Wafels & Dinges Plans Neighborhood Storefront
Morton Williams features ShopRite products for its private-label brands, supplied by its parent company, Wakefern Food Corporation, based in Keasbey, New Jersey.
When asked if they have a specific opening date in mind, Kaner told us, "The issue is that we have ordered all the equipment, but due to supply shortages, we do not know exactly when everything will arrive. Equipment delivery slots may open with cancellations across the United States, which would result in a faster opening."
Currently, Morton Williams has 14 supermarkets in Manhattan, two of which just scratch the Upper West Side: one 2941 Broadway at 115th Street, the other at 15 West End Avenue between 59th and 60th streets.
Advertisement



The Lincoln Square location opened in mid-2019, and so did its next-door bar, Morty's Wine & Beer Bar.
If you can't wait for the opening of the new shop, Morton Williams offer delivery in "as little as one hour," they say. There are catering options as well.
READ MORE: Wingstop Planning First UWS Shop
Some current weekly circular specials include fresh salmon fillets for $12.99, Suzy Sirloin ground beef for $9.99 a pound, chicken drumsticks or thighs for $2.50, and Sterling Silver shell steak for $13.99.
While taking pictures at the storefront on Friday, a woman told us we need to try their lamb chops.
This upcoming opening should be a welcome addition for anyone who used to shop at the Food Emporium at 68th and Broadway.