While businesses continue to close, others are opening up. I'd like to tell you about one such place called Solid State Coffee, located at 104 West 71 Street between Columbus and Broadway, on the block also known as Mrs. Ponsie B Hillman Way.

As some West Siders might recall, this location was once occupied by At Salon and Beyond.
In any event, I am honored to say I sat down with the men who refer to themselves as the "The Team" behind Solid State Coffee.

Advertisement
Their bragging rights include the fact that they are the first place on the UWS to roast everything on site. They do this by using a Bellwether Coffee Roaster, which they became familiar with at an Expo for the Speciality Coffee Association.
Intrigued by this machine and what it can offer coffee drinkers in the 'hood, I spoke to Kyle Hughes, a regional sales manager for Bellwether who helped set up the roaster at Solid State Coffee.
Mr. Hughes also referred me to Bellwether's website which states the machine is "the coffee roaster that turns environmental impact on its head … designed to be the most sustainable coffee roaster in the world, both in air quality and energy use, to enable businesses that roast coffee to minimize their environmental impact."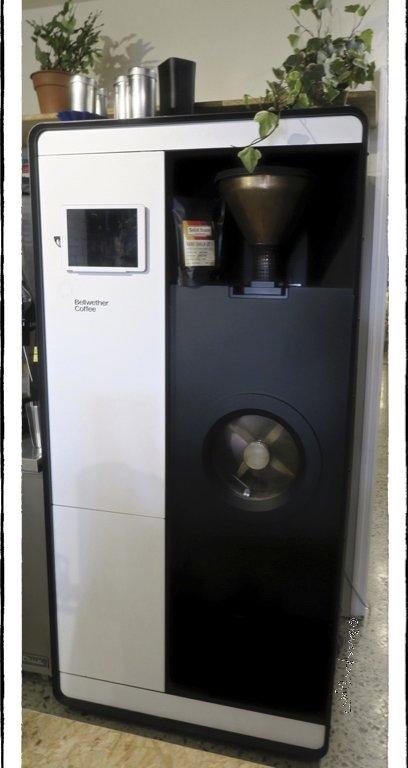 Knowing how passionate Upper West Siders are about the health of mankind and the environment, I can see why the team at Solid State is excited to present this option to our area.
The members of Solid State's team are humble and preferred I focus on what their business has to offer (as opposed to their individual backstories), and share a few of their plans for the new coffee joint.
As of now, the coffee they are using is an organic Ethiopian variety from the Nano Challa Corporative.
It is available in their beverages and in a twelve ounce whole bean bag, which members of Solid State's team can grind for you if need be.
Solid State plans to offer three, certified organic and boutique coffees at a time, and will be selling them at market price in an effort to support the farmers growing the coffee beans.
One of the visions for Solid State is to educate the general public about quality coffee and raise awareness of the environmental conditions needed to produce a quality product.
They hope at some point — depending on regulations on public gatherings due to the pandemic – to offer "cupping" events, which are similar in tone to wine and spirit tasting events.
Currently, the team is offering a variety of speciality pastries that come from Colson Patisserie in Brooklyn. As with their coffee selections, pastry selections will vary.
Solid State Coffee is currently open daily from 8am – 4pm, though hours may expand in the future.