[ Scroll to the bottom of this article for a statement from the company and photos of the new layout ]
The more Fairway's owners change, the more things don't stay the same.

In 2020, Village Super Market (which operates ShopRite and is owned by Wakefern Food Corporation) bought five of Fairway's stores and distribution centers, including the flagship market on Broadway and 74th Street. Village is Fairway's third owner since its founders, the Glickberg family, sold it in 2007.
Since then, the neighborhood landmark has undergone many changes, the latest of which is a drastic overhaul of the butcher and fish counters, rendering them unrecognizable.
Advertisement



The meat counter is already gone and has been replaced by a row of freezers which now house seafood, meat and plant-based "meat" products.
The fish counter is still intact as of writing, but not for long, according to a store fishmonger. He said that the fish and meat will stand side by side – a virtual surf and turf – in smaller stations in at least part of the area currently dedicated to seafood only.
The smaller counters, which are close to the grocery aisles, will cause human traffic jams in the already frenetic store.
---
For news across the park visit EastSideFeed.com
---
This alteration is apparently a cost-cutting measure, calling for fewer highly trained employees while adding more packaged goods, which do not spoil nearly as quickly and have higher margins.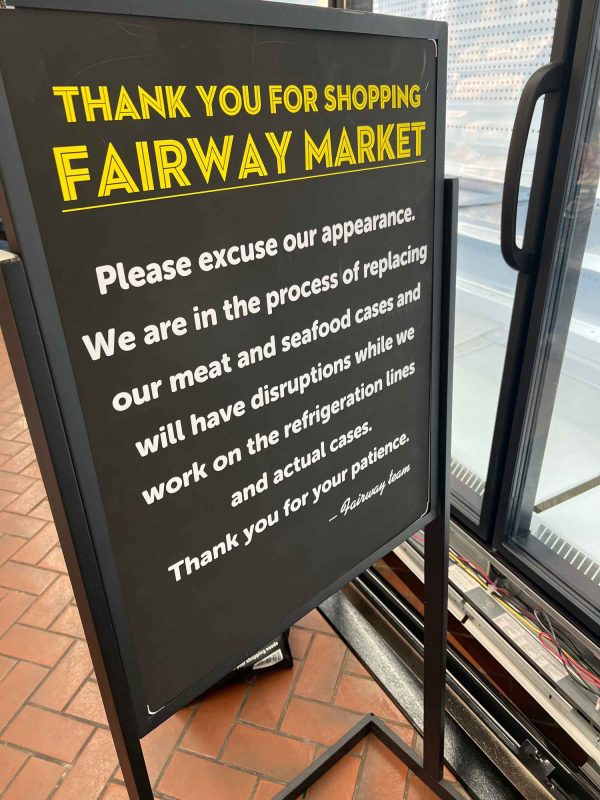 Other changes Fairway has undergone in the past year include the discontinuation of many popular products and specialty items on which Fairway built its name, adding a row of self-checkout terminals, and removing the full-time employee who once operated the slicing machine in the bread department.
Not all of the changes have been bad for the consumer, though. For instance, the organic produce has moved downstairs, staff members have become much less hostile (almost friendly), and there seem to be more varieties of potato chips.
A representative from Wakefern responded to our inquiry with the following statement:
Fairway is committed to improving the shopping experience for our customers, and the changes being made to the Meat and Seafood departments in our 74th St. store this week are part of that commitment.


Here is what is happening in the store:

We installed brand new cases in both the Meat and Seafood Departments
By combining the departments, we are actually able to create more floor space for customers shopping the departments
The assortment and variety in both Meat and Seafood remains the same
And with the addition of the new freezer cases, we're able to provide an increased assortment of frozen and speciality foods that we believe customers want
This is not about cost cutting, this is about improving our offerings and the shopping experience
We are not eliminating any staffing or hours with this project; we are hiring and encourage anyone interested to join our team of foodies and apply at fairwaymarket.com

"This work is expected to be completed shortly and we invite you to come join us then for a personal tour with one of our team members so we can walk you through the changes."

We checked back in on Thursday … here's a look at the updated layout: