Stormy Daniels made her appearance at Stand Up NY on Tuesday, May 7th. So here's a brief run down of Stormy Daniels' Upper West Side NYC performance! We're aware that a lot of you won't want to hear about this, but we're going to go ahead and post it anyway. You can complain about it on our Facebook page …

So anyway. Here are some folks outside the club before the show (including club manager Jon Borromeo). And Stormy's tour bus.
Before she took the stage, Stormy joined Stand Up NY owner Dani Zoldan on his roundtable podcast (called Dark Horse Sessions).
Zoldan told us the show sold out and was a success. Stormy told stories about her life and career and answered a bunch of questions from the audience, including:
if the performance would be all about President Trump:
"How do you stretch 60 seconds into 60 minutes?" 
Her greatest regret:
"Seriously? Do you not watch the f**king news?" 
Getting criticized by comics:
"I never said I was a comedian, I never said I wanted to do stand up, clearly I do my best work lying down,"
Advertisement
And a few more you can check out on this Facebook post:
Apparently, Stormy got along so well with the staff that she hung around after the show with her crew. Here she is behind the bar.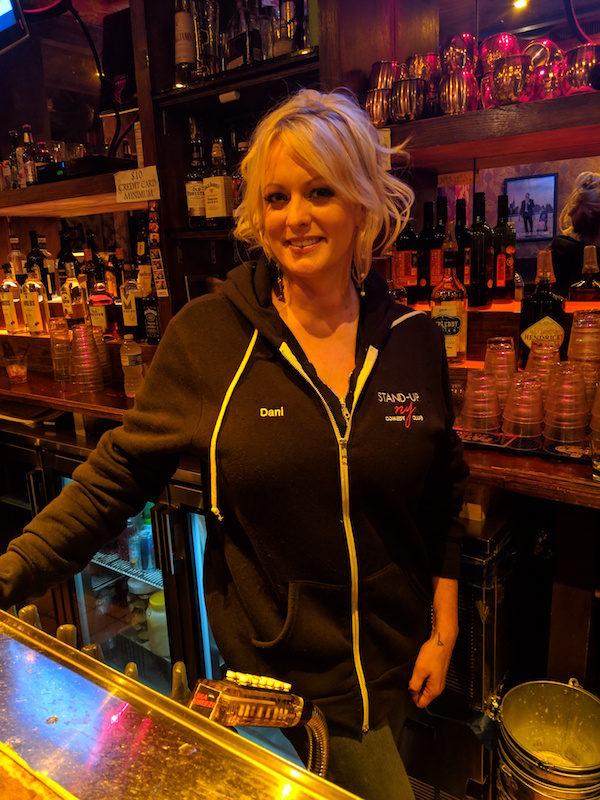 An article published by The Guardian mentions how Stormy indirectly labeled the president a criminal, without mentioning anything too specific (that she hasn't already divulged). And that the highlight of the show was the question and answer session she had with the audience, which lead to quite a few claps and cheers.
And perhaps most surprisingly, a post from the Daily Beast covers Stormy's remarks about her now indicted former lawyer, Michael Avenatti.  When asked by an audience member, "who's a better person, Trump or Avenatti?" – Daniels replied with "I don't know." She's certainly no authoritative voice when it comes to moral integrity … but jeez! Who could have seen that answer coming.