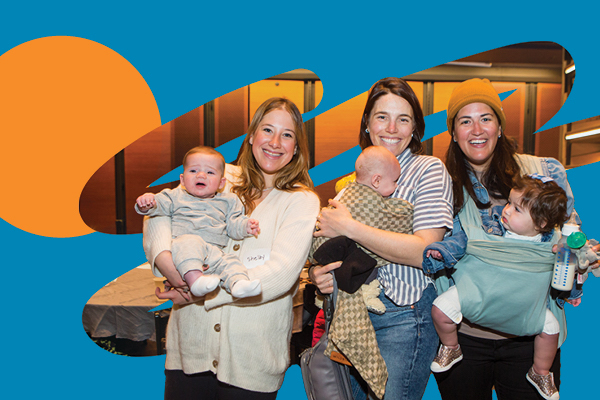 Come take a stroll with the JCC! The Marlene Meyerson JCC Manhattan nurtures families by cultivating experiences where children can thrive, parents can connect, and families can grow together. When you join them for prenatal programs, their New Moms group, a swim in their pool with your baby, a music class with your toddler, a cooking class with your child, or community service with your teen, you will feel right at home.
At The Bert and Sandra Wasserman Center for Family Life, they are here for your family at every age and at every stage. Join them on Amsterdam and West 76th street.
Check out their offerings below and click here to learn more.
Stroller Walking Group
The stroller walking group is a great way to start your day and meet other JCC families! Join a group of parents on Friday mornings with your children to walk locally in and around the neighborhood, including Central and Riverside Parks.
Fridays, Oct 6–27, 9:30–10:30 am, Free
Register here
New Moms Support Group
Join mothers and their new babies ages 0-5 months to gain information, share your experiences, and support one another and socialize in the early days of motherhood. Explore topics such as the development of maternal identity, infant attachment and bonding, postpartum mood and self-care, and returning to work. A great opportunity for first-time moms as well as second- or third-timers. Led by Pria Alpern, Ph.D., a licensed clinical psychologist specializing in maternal mental health and a mother of three.
6 Tuesdays, Oct 3–Nov 7, 11 am–noon
Register here
Also, Check out these Amazing Drop-in Classes:
Tummy Time:
Through songs, nursery rhymes, and exercises designed to strengthen muscles and provide mental stimulation, your baby will reach important milestones in a playful and relaxed environment. A perfect first movement class for your new baby.
Tuesdays: 10:15 am; Wednesdays: 1 pm; Fridays: 12:15 pm
Register here
Sensory Studio:
Young children will develop their cognitive and motor skills through unique sensory materials, social interaction, and, of course, bonding with their grownups through kinesthetic experiences. Whether your baby is squishing sponges, tapping measuring cups, scooping sand, or painting with fingers (and toes!);  this class is all about sensory play and encouraging your little one to explore.
Mondays and Wednesdays: 11:45 am
Register here
Crawlers Club:
This movement class helps babies reach new developmental milestones in a community of first friends, and is designed for those who have learned preliminary gross motor skills, such as rolling from back to belly, moving from sitting to crawling, pushing up to hands and knees, army crawling, etc. Not to worry—four-point crawling is not necessary.
Tuesdays and Fridays: 11:15 am;  Wednesdays: noon
Register here
For the JCC's full fall programming schedule, please click here.