With so many different things to do on the Upper West Side, choosing a place to take your date can be both adventurous and overwhelming. Whether you're going on a first date or want to spice up the way you and your partner enjoy each other's time, we have a list of things you can do to ignite the spark or keep it alive. Here are 7 perfect summer dates on the Upper West Side of NYC!

Happy Hour Bar Crawl
One of the best ways to explore your neighborhood is by getting out and walking around. A fun way to do this can be by trying new Upper West Side bars, especially if you create your own bar crawl! And to save some money while you're out, we recommend doing it during happy hour so you can catch a drink at various spots. Check out our list of Upper West Side happy hours for inspiration on where to go!
Advertisement
Bike Ride through Central Park
Now that the weather is making it easier for outdoor activities, why not escape the city environment with your date and spend the day in nature! With Citi Bike rentals on nearly every street corner, you can enter the park closest to you and go with the flow. We recommend this sporadic adventure starting with a thirty-minute bike ride, or until you get hungry, then exiting the park at the nearest location and wherever you end up is the new ground from which to explore lunch options!
Outdoor Concerts & Events
Music is a sure-fire way to connect with someone, and with so many outdoor concerts happening this summer, there are plenty of options to choose from. Whether you and your partner are into dancing and want to check out the Midsummer Night Swing at Lincoln Center or want to chill out to some live music at Central Park SummerStage, these summer concert options are right up your alley!
And for non-stop fun by the river, check out the Summer on the Hudson schedule. Here you'll find everything from live music to outdoor movies to karaoke and more!
Street Fairs and Outdoor Markets
If you want to soak up the sun but don't love the idea of a workout date, have no fear. Casual street fairs pop up all the time.
The Grand Bazaar is open every Sunday year-round. It's located on 77th and Columbus and vendors sell unique art, furniture, collectibles, and food! You can check out their schedule of events here.
We've also got four outdoor greenmarkets which are absolutely perfect for low-stress summer dates. Buy some organic kale and ostrich eggs, or just talk to local farmers about their product,
Comedy
Watching stand-up is a tried and true option, whether you've been dating someone for years or are meeting for the first time. Stand Up NY on West 78th Street is a great location for live shows, and with shows seven days a week, you're sure to find one that works. Or you can check out West Side Comedy Club on 75th Street, which opened in late 2017!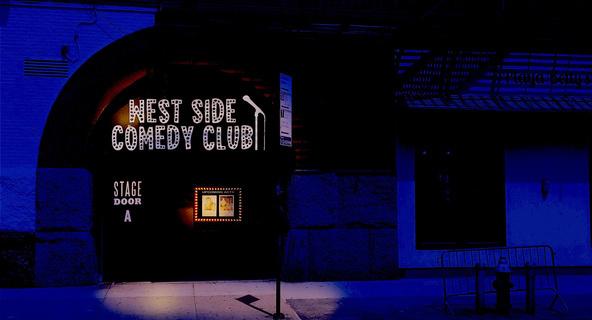 Advertisement
Movie and Dessert
Ah, the classic date. Suitable as a winter or summer date, going to see a movie on a first date (or fiftieth) is a great way to connect with your significant other through the lens of mutual silence. There's something comforting about quietly watching a movie with another person, only to share your thoughts afterward. That's why we recommend going to a theater; both of the AMC locations (Lincoln Square or the 84th Street) offer a wide array of the newest movies. But 84th Street is superior … the reclining seats make it my favorite movie theater in NYC!
Intimate Dinner
Following our movie recommendation for a potential date option comes this timeless choice. An intimate dinner for two is one of the best ways to get to know someone on a date. If you really want to impress on your first date or want to try someplace new for date night, these romantic restaurants will certainly stand out.