Sundays at JASA (Jewish Association for Services for the Aged) has been offering college-level continuing education classes for adults age 50+ for the last 30 years. Headquartered at 247 West 37th Street, Sundays at JASA went virtual as soon as COVID-19 hit. But the student community continued to come together every week to learn, laugh, and connect – despite the physical distance between them.

All classes are currently taking place via Zoom – and all except two can also be accessed by phone.
Some students have grown to really prefer the convenience of virtual learning!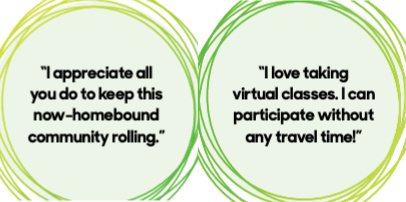 The upcoming fall semester comes with unlimited courses and lectures. Students will have access to 15 unique weekly college-level courses including The Presidents & Their Elections, Great Living Songwriters, New York Short Stories, The Magic of Movie Making, Drawing Workshop, Opera Companion and Crossword Construction.
"Whether you're a New Yorker by address or just in your heart, these classes are available to older adults around the world. We hope you'll join us!"


– JASA's CEO, Kathryn Haslanger

JASA is the go-to agency serving older adults in New York City, providing critical services to over 40,000 people annually. Founded in 1968, JASA is a leading expert and innovator in aging services that recognizes the diversity among the aging population and honors older adults as vital members of society.
JASA's life-changing support services, interventions and partnerships promote aging with a purpose and provide autonomy for older adults to remain in their homes and communities. JASA operates ten affordable housing properties, is a licensed home care agency and offers a breadth of integrative services citywide spanning free legal services, health and mental health services, home- delivered meals, social programming at senior centers and community trainings on elder abuse, peer health support, caregiver assistance and more.