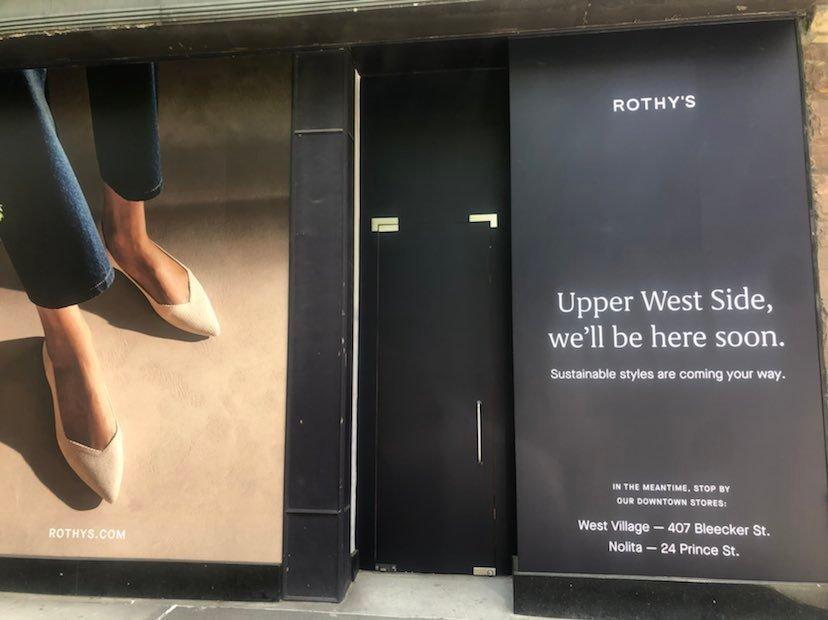 Rothy's — the San Francisco-based shoe company that uses thread made from recycled plastic water bottles and post-consumer recycled materials — is opening at 181 Columbus Ave. on the corner of West 68th Street on Friday, November 4. The site was previously home to Variazioni, which closed in late 2021.

Advertisement



Here's the skinny on Rothy's: 3D knits. "More than 125 million single-use plastic bottles have been turned into our signature thread, which we use to craft all our products," states Rothy's website. "And we've repurposed 400,000 pounds of ocean-bound marine plastic (collected from land within 30 miles of coastlines) by using it to knit our bags and accessories."
That mighty fine weave has earned Rothy's respect with celebrities like Katie Holmes, who told InStyle that sustainability is really important to her: "It's at the front of my mind every day, especially having a child and just being a human being … It's important to think about what we're doing to our world. I don't buy a lot of clothing, and I try to be very balanced in my life."
OPENING NEARBY: Patisserie Chanson and Kossar's Bagels & Bialys
Celebs aside, Rothy's, which was founded in 2012 and launched in 2016 by Stephen Hawthornthwaite and Roth Martin, is as much a hit for its comfort as it is for its eco-consciousness. Last month, CNN named Rothy's in its list of "15 sustainable clothing brands to help you feel better about your closet."
Advertisement



The brand has evolved to offer handbags in 2020 and a men's line in 2021 to complement its increasingly popular female footwear category, which features shoes ranging from $125 to $185 with selections like The Sneaker and The Driver.
Rothy's also offers a "20% off discount for nurses, doctors, other licensed medical professionals, first responders and school teachers on one pair of shoes found on rothys.com. All shoes sitewide are eligible for discount, unless stated otherwise." Learn more here.
The new Rothy's adds to the sustainable shoe presence on Columbus Ave, with Allbirds having opened a spot nearby last year.