Three years since the pandemic wreaked havoc on the dining industry, it's safe to say New York City's vibrant and singular restaurant scene is back in full force. The renewed vigor for splashing out on a meal has led to the rise of omakase, the tasting menu-style concept of "leaving it up to the chef" and delighting in a multi-course feast of sushi and other Japanese delicacies. In the midst of a fairly crowded landscape, Takeda (which first opened in November 2019) stands out as the leader of the pack.
The quaint jewel box (dining is counter-only, and can accommodate up to eight guests per seating) is located behind a nondescript curtain at 566 Amsterdam Avenue (between 87th and 88th streets). When I arrived for a 5:45 p.m. reservation on a recent Wednesday evening, Takeda's reputation preceded itself.
Not only does it boast near-perfect ratings from fish fans on Yelp and Google, but Eater recently gave it the top spot on its list of NYC's best sushi restaurants. With a decent amount of omakase experience under my belt, I knew I was in for a treat — but my sky-high expectations were instantly surpassed thanks to the series of fresh, seasonal ingredients and attention to detail from Yukihiro Takeda, the chef and owner with over 30 years of experience behind the counter. The Osaka-trained maestro specializes in Edomae sushi, a simple and sleekly-assembled combination of raw fish, cooked rice and vinegar.
After being warmly greeted and seated in the intimate space, the 18 course meal commenced with a savory egg custard — which was promptly followed by Buri (wild yellowtail) sashimi and ponzu sauce.
The quality of the fish is unparalleled, and upon my questioning its origins, the kind chef (who warmly interacts with diners throughout the evening) informed me that it's flown in twice a week from Toyosu Market in Tokyo (with the exception of tuna). The delectable pieces of nigiri are not served consecutively; other appetizers are dispersed throughout the meal, with highlights including sautéed oysters with a red miso sauce and a palate-cleansing clear soup with firefly squid and tofu.
Playing favorites is tough in this situation, but the two bites I enjoyed most were the Aori Ika squid with sesame salt (seriously, look at that seasoning) and the generous dish of Akami and Chutoro (two types of fatty bluefin tuna which had been aged for five weeks). Each offered an inventive take on a familiar taste, reminding me that it's all in the details.
For a bonus pick, the Hokkaido Uni (sea urchin) easily takes the cake, thanks to its creamy texture and potent flavor.
Often times, an omakase dinner can leave something to be desired, but by the end of Takeda's offering, I was satiated — with just enough room for dessert, an elegant combo of mochi and mousse.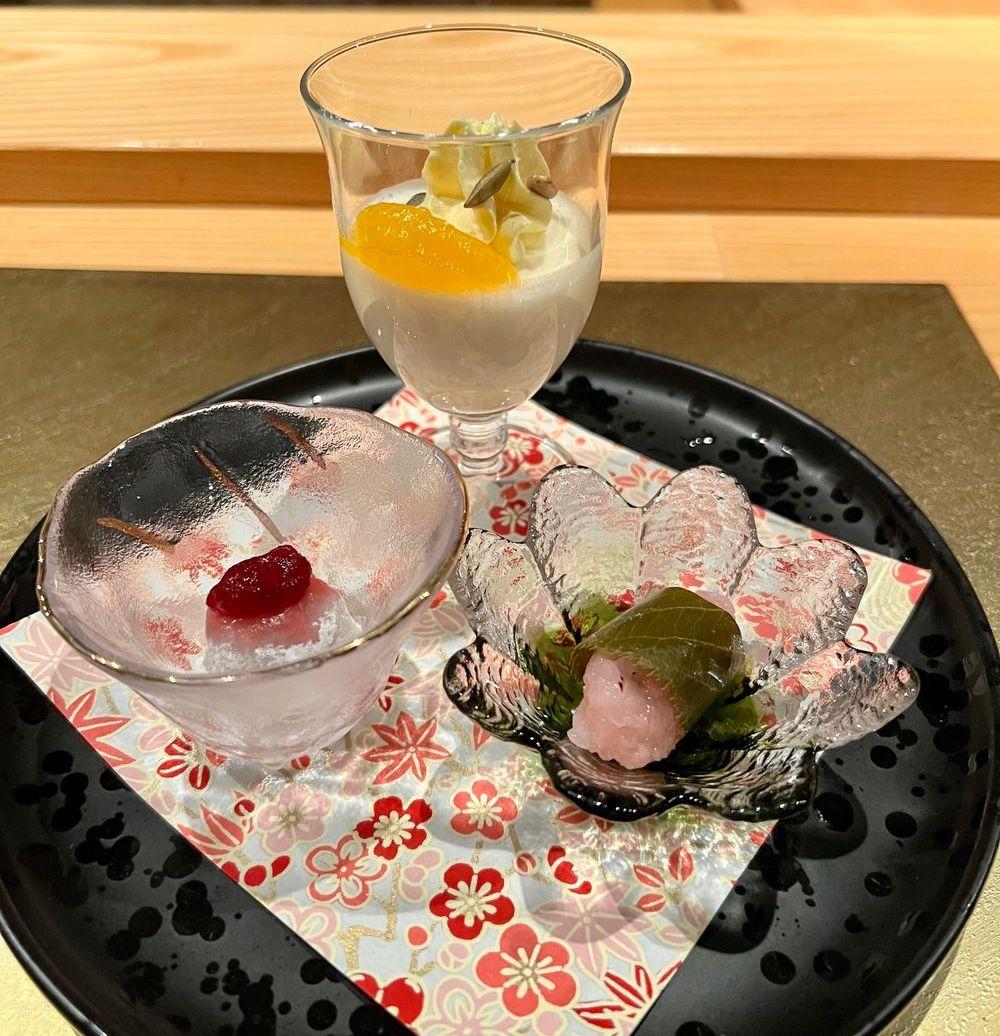 Though the menu changes nightly in order to ensure peak ingredient freshness, you can count on a spring evening to remember. There's no pretension at the establishment — just excellent eats executed to perfection. The omakase lasts for two hours and 15 minutes and there's also a sake and beer menu. Reservations are required and available on Resy, with two nightly seatings: 5:45 p.m. and 8:30 p.m.
Takeda
566 Amsterdam Ave. between 87th and 88th streets
(646) 370-6965
takedanyc.com
@takeda_sushi