Tickets are now available for Taste of the Upper West Side 2020 – the 13th annual summer event. The two night food fest will take place on May 15th and May 16th under the tent at the O'Shea Complex Schoolyard on Columbus Avenue, between 76th and 77th Street. Over 80 chefs from some of the best Upper West Side restaurants – including some great new spots (and a few which haven't opened yet) – will be delivering the best from their kitchens!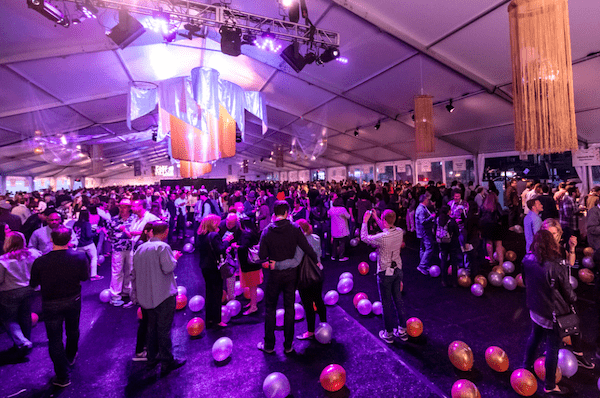 Feel the vibes from last year …
Taste of the Upper West Side 2020: The Lineup
Friday, May 15th from 7-10pm
"Grillin' in the City" kicks off the two-night food event with highly anticipated debuts of restaurants and bars, along with longtime local favorites, including 16 popular restaurants grilling up favorite menu items.
Participants will include:
5 Napkin Burger
Bareburger
Jacob's Pickles
Sarabeth's West
Shake Shack
Virgil's Real BBQ
Ousia
Bodrum
West Side Campaign Against Hunger
Bodega 88
Cafe Frida
El Mitote
Jing Fong
Lucky Pickle Dumpling Co
MOKUM
Osteria Cotta
Pappardella
Pizzeria Sirenetta
Playa Betty's
Rosa Mexicano
Shaking Crab
Swagat Indian Restaurant
Advertisement
Plus these three restaurants which haven't yet opened:
With sweets from:
And cocktails by:
Nobody Told Me
Prohibition
General admission is $99.
Saturday, May 16th from 6:30-9:30pm
'The Best of the West' – hosted by Television Personality Lauren Scala.
A special VIP reception will take place from 6:30-7:30pm. Attendees will be able to mingle with celebrity chefs and get a head start on the feast.
General admin will open at 7:30pm.
This year's "Best of the West" will be honoring the powerful and successful woman restaurant owners of the Upper West Side. Live music will be performed by Project Orange.
Participants will include:
Alice's Tea Cup
Bluebird London NYC
Cafe Luxembourg
Calle Ocho
Carmine's
Crave Fishbar
Dizzy's Club
Ella Social
Good Enough To Eat
Harvest Kitchen
Kefi
Leyla
Lincoln Center Kitchen
Maison Pickle
RedFarm
Salumeria Rosi
Shake Shack
Tavern on the Green
Tessa
The Leopard at des Artistes
The Mermaid Inn
The Milling Room
The Smith
Plus these recently opened restaurants:
And sweets from:
Make My Cake
Mille-Feuille Bakery Cafe
Orwashers Bakery
Magnolia Bakery
General Admission is $135; VIP Reception is $215.
Proceeds from Taste of the Upper West Side 2020 will go back into the community and help fund neighborhood projects through the Columbus Avenue Business Improvement District, a 501(c)(3) not-for-profit organization.
Until March 16th, tickets will also be offered at 15% off for general admission and 20% off for VIP by using the promo code EARLYBIRD at check out.
Get tickets for both nights here!
Upper West Side Newsletter Signup: