In celebration of Pride, the Marlene Meyerson JCC Manhattan, in collaboration with Dubbs Weinblatt and their podcast, Thank You For Coming Out, is presenting a conversation series that amplifies voices from a wide spectrum of the LGBTQIA+ community. The universal themes will surprise, enlighten, and inspire you. Both of the following programs are free to attend.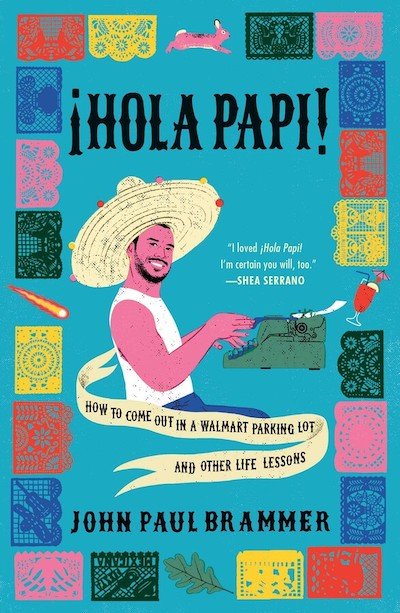 In the first installment of this series, we'll hear from popular LGBTQ advice columnist John Paul Brammer, who has written a hilarious, heartwarming memoir-in-essays chronicling his journey, from growing up a queer, mixed-race kid in America's heartland to becoming the "Chicano Carrie Bradshaw" of his generation. ¡Hola Papi! is for anyone—gay, straight, and everything in between—who has ever taken stock of their unique place in the world, offering considered advice, intelligent discourse, and fits of laughter along the way.
John Paul Brammer is an author, illustrator, and columnist from rural Oklahoma currently living in Brooklyn. He runs the popular advice column ¡Hola Papi! on Substack (HolaPapi.substack.com), which is syndicated in New York Magazine's The Cut. His work, including essays, short fiction, and illustrations, has appeared in The Washington Post, Food & Wine, Catapult, Business Insider, and many more. ¡Hola Papi! is his first book.
Thursday, June 3 from 7-8pm. Register here.
When he created the role of Officer Clemmons on the award–winning television series Mister Rogers' Neighborhood, François Clemmons made history as the first African American actor to have a recurring role on a children's program. In his memoir Officer Clemmons, he details his incredible life story, beginning with his early years, through his studies as a music major at Oberlin College where Clemmons began to investigate and embrace his homosexuality, to a chance encounter with Fred Rogers that changed the course of both men's lives—leading to a deep, spiritual friendship and mentorship spanning nearly forty years.
Dr. François S. Clemmons (he/him) received a Bachelor of Music degree from Oberlin College, and a Master of Fine Arts from Carnegie Mellon University. He also received an honorary Doctor of Arts degree from Middlebury College. In 1973, he won a Grammy Award for a recording of Porgy and Bess; in 1986, he founded and directed the Harlem Spiritual Ensemble; and from 1997 until his retirement in 2013, Clemmons was the Alexander Twilight Artist in Residence and director of the Martin Luther King Spiritual Choir at Middlebury College in Vermont, where he currently resides.
Thursday, June 24 from 7-8pm. Register here.
Dubbs Weinblatt (they/them) is the Founder and Executive Producer of Thank You For Coming Out, which celebrates the LGBTQIA+ community by showcasing queer stories and identities through a podcast, improv, and storytelling. They are also the Co-Founder and Executive Producer of Craft Your Truth, an organization that encourages LGBTQIA+ folks to use performance art as a way to express their stories and connect with their community. Dubbs is also the Associate Director of Education and Training for Metro New York at Keshet. In Dubbs' free time, they love to read and write and have been featured on Hey, Alma. Dubbs is a recipient of the GCN Impact Awards, and was named one of Logo's NewNowNext 6 Inspiring LGBTQ Jewish Activists You Should Be Following.
This program is cosponsored by The Lambert Center for Arts + Ideas, The Joseph Stern Center for Social Responsibility, and Out at the J, and is presented in partnership with Thank You For Coming Out.
Please register in advance and the program link will be sent the morning of the event.
The JCC is proud to continue to offer virtual programming such as this for free or at a low cost. If you are able, please consider making a gift to support the JCC. Every dollar counts.
Conversations at the JCC are made possible by Zabar's and Zabars.com

Programming in The Lambert Center for Arts + Ideas is supported by the Laurie M. Tisch Illumination Fund and made possible with public funds from the New York City Department of Cultural Affairs in partnership with the City Council.