There are arguments among linguists about the origin of the kiosk, but there can be little argument about the origin of the kiosk on the southwest corner of 83rd Street and Broadway.

The unique structure was underwritten and built by the West 83rd Street Block Association in 1970, and I physically had a hand in its erection.
I recall the building effort as hard work and fun, as were so many of the Association's activities in the 1970s. The immense annual block parties thrown between West End Avenue and Riverside Drive were huge successes. Local political actions were on the agenda; and who could forget the Christmas caroling by Jews and Christians alike which was loads of fun, starting off every year with a party at 110 Riverside Drive.

Advertisement
The kiosk was constructed with tubing, typically used at the time for the pouring of concrete, and was on a base poured for the purpose.
When it was built, it stood between the Bostonian and Florsheim shoe stores of the time (one on each of the western corners of 83rd Street).
Originally, it stood unprotected. Unfortunately, this mistake needed to be corrected by, literally, a bumper guard after several indentations caused by parking cars.
Intended to focus on the messages of, by and for the block association, it quickly became and remains a community bulletin board.
When I return to my home block, I always connect with the kiosk I helped build; a structure that brings back so many fond memories.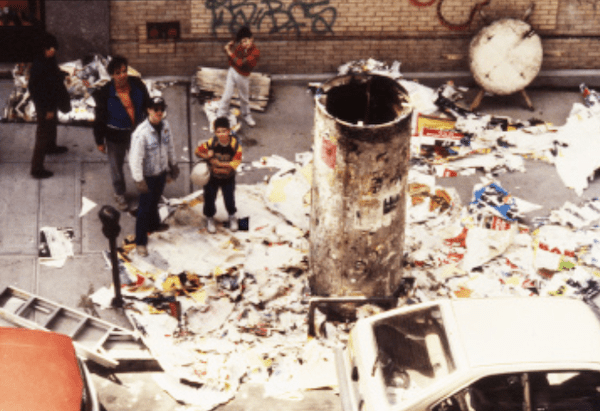 photos by G. Augustine Lynas
Read more by Ken Marion at leavingwest83rdstreet.com