Good news, UWS popcorn fans: the 1-800-Popcorn guy is back this weekend! He's at his same old spot, on the south west corner of 72nd and Broadway. He plans to be here every weekend (unless he's in Florida, he tells us). He also plans to have the truck here full-time once the summer comes (and hopes this will begin in April, but we'll keep you posted).
I'm sure many of you have enjoyed this delicious popcorn. I would find myself stopping there often, not only to get a great snack, but to say hello to its founder, David Blackstone. I got the chance to get to know David and am happy to share his story with you. If you've been missing him for the past few months, it's because he has been offsite at another job.

Advertisement
David grew up in Canada and was a star tennis player. He told me he was also high school roommates with Lars Ulrich, the drummer from Metallica! After high school, David went on to play tennis professionally. He traveled the world and has fond memories of his time playing. After ending his pro tennis career, David found inspiration in his home country while shopping for a gift for his mom at a mall. David found a pail of popcorn for $22.00! He was shocked at the cost and knew there was an opportunity he didn't want to pass on.
"I took the popcorn, I ran to my mother and I said, I know what I'm going to do. I'm going to go to the United States, and I'm going to start a popcorn company."
David took time to develop his plan. The first brand name he thought of was "Pop Goes America!" He created a concept around the idea, despite having never popped a kernel of corn in his life. David met with marketing advisors and artists who helped him get a pitch together. Once his business pitch was ready, he decided to start in Miami, Florida.  His thought was that selling in a large stadium would be a great idea, but who would give him his start?
"Lots of places said no, and then my last pitch was in a Miami arena, in a really bad part of town. I went in and gave my best pitch to the general manager."
Unfortunately, David was told there was no room for him at the stadium. After trying to get his foot in the door for months, it seemed like things just weren't going to work. But just as he was about to give up, he got a call from the general manager: he was ready to give David the opportunity he had been searching for.
"He said he had been looking for me and he recently was put in charge of the Houston Astrodome. He wanted to put my popcorn in the stadium. This was based on the proposal."
The turn around time was pretty quick. David would have to be ready in just a few months to service an entire stadium. "I didn't have any equipment, so I called the largest commercial popcorn maker in the country and asked if they could help me out."
David enrolled in popcorn making classes in Ohio, and luckily, discovered that he excelled at the craft. "Everybody was sitting around watching me make popcorn. I was good at regurgitating the information they taught me," David said.
The popcorn company agreed to lend David all of the equipment he needed to get up and running. With only three days left until he was set to open at the stadium, he was finally set up and ready to pop. David's efforts turned out to be a huge success.
"They loved the way the popcorn stand looked. I had 28 employees with 8 stands. And that's basically how I started my popcorn business in 1998. I was serving popcorn to 50,000 people on a regular basis, working 24 hours a day."
The gig ended when the Astros moved to a new stadium. David stayed involved for a short time, but decided he wanted to try something new. He was thinking of getting into retail. David soon moved back to Florida where he opened his first shop. But he found Florida to be too seasonal and knew he needed a new plan.
David said he always had big dreams of getting his popcorn into every American home. Watching TV one day, he became inspired by the 1-800 phone numbers that are so popular, like 1-800-Flowers. He decided his next move would be to acquire "1-800-Popcorn".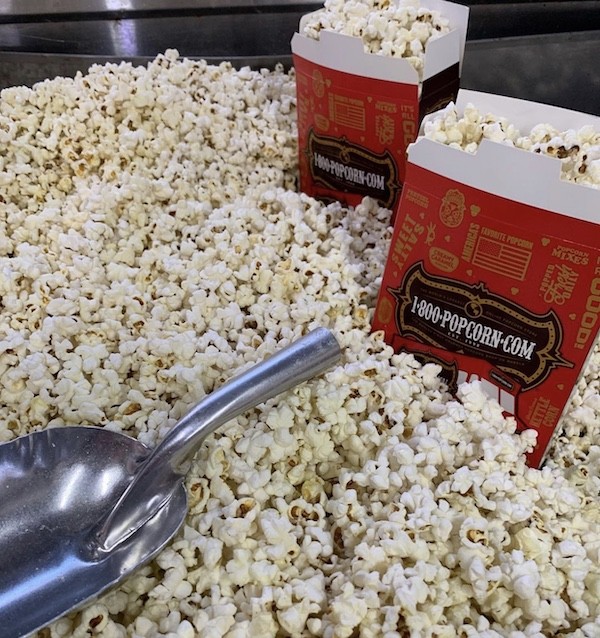 David found out that the number he wanted was already owned by an industrial and metal brush company in Cleveland, Ohio.
"I chased that company for years. I called them all the time asking to come in to meet them. They never returned my calls. After the third year of calling them I almost gave up. I also started sending emails. After years of not a single reply, I decided to send them a nasty email telling them I give up. Right before I pressed send, I got a reply."
The company invited David to come to their headquarters and make a pitch. David flew to Ohio and told the company about his dreams, and they said they would get back to him in two weeks. Many weeks passed without an answer. Then, an email came in.

Advertisement
"I figured they were going to say thank you, but no way: I open it up, and they offered me the number for $100,000. I used my savings, and made the investment."
David spent his time working in Florida at the mall, but was also the owner of this new number. He started getting all these crazy phone calls, especially from Northern California. Apparently the number had been used as a weather service reporter for many years. Sometimes he would get a hundred calls a day. All unrelated to popcorn.
David made the decision to lease out the number to a larger company. Once the lease ended, he decided to build up the brand himself. That's when David decided to get a truck and build out his concept … bringing 1-800-Popcorn to the streets of NYC!
"I started on Wall Street every day for a few years, then I started adding in Soho on the weekends. Then I started selling my popcorn at 72nd Broadway, because I lived around 65th. I love the people on the UWS. It is a really classy area in a great neighborhood."
David said he's had a wonderful time meeting everyone on the UWS. He compared it to being on a movie set everyday, and that he always got to see a cast of characters. Married, single, old, young, everyone, even dogs.
David had the idea to capture all these special moments and create an Instagram page for the truck.
"When I meet pro athletes, music producers, ballerinas, movie producers, and even famous YouTubers, I take a picture and post it to Instagram."
David has also created a photo contest for those who take his popcorn bags overseas.
"If you go to the Philippines or Egypt, send me a picture with my popcorn bag in front of the pyramids or something like that. The best picture of that month, you win free popcorn for the month."
David has moved his truck to a zoo in New Jersey for a few months, but will be back on the UWS in the spring. In the meantime, he is happy to take orders and will send you any popcorn you like. This includes his world famous cheesy white cheddar, kettle corn, and my personal favorite, caramel corn.
Want to get in touch to place your holiday orders? You know the number to call: 1-800-Popcorn!
More interesting people: