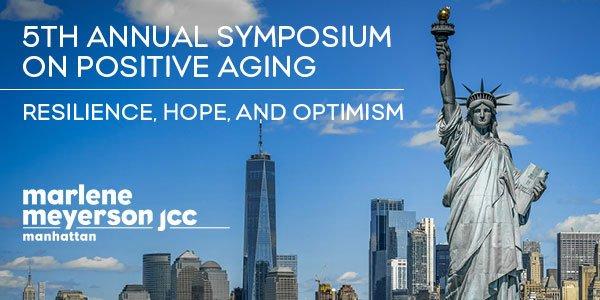 The Marlene Meyerson JCC Manhattan's 5th Annual Symposium on Positive Aging will take place on Monday, November 16 from 10am-3 pm. The first event presented by the newly launched Wechsler Center for Modern Aging, the virtual symposium will provide an opportunity for learning, meaningful conversation, and connection from the safety of participants' homes.

The diverse slate of activities will include workshops, breakout and movement sessions, and a conversation between Paul Irving, Chairman of the Milken Institute Center for the Future of Aging and Rabbi Laura Geller, Rabbi Emerita of Temple Emanuel of Beverly Hills and author of Getting Good at Getting Older. Participants will explore the central themes of this year's Symposium: food, dance, the arts, literature, mindfulness, memory, and combating loneliness.
Workshop offerings include:
Resilience Through the Written Word, hosted by Sandee Brawarsky, Esther Amini, and David Adjmi
Celebrate Resilience, Vitality, and Joy: A Dance Workshop, hosted by Naomi Goldberg Haas and members of the Dances for a Variable Workshop
Translating Old World Dishes into Modern Day Recipes: The Process of Preserving a Family Favorite, hosted by Jennifer Abadi
Mindful Path to Hope and Healing, hosted by Sheila and Sheldon Lewis
Alone But Not Lonely, hosted by Faye Wilbur
Passion as a Catalyst in Times of Change, hosted Renee Cherow-O'Leary, PhD.
Tickets for the day are just $25. Don't miss this special event. To sign up, click here.
Questions? Email the JCC here using the subject line "Symposium."
This year's Symposium on Positive Aging is generously sponsored by 305 West End Assisted Living, Inspir Senior Living, and the New Jewish Home.