The Dive Bars are an eclectic collection of four unique UWS personalities that have both evolved over the years and been built from the ground up to represent the areas of the neighborhood they're in.

All of the dive bars have a great selection of Scotch, Whiskey and Tequila likely due to intentionally seeking out the best in Whisky and Liquors available, including but not limited to Small Batch and Craft products. They really seem to do the same with respect to their beers and are so proud of their selection that they will fill Growlers and Crowlers at all four of the bars. Due to the exceptional selection of liquors their specialty cocktail menu rivals the best of so called "Specialty Cocktail" bars.
Let's take a closer look at each one.
Dive Bar
732 Amsterdam (96th)
This charming neighborhood bar features a full dinner menu with appetizers and specials, extensive whiskey, scotch and tequilas as well as 43 beers on tap and a massive bottle list. Divey sports bar would best describe the atmosphere and you'll have no problem finding your favorite game on with the plethora of TVs.
Open for lunch and dinner, you'll want to try Dive Bar's poutine and wings (maybe not at the same time though; that's a lot of heartburn). They also have vegan and vegetarian options; one of their house specials is a Mediterranean appetizer platter with stuffed grape leaves, tahini, hummus, eggplant salsa, baba ghanoush, olives and cornichons. View the full menu!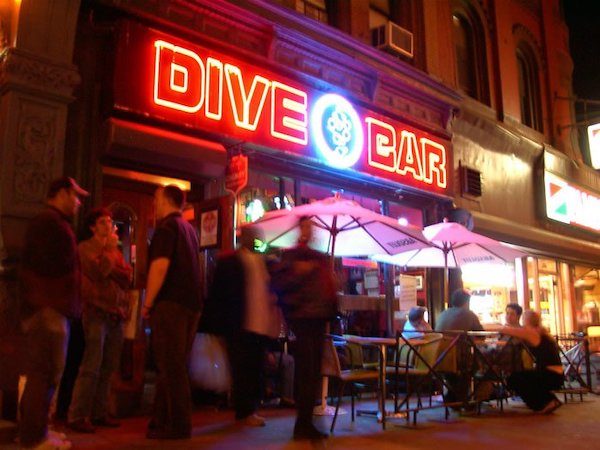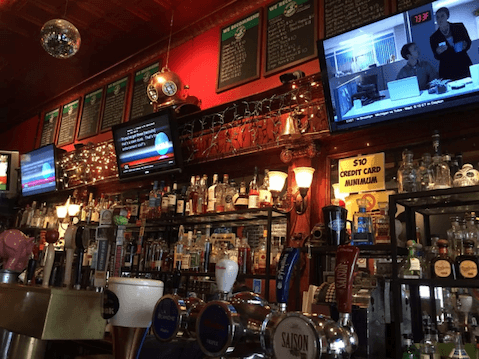 Dive 75
101 West 75th Street (off the northwest corner of Columbus)
A classic neighborhood bar that feels a lot like having drinks in your living room. They've got board games and comfortable couches, a fish tank, and a fair amount of TVs. And don't forget the free candy. I've taken way beyond my allotment over the years.
There's no shortage of tasty beverages either; choose from 24 beers on tap and 15 cans. Enjoy a tasty beverage at the spacious bar, in the back for some privacy or if you're on a date, or on one of their stools perched by the window to watch people walk down the street.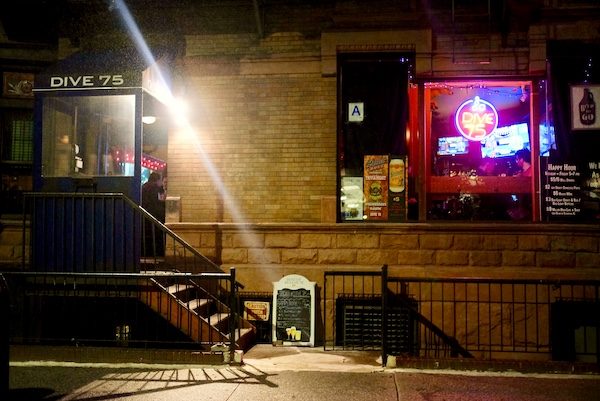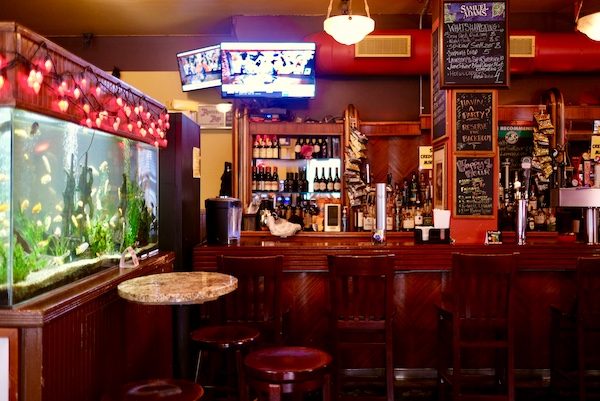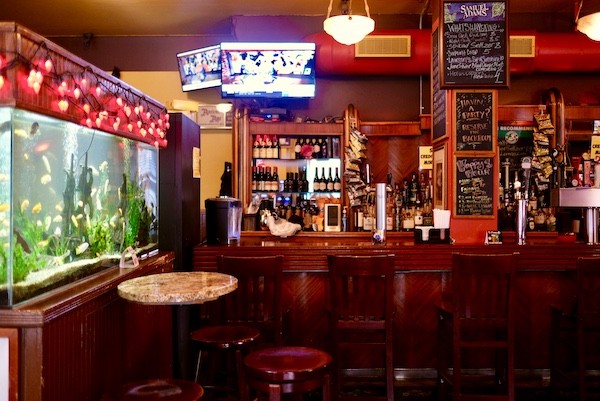 Broadway Dive
2662 Broadway (between 101st and 102nd Streets)
This cozy, iconic Broadway bar has had the same red neon "Tavern" sign since the late 1960s. And if you're a beer enthusiast you need to get here immediately: they're stacked with over 400 cans and bottles and 23 brews on tap! You can also get beer to go (which includes a nice variety of growlers).
It's a small and intimate space with an upper level mezzanine and a consistent crowd of regulars. This is the kind of bar you want to frequent for a laid back conversation on a weekday evening.
Broadway Dive also hosts a trivia night every Tuesday; come by and see if you can win it all!
Check out Broadway Dive's menu here.
Dive 106
938 Amsterdam Ave (between 106th and 107th Streets)
Dive 106 is a bright, newly renovated and refurbished bistro style bar and restaurant with a style symbolic of the location and its history. It is the newest shining star in New York City's DIVE BAR constellation. It brings a neighborhood ambiance with an easy, homey vibe and friendly, knowledgeable staff.
The welcoming interiors that are highlighted by a stunning vintage ceiling are only surpassed by the quality and creativity on display behind the bar and from the kitchen. Dive 106 features an eclectic $10.00 lunch special as well as a full dinner menu for indoor or outdoor dining. The beer, whiskey and wine collections are amazing as well as their innovative cocktails like the Oaxacan Old Fashioned and their very own riff on a classic Negroni.
Look for special events like Wednesday Night Trivia at 10PM with prize giveaway, and all your favorite playoffs, finals, and championship sports on our multiple hi-def monitors!
Located at 938 Amsterdam Avenue at 106th Street…look for the big bright neon sign, and take the DIVE (106)!
Although these bars all fall under the Dive Bar umbrella, don't sell yourself short by visiting just one. They are all so unique in their own right that a visit to each is merited. The Dive Bar owners have been running Upper West Side bars since the early 80s and have seen the neighborhood and clientele change over time. The one thing that's stayed consistent is the level of quality and service Dive Bar patrons can afford and enjoy.