The Greystone is one of the more popular residential rental buildings on the Upper West Side, perfectly situated at 212 West 91st Street (between Amsterdam and Broadway). Each year, the building puts together events for their brokers to celebrate the work they do. I had the privilege of attending the Greystone's rooftop white party for brokers – which was the perfect way to start my summer off beautifully on their sun-soaked rooftop oasis.

With stunning views of our iconic neighborhood and of the Hudson River, the Greystone is a welcoming and impressive residential building. For their broker party each year, the building invites realtors that work with them to enjoy the atmosphere of one of New York City's most stunning rooftops. And it's nothing short of a great time!
Rooftop white party at The Greystone pic.twitter.com/8XYCZ3tS3o

— i Love the UWS (@iLoveTheUWS) July 5, 2019
Featuring live music, alcohol and food, this party is truly a treat for brokers and agents to engage, build connections, and learn about each other in a budding market. Guests also brought canned food to donate to City Harvest, and a raffle was drawn with prizes over $1,000 in value.
And everyone rocked their best white outfit!
Regardless of whether or not they work directly with the Greystone, brokers in the area (and all throughout Manhattan) know about the party at this esteemed building.
I spoke with Dan Rivera, the leasing director for the building, and he told me about how many people love coming to these parties, even if they're only associated with fellow brokers. The vibe at the broker party is one of energetic celebration. People use it as an opportunity to make business connections and to learn more about real estate properties in one of the most competitive markets in the world. And, of course, to have fun.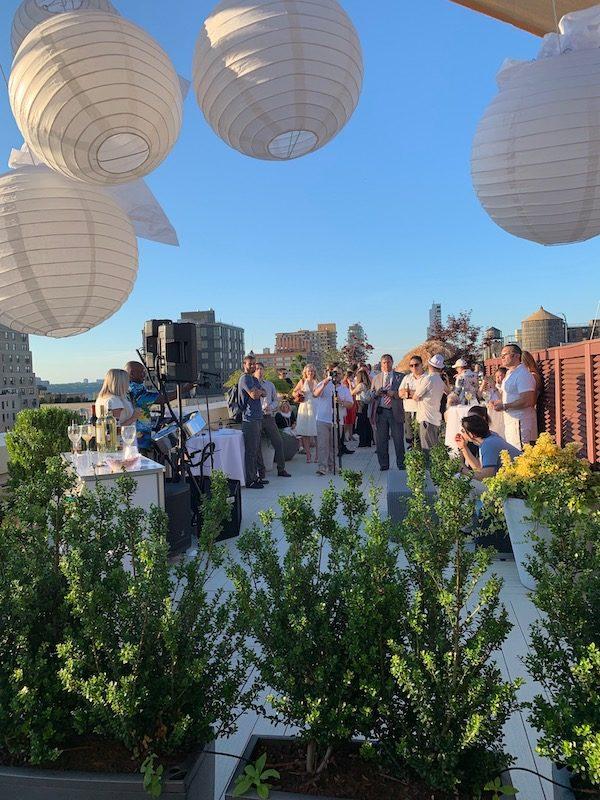 What makes this building really stand out among the real estate community is that is isn't just another place to live. I learned from a whole bunch of party attendees how much they love working with the Greystone because it's a building that cares about its tenants. They can feel confident knowing that if they show an apartment to a client in the Greystone, they are highly likely to love it and sign a lease with the building.
The Greystone also cares about the community; guests brought canned food for City Harvest to the party.
Finding a high-quality living space in a quiet yet exciting neighborhood is often hard to find in Manhattan. But, after just briefly visiting the Greystone and learning about it both from tenants and building managers, I feel certain saying that if you're looking to move to the Upper West Side, the Greystone should be number one on your list of viewings.