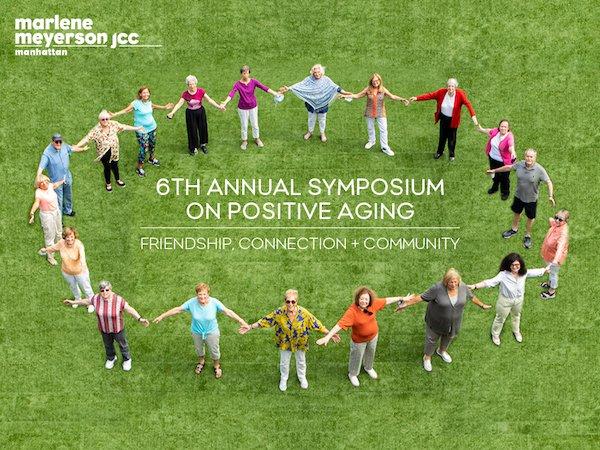 The Marlene Meyerson JCC Manhattan's 6th Annual Symposium on Positive Aging will take place on Monday, October 25 from 10 am-3 pm. Presented by the JCC's Wechsler Center for Modern Aging, the hybrid virtual/in-person symposium will feature a conversation between Rabbi Joy Levitt, CEO of the Marlene Meyerson JCC Manhattan, and author Anna Quindlen.

Quintessential modern agers, Anna and Joy will reflect on their decades-long relationship, and discuss the unique ways in which friendships become more critical as we age.
The afternoon session will include an array of thought-provoking workshops designed to educate and inspire, focusing on the theme of friendships and connections through shared interests and experiences.
Workshop offerings include:
Really Being There, presented by Chaplain Dvorah Telushkin, Prayer Leader, The New Jewish Home
Empathy and Support on Your Health Journey, presented by Rabbi Mychal Springer, Manager of Clinical Pastoral Care at NewYork-Presbyterian, in conversation with Rabbi Jeremy Kalmanofsky, Congregation Ansche Chesed
Impactful Volunteering, presented by Gary Bagley, Executive Director, New York Cares
The Evolving Nature of Friendship, presented by Rabbi Laura Geller, co-author of Getting Good at Getting Older
Reading and Writing: Family, Friends, and the Solace of Books, presented by Nessa Rapoport, author of Evening, in conversation with Susan Weidman Schneider, Founding Editor of Lilith magazine
Exploring Friendship Through Theater, presented by Scott Klavan, actor and longtime JCC drama teacher
The Life I Want to Live as I Age,  presented by Alice Chera, CPCC/ACC, AKC Life Coach
Social Media: A Link to Connection, presented by Barry Elkins + Abby Rich, Tech Soup
Ticket levels:
$36 – All virtual
$54 – Morning in-person, Afternoon workshops virtual
$118 – Supporter Level* – Morning in-person, Afternoon workshops virtual
Don't miss this special event. To sign up, click here.  Questions? Email the JCC here using the subject line "Symposium."
The 6th Annual Symposium on Positive Aging is generously sponsored by 305 West End Assisted Living, The New Jewish Home, and Inspir Carnegie Hill.
*Sign up at the Supporter level to have your name listed in the event program, be guaranteed the workshop of your choice, receive priority seating at the live event and a Wechsler Center gift, and help make magic happen!