Today's Upper West Side is not where you'd expect to nab a cheap studio with a skylight. But, starting around 1904, that's just what brought many artists, writers and singers to rent at a building called the Lincoln Arcade.
Advertisement



Descriptions of the six story building between 65th and 66th streets, where Juilliard now stands, depict a turbulent warren of studios and small businesses, where artists, painters and writers brushed shoulders. The lower floor housed a number of offices, as well as a 1,600-seat theater that opened in 1906.
The location itself, adjacent to the shadows of the 9th Avenue El, offered a bustling mix of bars, inexpensive restaurants and theater venues.
For many artists, it was a home which served as an incubator while they developed their careers.
Painter George Bellows moved into a basement studio around 1906 and was living there with Eugene O'Neill in 1910. O'Neill set scenes of his 1914 play Butter and Bread at the Lincoln Arcade.
Owen Johnson wrote The Woman Gives, a novel in which he described his neighbors and the character of the building.
Advertisement



French artist Marcel Duchamp arrived by ship to NYC in 1915, moving into the Lincoln Arcade shortly after. At this time, he already had a reputation for groundbreaking, convention-bending avant-garde work.
Quite a few artist residents, including George Bellows, were informally linked by their interest in every day subject matter known as social realism or the Ashcan school.
Rooms at The Lincoln Arcade were very basic. Louis Esson, a poet who lived there, described the accommodation in 1916. "We have a big room in the Lincoln Square Arcade, with steam-heat, electric light, piano, bath, ice-box, elevator, etc."
The Lincoln Arcade was destroyed by fire in 1931, but was quickly rebuilt to stand for almost 30 years.
In 1959, building residents were evicted as part of Robert Moses' slum clearance of the neighborhood, as plans to develop Lincoln Center were in the works.
READ MORE: San Juan Hill: The Upper West Side's Lost Neighborhood
One of the later residents of the Lincoln Arcade was painter Raphael Soyer. He moved in with his wife and daughter in 1945. His large painting, Farewell to Lincoln Square (1959), includes a self portrait alongside other recognizable figures. The work hangs in the Hirshhorn Museum in Washington DC.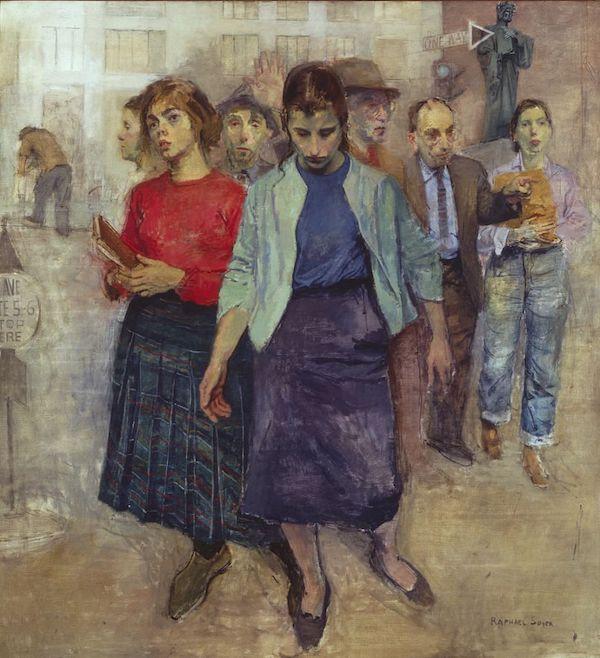 Residents of the building and community supporters, including Soyer, petitioned Moses, John D. Rockefeller and others in an unsuccessful effort to preserve the building or to provide, as an alternative, artist housing at Lincoln Center.