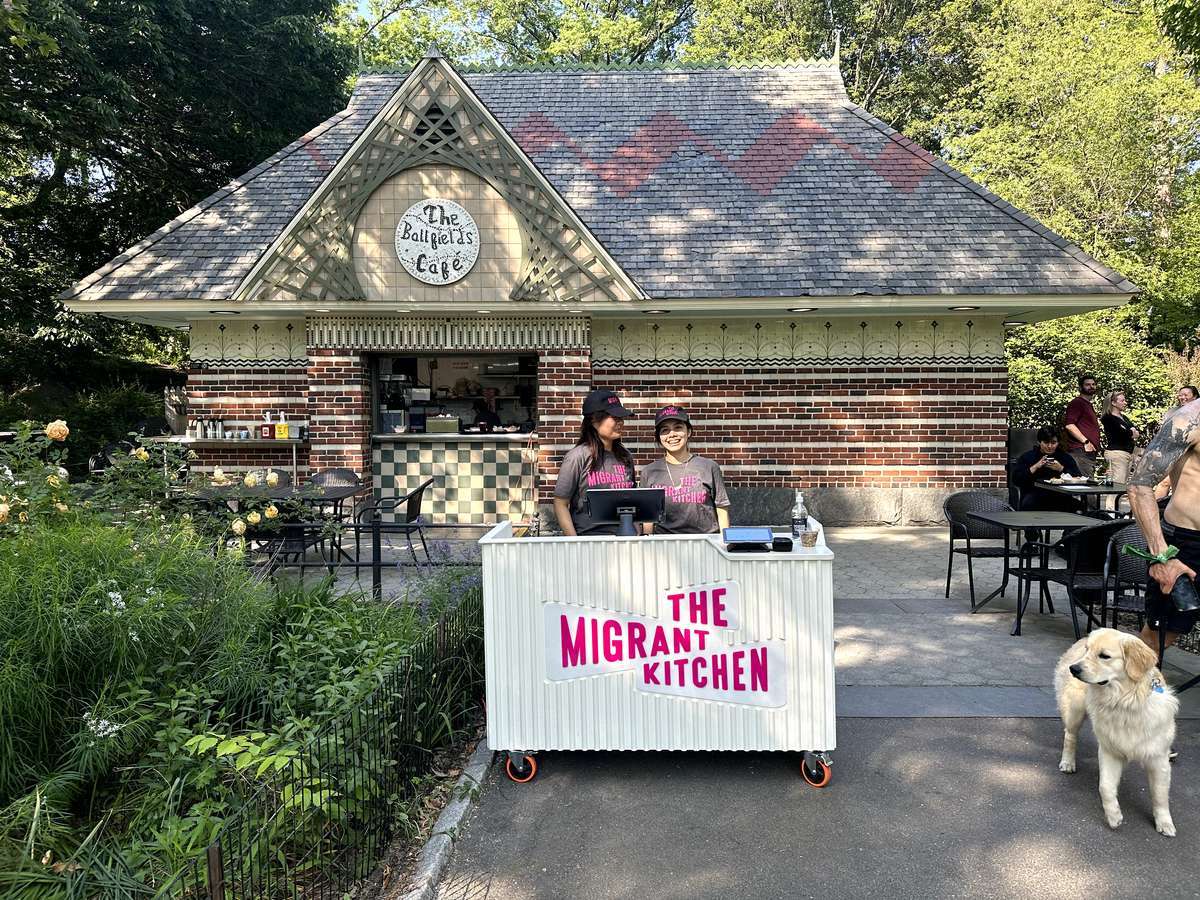 Friday marked opening day for The Migrant Kitchen in Central Park. The eatery, located in the Ballfields Cafe space on the northern edge of the Heckscher Ballfields (65th Street), offers a unique menu that combines favorites from their regular menu with classic ballpark fare. Migrant Kitchen also has locations on Columbus Avenue and West 67th Street, the Upper East Side and in Brooklyn.
Advertisement



The Migrant Kitchen's Ballfields hot dog starts at $8. You can add bacon or grilled onions for an additional $2, or pickled jalapeños for $1. No, you don't get to see the Yankees play, or the Mets for that matter; Both teams sell hot dogs for less than TMK, and so do the push carts around Central Park. Another option is the Migrant Kitchen's all-beef corndog for $12, which comes with esquites and a special sauce.
The Migrant Kitchen's Central location also offers their Ballfields burger for $11. It comes with local lettuce, tomato and their special sauce. For an extra $2, you can add bacon, cheese or grilled onions, and pickled jalapeños are available for $1.
More Upper West Side Openings, Here
If you're up for a shareable treat, the colossal pretzel is priced at $19. When we asked how big it was a staffer told us, "about the size of a pizza box." Unfortunately, no colossal pretzels were ready to be shown during our visit. They serve this behemoth with mustard, triple cheese sauce and chili whip.
Some classic menu items that made their way to Central Park include The Migrant Kitchen's lamb torta (priced at $17 on Columbus Ave and $19 in Central Park) and their crispy chicken sandwich for $15. The chicken sandwich comes with two options: regular, which comes with pickles and sumac whip or spicy, which features pickled jalapeños and chili whip. Both the Fattoush and Southern Palai are $13.50 in the park and $12.50 on Columbus Ave.
Advertisement
For those looking for budget-friendly options, the ham and cheese with manchego and spicy mustard on a croissant is priced at $6, while their roasted turkey with halloumi and za'atar on a croissant is available for $7. The menu also includes lemon, chocolate chip and Mexican hot chocolate cookies for $3.50 each, and soft serve ice cream in vanilla, Mexican hot chocolate or swirl flavors, priced at $5. You can add sprinkles for $1.
If you want to cool it down with a beverage, The Migrant Kitchen offers homemade lemonade and hibiscus iced tea for $5. There's also $4 iced coffee, still water for $4, and soda and La Columbe for $3 each.
Central Park's Migrant Kitchen is open Thursday through Monday from 11 a.m. to 7 p.m. and is closed on Tuesday and Wednesday.