If you, like me, saw the aisles full of candy at Duane Reade this week and realized you were completely unprepared for Valentine's Day — breathe easy! The city is full of tasty, charming, and even affordable romantic restaurants, including many absolutely great ones here on the Upper West Side! The list below is full of selections perfect for a night out with that special someone, whether your goal is to win big on Valentine's Day or to simply find another date spot.

The Leopard at des Artistes
1 West 67th Street (between Columbus and Central Park West)
The first restaurant on our list is also one of the most sensually stunning. Located in the lobby of Hotel des Artistes, The Leopard is full of gorgeous antique murals that add such an enchanting backdrop to your romantic night! The Leopard is known for its incredible upscale Southern Italian food and expansive menu of Italian wines. They also do a live jazz brunch on the weekends! What's not to fall in love with?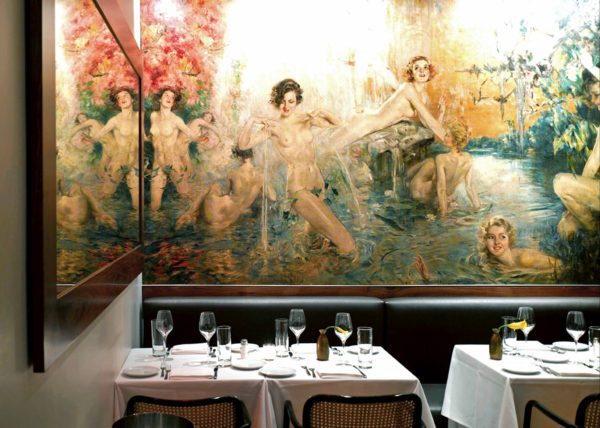 Advertisement



Le Pif
2058 Broadway (between 70th and 71st Streets)
Walk into Le Pif and the first thing you'll notice is that everyone seated here appears to be on their third or fourth date. You know, the one where things start getting serious and you find yourself craving bars where you can actually have a conversation? Show off your knowledge of rustic Burgundies here, or ask the server for a recommendation, since Le Pif is the UWS's resident French wine bar! It's mostly a place to drink wine and hold hands, but let me tell you, their appetizers, flatbreads, and cheese and charcuterie are not to be missed! Le Pif's cheese plate has a bit of a growing cult following, since it comes with an addictive apple-truffle-honey sauce and a mountain of bread on the side.
Here's a photo I posted on my Instagram page, @upperwestupperbest, back in August!
Marlow Bistro
1018 Amsterdam Ave (110th Street)
A relatively new uptown favorite, this charming Mediterranean bistro in the very northernmost part of the Upper West Side is well worth the trek! Meaningfully European in every sense of the word — from the plant-filled decor, which looks dropped straight from the trendiest streets in Paris; to the freshest pastas and abundant pours of olive oil; to the friendly service, which is absolutely top-notch (come for brunch and you will never be rushed out!) — Marlow has more than earned its place on this list. Come with a date, drink a few cocktails or split a bottle of wine (50% off Monday through Wednesday!), and dive heart-first into a plate of grilled octopus or milky thin-crust burrata pizza.
Also from the Instagram collection .. taken mid-date!
Smoke Jazz & Supper Club
2751 Broadway (between 105th and 106th Streets)
What's more seductive than a night of live jazz? Bring your beloved to the Smoke Jazz & Supper Club, and you're in for a night of memorable music and fun! Share a plate of intoxicating lobster ravioli and and excellent short ribs, then let yourself be serenaded by a nightly roster of talented jazz musicians! Smoke Jazz & Supper Club is a great way to show your date a unique and special evening!
Advertisement



Shalel Lounge
65 West 70th Street (between Columbus and Central Park West)
Dim lighting? Check. Cocktails? Check? Rose petals?! Hel-looo! A WATERFALL?!?! You heard me! Shalel Lounge seems dropped straight from a romantic fantasy, but yes, there really is a sultry Moroccan date night spot right here on the Upper West Side! Slip into this subterranean hideaway and feel whisked away as you and your date bat eyelashes at each other over lamb kebabs and heaping tagines.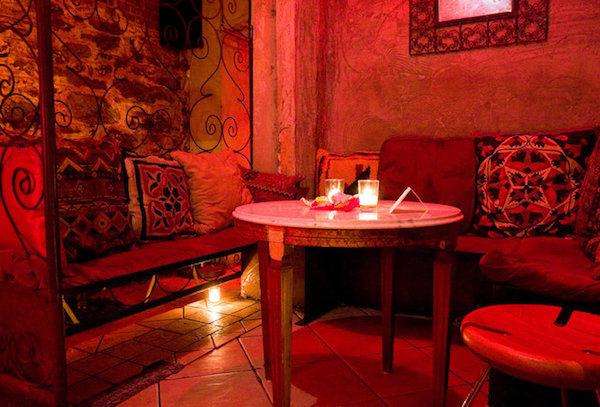 BONUS DATE SPOT: Floating Mountain Tea Parlor
239 West 72nd Street (between West End and Broadway)
The ambiance isn't as moody as the other restaurants on this list, but Floating Mountain makes such a cute date spot I just had to include them! Up a flight of stairs in what you'd easily mistake for an apartment building on the otherwise busy 72nd Street, Floating Mountain is a true hidden gem serving some of the city's best Chinese tea! This little spot oozes enough Zen to put any first date jitters at ease: patrons sit on cushions on the floor, the tea is poured from a kettle into specialized china before being served, and no one talks above a murmur. The perfect place to spend a long afternoon with your sweetheart!