Nestled under scaffolding at 392 Columbus Avenue at the corner of West 79th Street is Wafels & Dinges. Since February, they've been wheeling and dealing all kinds of waffly wonders. One variation (the "Throwdown") even beat Bobby Flay in a street throw-down in 2009.
Advertisement



But when the clock strikes 5 p.m. on Friday, Saturday and Sunday, Venezuelan street food classics from Perros Y Vainas are covertly added to the menu. Translation: Dogs and things.
"Dinges are from Mars and Vainas are from Venus," joked Rossanna Figuera, owner of Perros Y Vainas which got its start in 2016 when it launched at Broadway Bites – the seasonal market at Greeley Square Park. They moved to The High Line in 2018 before giving Governor's Island a go in 2019 and 2020.
So how did Perros Y Vainas make it to Wafels & Dinges? Figuera is married to its co-founder and CEO, Thomas DeGeest.
ILTUWS sampled the Perros Y Vainas menu last Saturday night. Figuera, who's originally from Caracas, Venezuela recommended their 'Big Mess' – also known as the "con todo" (or "with everything") – first and foremost. What they describe as "a hot dog masterpiece" comes loaded with cabbage, onions, corn, white cheese and crunchy "papitas." Don't worry about getting some sauce on your nose as it's bound to happen if you're digging into this dirty dog. The Big Mess is priced at $10 and pairs great with a bottle of their imported Polar Pilsner from Venezuela for $8.
Figuera saved her favorite for last, the Los Tequeños, which is a traditional white cheese wrapped in dough and baked. Nicely salted, the garlic and pink sauces both make nice side arms for snacking. Delectably crushable at $10 for a half dozen and $18 for a dozen. You can also make them sweet for an extra dollar for Nutella or dulce de leche. Or you can add bacon for $2.50.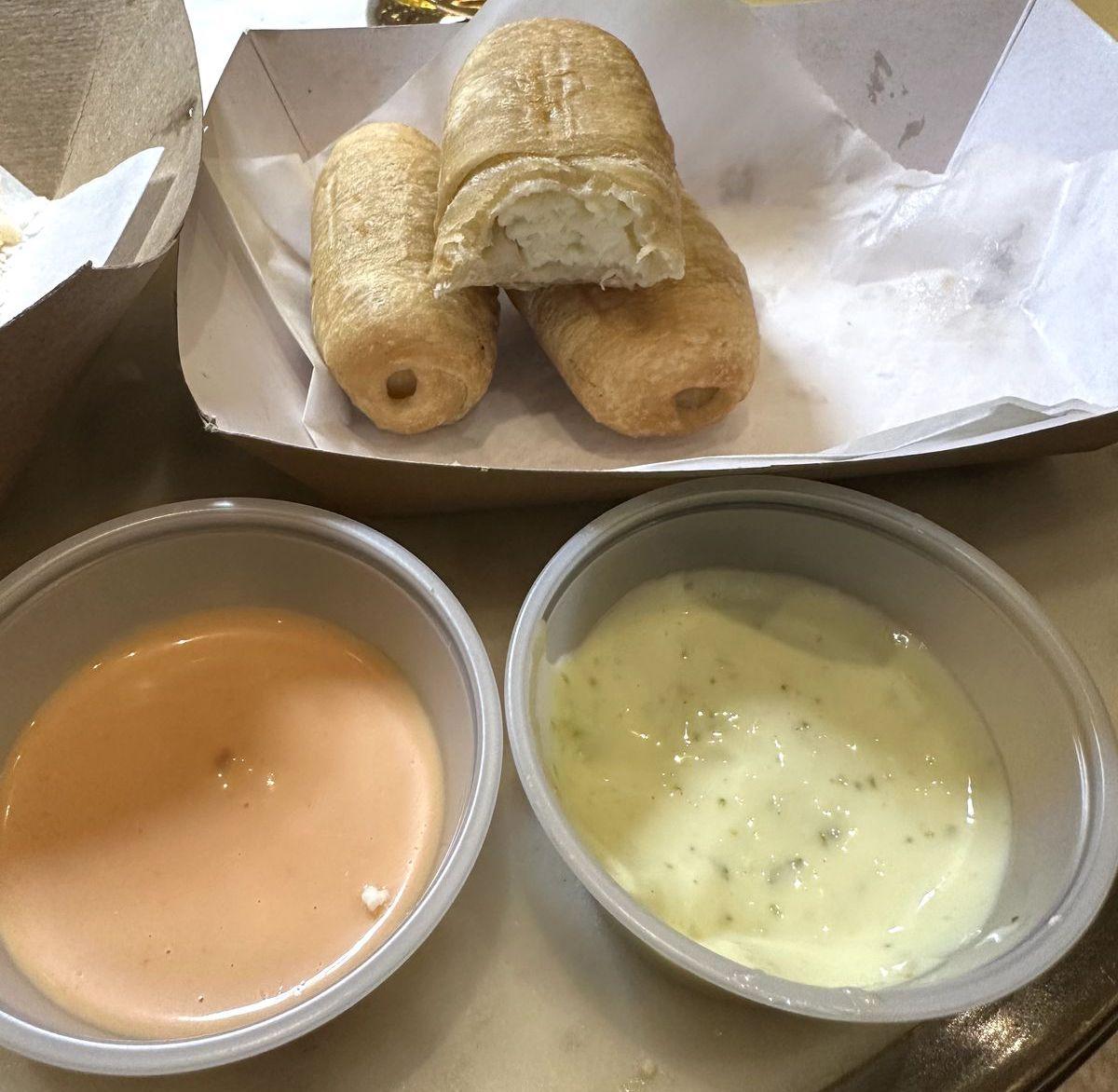 Other evening beverages at Perros Y Vainas include Stella Artois, Hoegaarden and Goose Island IPA on tap. There's also wine selections from Ruca Malen, Nobel Vines and El Coto. Hot cocoa and drip coffee to go along with fresh-squeezed orange juice, lemonade and soda are also available.
Advertisement
During our visit, the lights dimmed at 8 p.m. as the dance music got turned up a smidge, creating a nice ambiance. Thomas DeGeest also told us he got word from building management that the scaffolding outside should be coming down soon. Something to be on the lookout for.
And don't worry, you can still order waffles till closing with Perros Y Vainas, too.
Current hours for Wafels & Dinges are 8 a.m. to 9 p.m. Sunday through Thursday and 8 a.m. to 11 p.m. Friday and Saturday, but DeGeest said as the weather warms up they may stay open later.