The Equestrian Statue of Theodore Roosevelt was removed from the steps of the American Museum of Natural History in the middle of the night on Wednesday, January 19.

Footage of the displacement was caught by @dannydalynyc.
The effort to relocate the statue was launched in June 2020. This endeavor came amid growing protests for racial justice – along with an increased national focus on the removal of controversial figures.
Advertisement



"The Statue has long been controversial because of the hierarchical composition that places one figure on horseback and the others walking alongside, and many of us find its depictions of the Native American and African figures and their placement in the monument racist," read a statement by the AMNH when they first proposed the change.
The proposal was met with both opposition and support. On more than one occasion, some individuals who've found the statue to be offensive have vandalized it. Others have protested the statue's removal.
In November 2021, we learned that the statue's new home would be in the Theodore Roosevelt Presidential Library in Medora, North Dakota, which according to the New York Times, is expected to open in 2026. Here, it will be recontextualized "with input from a council of Indigenous and Black people, historians, scholars and artists." Until it arrives to its new home, the statue is expected to be held in storage.
Advertisement



In May 2021, architect Rolondo Kraeher presented plans to Community Board 7 which outlined a proposal for the statue's replacement. The proposal calls not for a new statue, but additional stairs and text engraved on the ground. Kraeher said that the design was meant to create a message of openness and availability.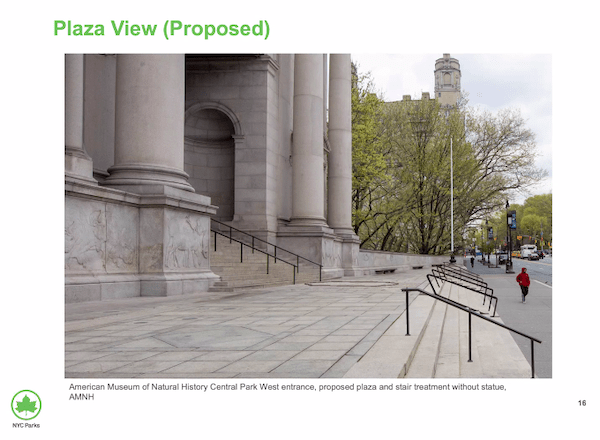 We've reached out to the Public Design Commission and will provide an update once we know whether or not this redesign will be implemented.