Tiki Chick, located at 517 Amsterdam Ave (corner of 85th Street), first opened on New Year's. We were lucky enough to get an inside look a couple days before the official opening.  Now that they've been in business for a couple months, they've racked up some awesome reviews for their drinks and snacks. Read on to see how our night at Tiki Chick went!

When we first walked in, we were able to verify the "tropical vibes" they were talking about for so long. Plant-covered ceilings, a lei for each visitor, cool wicker chairs and bright pink and blue frozen drink taps created a fun and authentic feeling Tiki bar experience.
The vibes were not only tropical, but with hints of 80s and 90s culture, including a projector playing Coming To America (1988) and a soundtrack consisting of mostly 90s hip-hop. I was born in '84, and fully appreciated both of these touches.
We started with some frozen drinks, which all go for $14. The Piña Colada was perfect.
Advertisement
I absolutely loved the Pickle Painkiller. It has just the right amount of sour balanced out with sweet fruity flavors … completely refreshing. It's made with El Dorado 3 year rum, Jacob's Pickles Hot Sour Brine, coconut, orange and pineapple.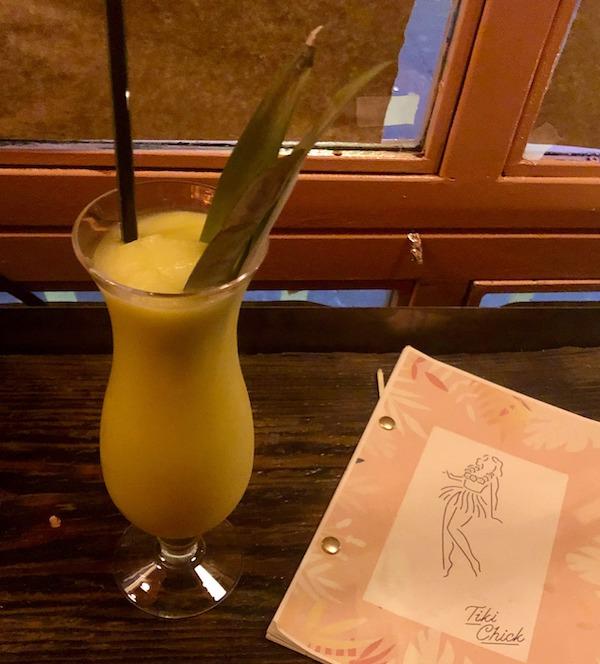 The Frozen Aperol Spritz was great … but it had a STRONG grapefruit flavor, so only get it if you really like grapefruit.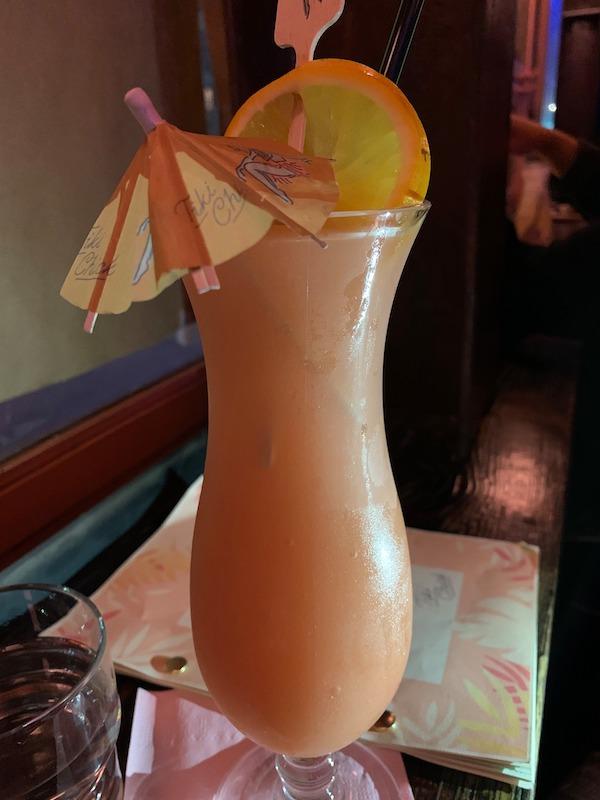 We had to get at least one non-frozen cocktail. We went with the "Shark Snacks" – served in a shark cup and made with El Dorado 3 year rum, Espolon Blanco Tequila, apricot, coconut and grapefruit. Sweet and smooth … went down easy.
Two other cocktails I'll be trying next time:
Tiki Chick also has a bunch of $5 sandwiches on the menu! These include three fried chicken sandwiches and four spam sandwiches.
Our server recommended the Hot Honey Fried Chicken Sandwich, which came with their sweet and spicy special sauce. I'll definitely be getting this one again.
And we had to try a spam sandwich, because when else will this happen. Here's a look at Tiki Chick's Spam, Pineapple, Egg and Cheese Sandwich.
From my experience last night, I can say that Tiki Chick will be a great addition to the Upper West Side. The vibes are awesome and unique to the neighborhood, the drinks are delicious, and I can say that the fried chicken sandwich is amazing (the spam is a bit more of an acquired taste).
Also, they have pink napkins.
Advertisement
Jacob Hadjigeorgis started the Pickle Hospitality empire in 2011 when he opened Jacob's Pickles, which quickly gained a cult following and has become one of the most
popular restaurants on the Upper West Side
, beloved for its buttermilk fried chicken and huge portions of delicious comfort foods.
Maison Pickle followed in 2016, delighting locals with mouth-watering French dip sandwiches, cocktails, a beautifully designed interior, huge chocolate cakes, and the most delicious pull-apart bread and butter you've ever seen or tasted.
In 2018, Jacob introduced the world to pickle flavored ice cream with the opening of Lucky Pickle Dumpling Co.
Now, Tiki Chick has landed on the corner of what is essentially his block, as it is the home to three out of four of these eateries. Check out Tiki Chick's website and Instagram page for more info and updates.
And get the UWS newsletter for more food + drink news!