Fall is officially here, and Trader Joe's fall items and seasonal favorites are ready to fill your stomach. If you are anything like me, you might hesitate to get too attached to the seasonal items because you know you will have to part with them when the time comes. Until then, let's fully enjoy these treats while we can. The fall selection is on the sweeter side, with only a few savory options. Below are my top picks currently available at the Trader Joe's at 72nd and Broadway.

Pumpkin Pancake Mix
This year Trader Joe's has so many mixes it's hard to keep track of them all. If you are going to try one of them, I think the pumpkin pancake mix is the best. If you like it and are into baking, they also have mixes for pumpkin bread, coffee cake, and pumpkin oatmeal cookies. There is a gluten free option for the pancake mix, as well for many of the other mixes!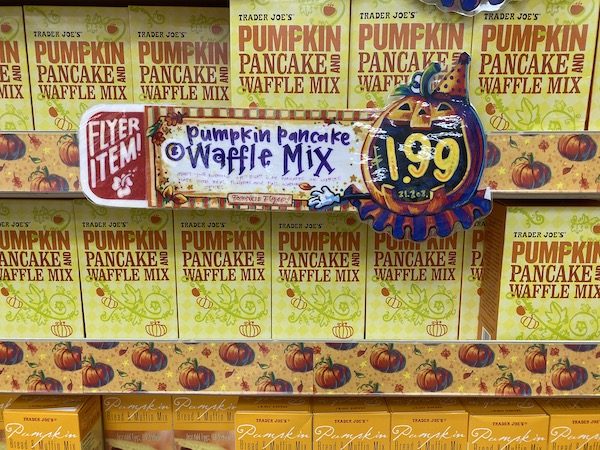 [adrotate banner="58″]
Apple Cider Cookies
I wholeheartedly recommend getting all of your apple cider products right from an orchard, but if you are going to choose from one of TJ's many apple inspired specials, this one is pretty good. They are bite sized and crispy so it's easy to eat quite a few of these in one sitting. If you are willing to go the extra mile and not just eat the cookies right off your counter top, they go really well with ice cream.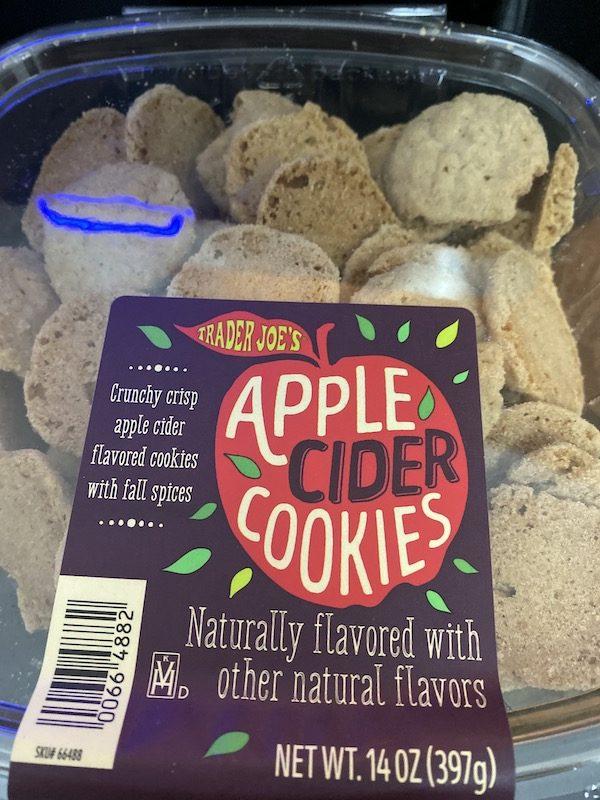 Autumn Harvest Soup
While we haven't had the chilly weather yet, it's coming, and you will want to stock up on this fall item from Trader Joe's before it's gone. The soup tastes like fall in a bowl, with a blend of butternut squash, pumpkin and carrots. It's simmered with tomatoes and seasoned with rosemary and sage. Of course there is heavy cream to fill you up and leave you happily craving more. A great fall comfort food.
Candy Corn Popcorn
One of my favorite treats at Trader Joe's is the Birthday Cake Popcorn. While the Candy Corn Popcorn is not as good as the Birthday Cake option, it is a nice take on a traditional Halloween favorite. The flavor is full of vanilla and caramel, and looks just like you'd think it would. It's perfect for a table spread. I like to eat it when I am unpacking all my bags as soon as I get home.
Advertisement
Precut Butternut Squash
Just add some honey and roast it for a delicious addition to any meal. I like to add some to the pumpkin ravioli or the stuffed gnocchi; both are great finds as well. The spaghetti squash spirals are a nice addition to the cauliflower stir-fry, which isn't listed as a seasonal item, but will change over during the year.
Recommended: Where To Eat on the Upper West Side
Chimay Autumn Cheese
This is one of those fall items you will miss when it's gone. The Trappist monks began making the cheese in 1876 and have perfected it to what you will taste today. This semi-hard cheese is made from local farms in Chimay, Belgium. It's creamy and buttery and goes great with cornbread or crackers.
Hot Coco O's
Love these. If you don't want a hot cup of cocoa, then pour yourself a bowl with some cold milk. You get the same taste, without the heat. The best part?  Marshmallows are already in the box.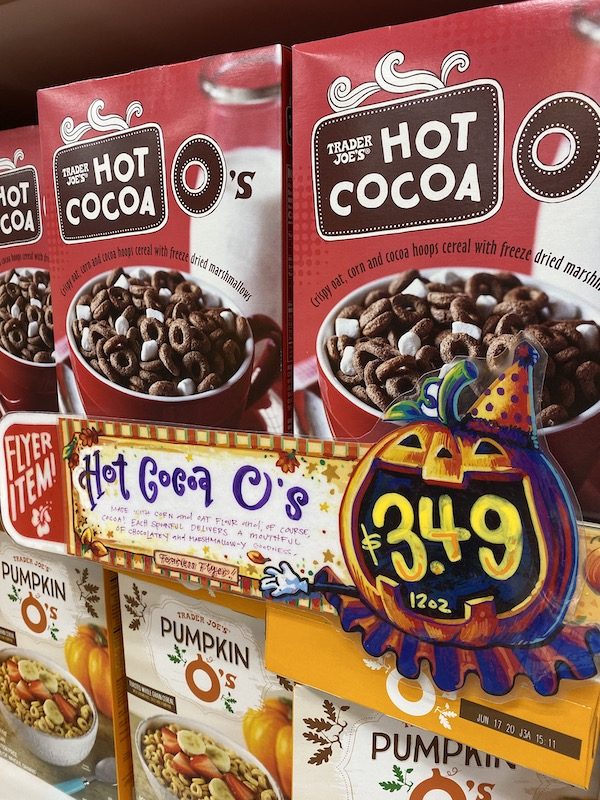 Advertisement
Actual Pumpkins, squash and gourds!
If you can't get out to the patch this year, Trader Joe's has you covered. Whether you are looking to cook with them or decorate, this is the place to go for a great selection of pumpkins. There are a variety of sizes and colors for the pumpkins, as well as squash and other gourds. My favorites are the mini white pumpkins and assorted gourds.
I have a lot of love for this season's selection at Trader Joe's, but I would be remiss if I didn't tell you about two major flops. It pains me to tell you the Apple Carmel Granola is terrible. It is super chewy, but not in the pleasant caramel way, but more like the apple peels got mushed up and became too hard way. Do yourself a favor and avoid the trap. Also, skip the Butternut Squash Alfredo Sauce. While I may be a bit biased against it because I do not like their regular Alfredo Sauce, I was hoping they would step up their game a bit. Nope.
So there you have it. With a pretty extensive option list, I hope I've narrowed it down for you a bit. I know people can have pretty intense emotions over their favorites. If you are curious to know more about new fall items at Trader Joe's on 72nd Street or want to voice your opinion, check out their Facebook page.
Join our newsletter for more food + drink tips!