There's a new 'Ghost Kitchen' delivering St. Louis style wings and other fine things. Launched by Mel's Burger Bar, Trashed Wings delivers crispy, tender wings from the Mel's Burger Bar locations on the UWS, UES and downtown.

This marks the second recent launch of a chicken delivery outpost by an Upper West Side restaurant; in December 2020, Mermaid Inn opened Mermaid Bird right next door to its restaurant on Amsterdam Ave between 87th and 88th Streets.

Advertisement
The birth of Trashed Wings is a miraculous comeback story. Mel's Burger Bar – which has an UWS location at 111th and Broadway – was forced to lay off one of its favorite cooks due to the pandemic. Two days later, the cook asked the team if he could test out a chicken wing recipe he learned while working a job in St. Louis. Everyone was blown away, saying they were "the best chicken wings any of [them] had ever had." The crew worked together to strategically leverage their under-utilized kitchens to collaborate on this new food delivery concept.
Get The Upper West Side Newsletter!
Upon its recent opening, people ordered Trashed Wings in droves. In their first four days Trashed delivered over 150 orders and ran out of wings. I recently had the chance to try them and they're excellent.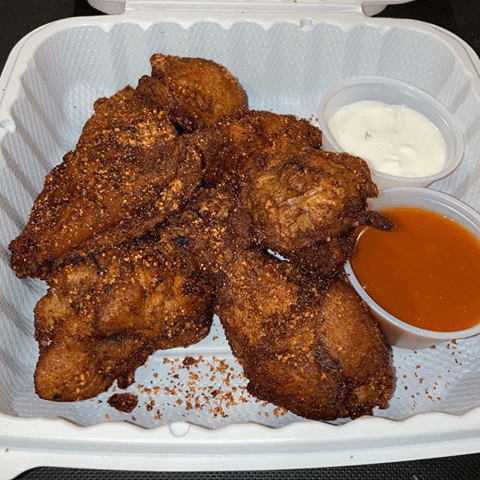 Trashed Wings offers a straight forward menu of wings, waffle fries and boneless wing varieties. Buffalo Cauliflower and Buffalo Salad also join the menu along with Mel's Everyday Beer to wash them down with. Perfect comfort food options.

Advertisement
It's heartening to see restaurants continue to innovate in the face of COVID adversity. Mel's made an earlier pivot back in March when it opened its
general store
, a move which other restaurants like
Pappardella
and
Cafe Fiorello
adopted as well.
View this post on Instagram
I have a feeling Trashed Wings is going to be around a while. Hell, they could even make it to our list of best wings in the neighborhood! Enjoy and learn more at www.trashedwingsnyc.com.