Determined to find a path to survive the pandemic, a mother and daughter both named Carolina Monterrubio are exploring different options to highlight their new laundry, dry cleaning and alteration business.

Carolina (mom) owned various businesses in Mexico City and held a leadership role in a global business franchising group (BNI). Often called upon as a speaker at international business conventions, she took the younger Carolina along to speaking assignments from Anaheim, California to Bangkok, Thailand.

Advertisement
Along the way, Carolina (daughter) became knowledgeable about the challenges of entrepreneurship and business. Awarded a scholarship to Clayton University in Atlanta, Georgia, she played on the tennis varsity team there, graduated with honors in finance and supply chain management and came to New York looking for a job in finance.
Carolina (mom), who had been visiting her daughter in New York fairly often, ran the NYC Marathon in 2017. During the month that she stayed in the city to prepare for the challenge, she and her daughter hatched the plan to open a business together. Basically, Carolina (daughter) explains, she loves clothes. "I was never satisfied with the way my garments were coming back from the cleaners." She and her mother did not rush into this business. Rather, Carolina (mom) moved to New York and spent a year engaged in market research exploring every aspect of the field.
The business, Wash-o, started online. The two Carolinas took note of what worked and what didn't with friends. Then, as the number of customers grew, the two Carolinas realized they needed an actual, tangible shop. They were living on 99th and Broadway. Carolina (Mom) regularly ran between Riverside Park and Central Park. She had eyed a storefront in a lovely old building at 405 Central Park West. When eventually it became vacant, "It was perfect," said Carolina (daughter). They opened in February 2020, literally plunging into the face of the Covid pause.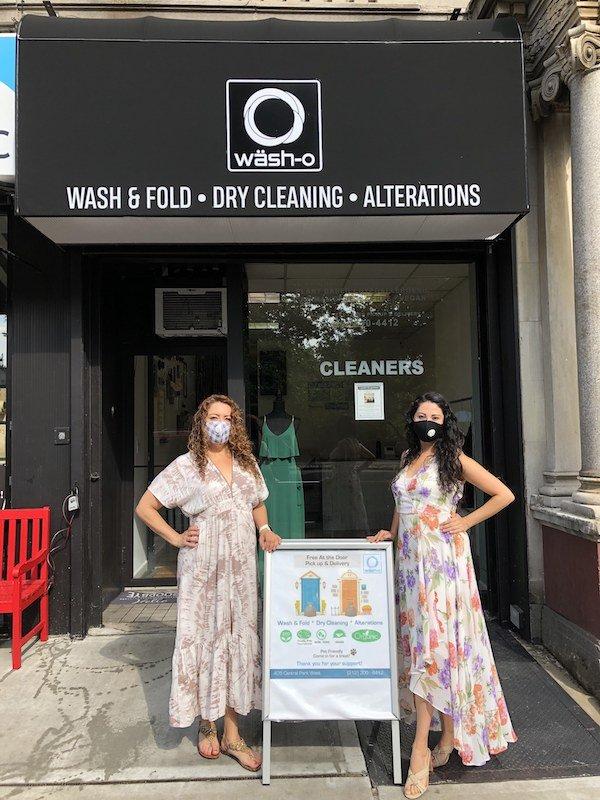 Now, as life in the city is beginning to normalize, they are hoping their former customers will return and new customers will make use of the services.
Wash-O offers free pick up and delivery for laundry and dry cleaning. Laundry is done in-house. In addition, for observant Jewish customers, Wash-O offers Shatnez testing, assuring wool and linen are not in the same garment checked by a rabbi.
"Having my own business with my mom is a dream come true. I love my mom. I love my business. I love the Upper West Side," says Carolina (daughter).
For more information, please visit wash-o.com. Orders can be placed via phone or text at (212) 300-4412.